13 Trails and 109 Goats: The Houston Arboretum- An Environmentalist's Haven
Upon my visit, once getting off the freeway, I was led to a small entrance off the feeder revealing a screen of green against the plain cement. The entrance was equipped with a large sign and a nicely paved road leading to the parking lot, surrounded by trees and nice flowers. I noticed a large construction area next to the visitors center where they were creating a whole new children's area, something I would have died for when I was younger.
Another part of their renovating plans is to double classroom space, diversify available programs, and to expand trails, all while restoring and protecting the native ecosystems in place.
With social distancing in place, the trails surrounding the area were the perfect move to stay away from people and to enjoy what nature has to offer. With 13 trails to follow, there are different distances and views for everybody. The largest is about 2 miles long and wraps around the whole park. Entering the trail, I was immediately taken away from the concrete and the noise and buried in the woods. I crossed over bridges with creeks underneath and took in the freshness of the wind blowing through the trees and fluttering the leaves. Looking closer I could see turtles popping their head out of the water and small birds flying above my head. This place had created a source of serenity for me.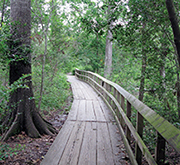 Leave a Comment