1,500 Afghan refugee students to enroll in HISD schools this fall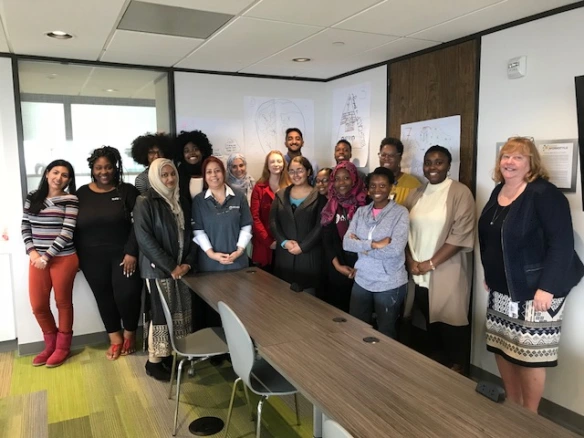 As the Taliban continues to seize control over Afghanistan, up to 2,500 Afghan refugees will be settling in Houston over the next six to nine months to escape violence and start a new life. According to Principal Michelle Wagner of Wisdom High School, 1,500 Afghan students are expected to enroll in the Houston Independent District (HISD).
On August 15, 2021, the Taliban, a terrorist group, besieged the government and took control over the Afghan capital of Kabul. The takeover has led to the killing of Afghan citizens, the elimination of women's rights, and an escalation of drugs and human trafficking. In an effort to escape such dangers, about 18.5 million out of the 38 million Afghans have been displaced or are refugees. About 1,500 of the 2,500 Afghan refugees are school-aged children, who will be attending schools in the Houston area.
One of the HISD schools that is accepting incoming Afghan students is Wisdom High School, located in the Gulfton neighborhood of southwest Houston. 65% of students at Wisdom High School are English Language Learners. 57% of residents in the Gulfton neighborhood are foreign-born. 
Garrett Reed, an ESL teacher at Wisdom High School, anticipates at least 12 Afghan students will enroll at Wisdom High School, but due to uncertainty of the matter, he is expecting anywhere between 20 to 25 high school students. 
While Reed is preparing these students academically, he is also aware that the abrupt transition to a brand new life and school can be emotionally taxing for many of these Afghan refugee students, and is therefore taking into account their emotional and mental health.
"I think the kids that are coming in the next month, they've probably seen a lot of bad stuff. So there's going to be some emotional issues. I've had this before, but I'm gonna have to be really cognizant of where they've been the past four or five months, with all the war going on, and give them some space. A lot of the kids will be depressed, anxious, and it's going to be totally weird to be in a school that's different for them. We had kids from lots of war zones around the country, around the world, like in Bosnia, about 20 years ago. It was really bad. The girls would come in, and I couldn't get near them. I would go up and say hi, and they would put their backs against the wall because there had been a lot of rape," said Reed.
To effectively handle such situations, Wisdom High School has various programs available to help the students feel more at ease. 
According to Wagner, the school offers a variety of social-emotional and social-economical resources to students. Initiatives like the Wraparound Specialists and Community have social workers provide basic needs resources. Student Assistance Center which also offers donated basic items to students. A Baylor Teen Clinic also provides free medical assistance for ages 13-24 and a YMCA daycare is also available.
"They're just not going to say, 'Hey, we can't pay rent this month,' You've got to sit them down and get someone to talk to them. So we have social workers or psychologists; we have a clinic, the Baylor clinic on campus," said Reed.
The school is also organizing other activities to help the Afghan students feel more welcomed in a foreign country.
"I'm planning a family welcoming ceremony right around Thanksgiving. I'm going to invite all the families to come to school.  I just want to open my arms, and say look, you guys are in America. You're welcomed. It doesn't matter, whatever your religion is, you're here and you're safe," said Reed.
The school also fosters an inclusive space by offering Afghan students the opportunity to practice their faith freely.
"We have a masjid in the school. You can pray at two o'clock, so they go pray, and that gives them a sense of community. And I have the Afghan club at my school," said Reed.
Since a vast majority of the Afghan students speak Pashto and Dari, the school overcomes this language barrier by fostering a safe, yet fun, space.
"I know some funny things in their language, so I make them laugh. A lot of times they're anxious, like, 'I don't wanna look dumb,' so I'll say funny things or do funny things in their language, and that will break the ice, so that they're more open to speaking in English," said Reed.
Even though there is a language barrier, the Afghan students will learn in the same classroom as other students of different cultural backgrounds. 
"We would never segregate students into different classrooms based on their country of origin.  Our cultural diversity in classes further enriches the learning experience for all of our students," said Wagner.
One of the main focuses of the teachers in the Houston Independent School District is to ensure that the Afghan students feel comfortable and are treated the same as all the other students regardless of religion, sex, or ethnicity. 
"One of the things Nour is what I've learned is that everyone's the same. It doesn't matter if you're from Afghanistan, or Australia, or Mexico. Humans are humans. I don't want to treat anybody differently. Everyone feels the same feelings. Everyone's blood is red," said Reed.
View Comments (5)