CVHS experiences low teacher turnover, while HISD faces staff shortages
While Houston Independent School District (HISD) scrambled to fill over 800 teacher vacancies as school started, CVHS hasn't experienced the same issue. The school had two vacancies over the summer, which were both filled by the first day of school.
CVHS teachers have expressed that the reasons CVHS hasn't faced the same issues are because some teachers have other sources of payment, Principal Ramon Moss creates a supportive environment and teachers are given the freedom in how they teach their content. 
"We've had several teachers who have had to move away and then they're rehired when they come back," said Colleen Schmidt, AP Human Geography and AP Research teacher. Schmidt has taught at CVHS for 10 years. "[Principal Ramon Moss] really treats us all like a family. And because of that, we're all very loyal to him and to the school."
HISD gives its schools control over many aspects of its day-to-day operations, so CVHS teachers are given some autonomy on how they go about teaching their content. 
"There's stuff that is on the edge, but we feel like we're not going to get called out here. If a parent did decide to [call us out], then we'd have to rely on Mr. Moss," English I and Photography Rachel Bohenick said. Bohenick has been teaching at CVHS for 18 years since she first graduated from Rice University. 
"
I think Mr. Moss is probably the biggest reason that people stay at Carnegie."
— Rachel Bohenick
Moss isn't the only reason Carnegie teachers have stayed. With just over 900 students, Schmidt says the students at Carnegie are easier to manage than bigger schools. As a Gifted and Talented magnet school, CVHS are able to go more in-depth into their respective subjects without only teaching to satisfy standardized tests.
"There's a certain culture at Carnegie," Moss said. "Many people see Carnegie as tops when it comes to academics, but also we don't have a lot of instances of violence or discipline."
Even as parental participation tends to wane in high school, teachers have described parents at CVHS as more involved. The PTO team regularly creates school events and provides lunches for teachers.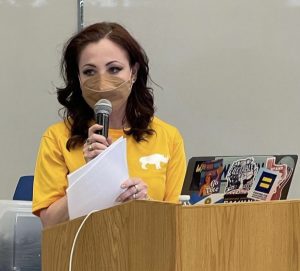 At short-staffed schools, however, teachers say that they're stressed, not compensated fairly and face "a lack of professional respect." According to HISD's career page, the schools with the most openings tend to be large, public high schools like Washington, Wheatley, Yates and Austin, all of which have more than 10 teacher openings.
Last school year at Lamar High School, another HISD school, junior Pamela Crawford's AP World History teacher abruptly left and was replaced by a track coach. 
"I just feel like he didn't even care that it was AP," said Crawford. "I don't blame him honestly. But I blame the school; they've got to pick someone better."
The blame isn't on the individual schools or even the district though. According to Schmidt, HISD is a property rich school district, which means that HISD and the school's funding comes from Texas property taxes. The money is also distributed to smaller school districts, so the state will start to take money away from HISD after the district has collected some amount of funds.
"Even if we needed money for teachers, for facilities or anything like that, we can't generate that money through taxes," Schmidt said. "Because we hit this threshold and then the state takes up money from us."
This contributes to low teacher salaries. When asked about the biggest reason for the teacher shortage right now, Schmidt outright said "pay."
"I am fortunate in that I have other revenue streams," Schmidt says. "Otherwise, I would not be a teacher."
HISD recently raised teacher salaries by 11 percent and has offered up to $5000 in retention stipends. The proposal was unanimously passed in May using pandemic relief funds, and the base teacher salary was increased to $61,500 to encourage teachers to come to HISD.
"Some teachers have recently come into the [HISD] district now because of salary increase," said Bohenick. "The salary package was a great thing. And they need to keep pushing that; they're showing that they're dedicated to taking some very active steps to show that, if they want to retain current teachers, those teachers need to be shown respect, not just pay wise."
In America, there are still over 300,000 teacher shortages with districts trying to fill up the spots. Even today, there are still 447 openings in HISD, with Special Education and Science being some of the most needed.
"Overall, our nation could do a better job with appreciating our educators and the tremendous role that they play in the education of our youth," Moss said.
View Comments (2)