Student poll reports 17.3% of students regularly stand for Texas Pledge
According to a recent survey of 104 CVHS students, 20.2% of students report standing for the U.S. Pledge of Allegiance regularly with 15.4% standing occasionally, and 17.3% of students report standing for the Texas Pledge of Allegiance regularly with 13.5% standing occasionally. 
Each state has a different law pertaining to the enforcement of standing for the pledge in schools. Texas is even more unique as it has its own state pledge, totaling two morning pledges for public schools in the state. While the Texas Education Code states that students can only be excused from standing for the pledges after a "written request" from the student's guardian is provided, the actual enforcement of standing for the pledge varies from school to school.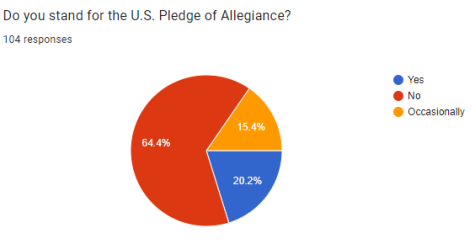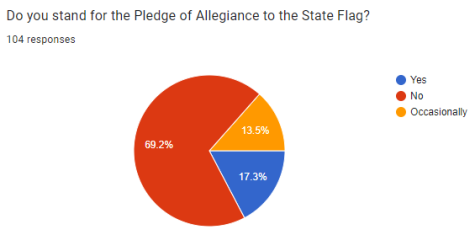 "I don't repeat the Texas pledge. I was born in California, and I think pledging allegiance to one state over another state seems divisive to me, but that's my personal expression and I have a right to that," said art teacher Raymond Rodriguez, who stands for both pledges. "I provide other students with the rights to not say the Pledge or to stand as well. That's my expression of my rights, which I am entitled to."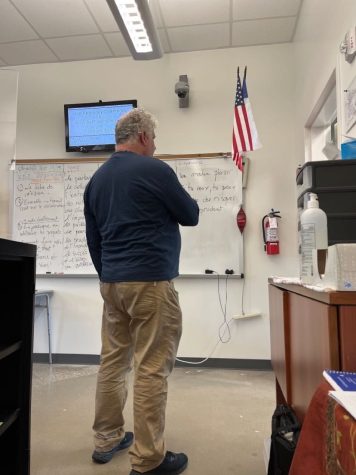 Although the majority of students do not stand for either the U.S. Pledge or the Texas Pledge, the students who do stand sometimes cite respect as the reason behind their standing. 
"It [standing for the pledge] feels respectful," said freshman Gavin Keyes. 
According to the survey conducted by the Upstream News, other students, some having migrated to the United States, share similar sentiments regarding respect for the opportunities America has provided them and their families.
"My family has gained a lot of opportunity through coming to the U.S. and without it I wouldn't be nearly as privileged as I am today. I stand for the privileges I have today and for the soldiers who have fought and died for me to have it. While there are an incredible amount of things corresponding to the U.S. government and the injustices it enables, I can't deny that without the U.S. I would be in a very bad position, somewhere in Vietnam," said a CVHS student who asked to remain anonymous.
In 2017, senior India Landry was expelled from Windfern High School in Houston after repeatedly not standing for the Pledge of Allegiance, ultimately leading to a court filing. Although CVHS maintains students' right to stand or not to stand for the pledges, this attitude differs from some students' past experiences in school.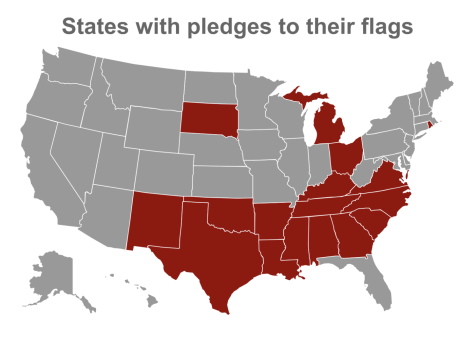 "I think it was just much stricter [in middle school]. If you didn't do it, you had to give an actual reason. I remember a lot of the teachers were like 'Oh, you have to [stand] because you're dishonoring a lot of people who stood up for America,'" said senior Barbara Butali.
Barbara described how as she became acclimated to Carnegie, she began to feel comfortable with not standing, along with many of her peers who also regularly sit during the pledge. However, few students have had the opportunity to look at the pledge from a unique perspective. And few are as unique as junior Tomas Borja, who spent his sophomore year studying at the Albert Einstein Gymnasium in Hamburg, Germany.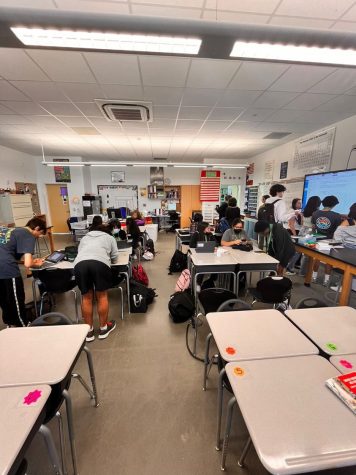 "They [Germans] imagine having to stand like two minutes in class every day and pledge the flag for your stupid country… They say stuff like that…. they think it's kind of weird," said Borja. 
Max Anspach, one of Borja's classmates at Einstein, explained that Germany's attitude towards its troubled past greatly contributes to their expression of nationalism.
"In Germany, we have a lot of transparency, and we talk about what happened and we feel ashamed. And I think that especially with the whole patriotism and the Pledge of Allegiance, and like, singing the anthem before every sports game, it's like… try to get a bit more transparency for what you've done and not like shove it under the rug, you know," said Max.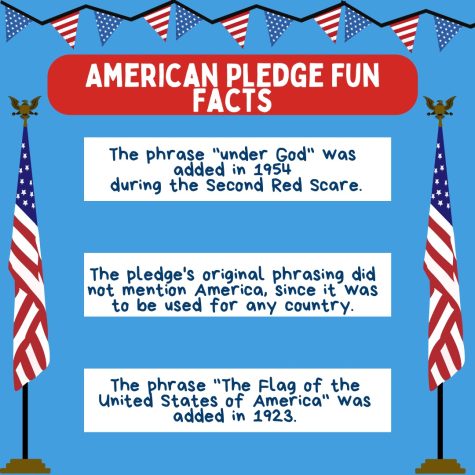 Tomas agrees with Max to take a closer look at our symbols and the history behind them, including the pledge.
"I think it would be good to have some sort of awareness of like, where this thing is coming from and whatnot, because then again, we're doing it every day," said junior Tomas Borja. "But, I mean, I just think if we were to do that, then we would realize that there isn't that much greatness behind this thing, right?"
View Comments (7)