College tuition rates soar while seniors grapple with financial aid opportunities
On August 24, President Biden passed the student loan forgiveness plan to cut the amount of student debt accumulated by low and middle-income graduates as a result of the increasing costs of college tuition. In the 21st century, the average cost of college doubled with an annual growth rate of 6.8%. Due to this rise in tuition, many low-income students are prevented from applying to selective colleges and universities because they either cannot afford to or are unaware of the financial aid they may receive.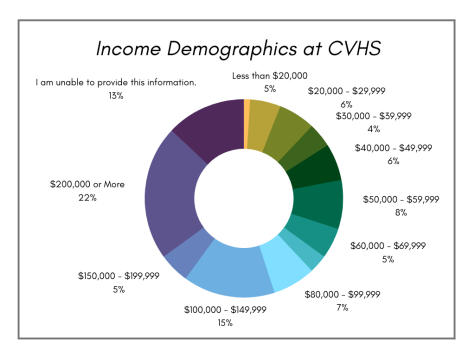 Last week, Benjamin Holloway, an Independent Education Consultant, presented at CVHS regarding the college selection process to the senior student body. Holloway suggested that students should reflect on important criteria when selecting their college list, such as tuition costs. To gauge how financially secure CVHS students feel about prospectively attending college, Upstream News conducted a survey using 100 responses from juniors and seniors.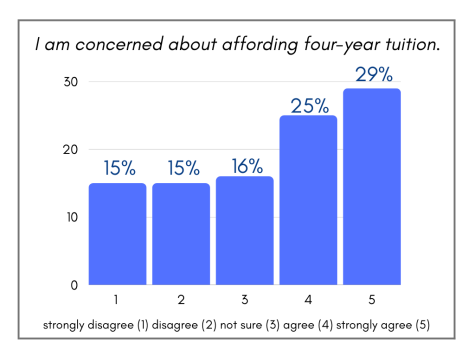 All survey respondents reported they intend on applying to college. However, 54% of them are concerned about affording four-year college tuition. The gradual rise in tuition directly impacts the CVHS campus because students may be deterred from applying to schools with higher tuition. This poses the possibility of an increase in income disparities found within campus as lower-income students are discouraged from applying to more expensive and elite colleges.
"
A student's financial status can present different barriers to their matriculation to a college, because the reality is that college is expensive. "
— EMERGE counselor Lisa LeVay
The first step to beginning the financial aid process is to apply for the FAFSA (Free Application for Federal Student Aid). Through this application, students are able to request federal grants and receive need-based aid based on their COA (Cost of Attendance) and their EFC (Expected Family Contribution). The application is open for any student attending a US institution, however, only US citizens and eligible noncitizens can qualify for federal aid. FAFSA also helps potential students as colleges may pull data from the application and award their own aid. 
"I must say the financial aid process for all students is to fill out the FAFSA as soon as you can. Right now, October 1. That's always the first step, and that is usually 80% of the process right there," said Holloway.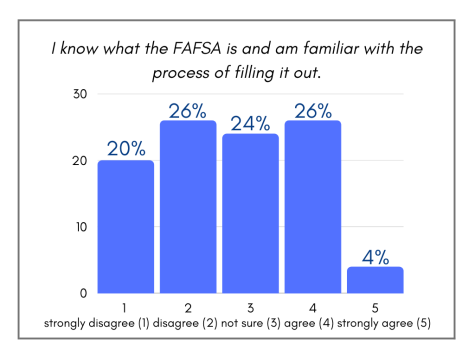 55% of the students surveyed rely on scholarships and financial aid to pay for college tuition. However, 46% of the students do not know what FAFSA is and are unfamiliar with the application process. FAFSA applications have been dwindling since 2010, and submissions were at the lowest in a decade for the 2020-21 school year. This indicates that there has been a decrease in high school students being informed of the financial aid process.
HISD'S EMERGE program provides college guidance counselors for students to demystify the college application process for low-income, first-generation college students and to promote their entrance into selective colleges. Lisa Levay, a college counselor, works with juniors and seniors from CVHS, providing tips on writing their personal statements, building applications and applying for financial aid.
EMERGE student Gabriel Rodriguez is a senior at CVHS that intends on applying to more selective colleges, such as Northeastern with an acceptance rate of about 18%. Rodriguez believes that on campus, there is a considerable number of students with more access to resources that aid them in feeling secure about affording college tuition.
"I remember [my classmates] were talking about college the other day and they're like, 'Oh, it doesn't matter because I have someone that's gonna pay for it.' But you kind of see that and it's like, I'm not able to pay for that. It's not as simple as some people say it is," said Rodriguez.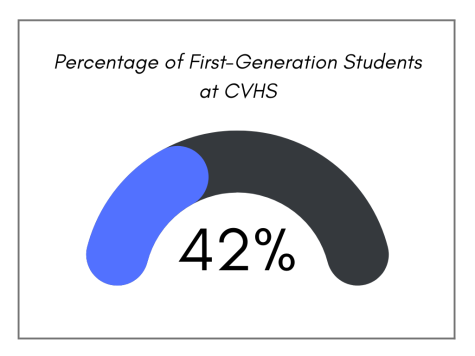 42% of CVHS students surveyed are first-generation college students. Many first-generation students encounter difficulties, such as lacking financial resources, when faced with applying to more selective colleges. The sticker price of many selective colleges prevents many of these students from applying and they disproportionately enroll in less-selective colleges.
"
Many low-income, first-generation students experience impostor syndrome, because many selective colleges are predominantly made up of high-income and white students."
— LeVay
90% of EMERGE students are first-generation college students, and the program has aided students in matriculating to selective colleges such as Yale, Rice, Harvard and Stanford: colleges with higher tuition rates. 
"Selective colleges have numerous positive benefits that contribute to first-generation, low-income students being much more likely to persist and graduate from college and secure a job upon graduation," said LeVay. 
Many selective colleges are increasing socioeconomic diversity by providing low-income students with greater need-based financial aid scholarships. The cost of attending Rice University, which has an acceptance rate of 8-10%, is estimated to be about $74,110 including other costs. However, in 2022, the University met 100% demonstrated financial need for admitted students.
To help students with finding the best options for their financial needs, EMERGE has created a database of 108 selective colleges and universities that provide students with over 90% of financial needs met, both in-state and out-of-state.
At CVHS, the campus accommodates a diverse socioeconomic population by providing free SAT tests, Advanced Placement testing and on-campus counselors. Veronica Chapman and Marcello Frau are the primary counselors that directly assist students with any of their concerns, ranging from their classes to college applications. Currently, there are free college visits occurring on campus if students sign up through Naviance. 
For students that feel financially disadvantaged, Carnegie alumni Nurse Kara Nguyen had to say, "If you come from a family that struggles with finances, college is still an option for you. Where there is a will, there is a way. Seek guidance from adults you trust and make the decision that is best for you."
View Comments (6)
About the Contributors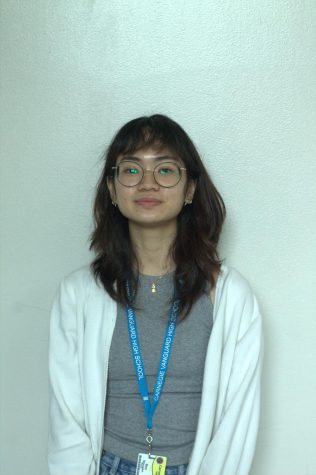 Bao Nguyen, Staff Writer
Bao is a senior at CVHS and a new staff writer for the Upstream News. She loves Studio Ghibli movies, such as Princess Mononoke and Kiki's Delivery Service....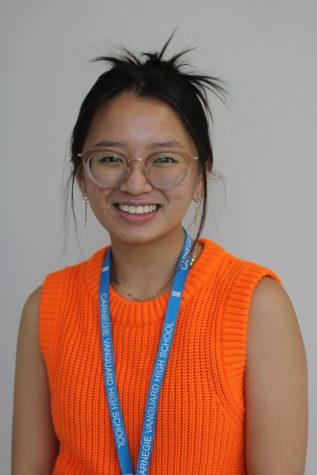 Nina Nguyen, Feature Editor
Nina Nguyen connects with the color orange on an emotional level and goes to a great extent to make it her whole personality. When it comes to music, Nina...