Junior Ryder Plante rides his way through the US Equestrian Federation competitions
When junior Ryder Plante is not caring for his two dogs, two gerbils, cat and donkey, he can be found competing with his horse in the U.S. Equestrian Federation competition circuit.
When asked if he preferred to be around horses or people, Plante said, "I think I prefer horses. They can't back sass you; they might be able to nudge you, but they don't have an attitude."
Plante, born in Russia and later adopted and raised in the U.S., has always found comfort working with animals. So, when his mother introduced him to horseback riding, he was more than ecstatic. At just four years old, Plante began riding. He loved being able to bond with the horse. He recalls getting his first horse when he was 10. It was Christmas, after opening all the gifts, his parents surprised him by taking him to the barn and presenting him with his first horse, Trigger Happy. 
"It was just a really happy moment," Plante said.
When Plante was ten years old, he decided to turn his hobby into a profession. He entered his first horse show, an event where several equestrian competitions, including show jumping and dressage (a series of memorized moves are performed by the horse and the rider). His first riding competition was a B show, also known as a schooling show. He entered the competition with Trigger Happy, who has since retired. He participated in show jumping, in which the rider and horse must clear a sequence of obstacles created especially for the show within a set amount of time.
"It was definitely scary, but we won, so I was really proud," Plante said.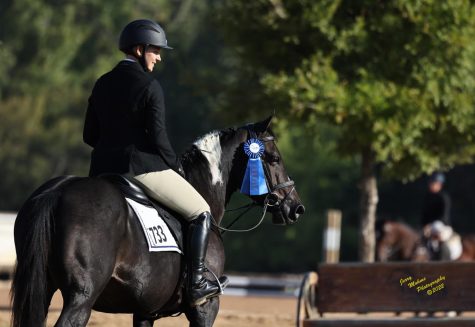 Plante continued to compete more following his first show. Plante now competes in biweekly competitions with his second horse Sarge, an Arabian mixed with quarter horse. Even though the competitions sometimes interfere with school, Plante finds a way to work around it.
"If I'm not done with some of my homework, I'll take [it] to the show, and I'll do it [in] between classes," Plante said.
One of Plante's greatest accomplishments was winning the Grand Championship with Trigger Happy. 
"It's just a really great feeling to know that you and your horse have accomplished what you sought out to do," Plante said.
A lot of time and endurance goes into preparing for the shows. Plante reported that he will spend about four to five hours everyday training for competing and show jumping. He'll do this six days a week prior to the show.
Plante hopes to continue competing in college and to join a professional team when he's older. He has considered Texas A&M University as well as Texas Tech University for their award-winning equestrian teams. He knows he wants to work with animals more than he wants to do anything else.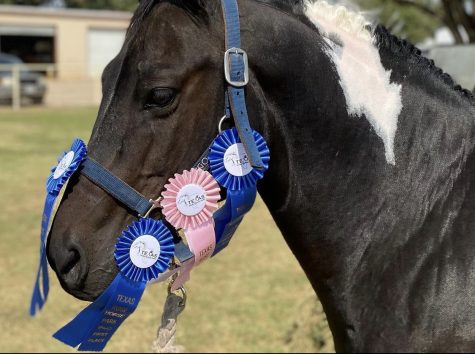 Aside from his two horses, Plante also has two dogs, two gerbils, a cat and a donkey. One of his dogs, Sandy, is a service dog who accompanies Plante to competitions. Despite his success, Plante gets panic attacks in front of the public, and that is when Sandy comes to the rescue to calm him down.
"When I was 14, I started zoning out in class and to the world around me. It felt like the world was moving slower, and I couldn't breathe."
He was taken to a doctor when his panic attacks started affecting his daily life. 
After being diagnosed with a disability, Plante had to train Sandy, a stray he found and raised to good health, to become his service dog. Sandy didn't originally go through a training program, so Plante personally trained Sandy and taught her how to do tasks in order to help him in his everyday life. Sandy helps Plante when he has a panic attack by orbiting, which means she circles around his legs while he's walking to keep people out of his personal space. Sandy also does deep pressure therapy when she lays on Plante's legs.
"She's my favorite because she just keeps me going on hard days," Plante said.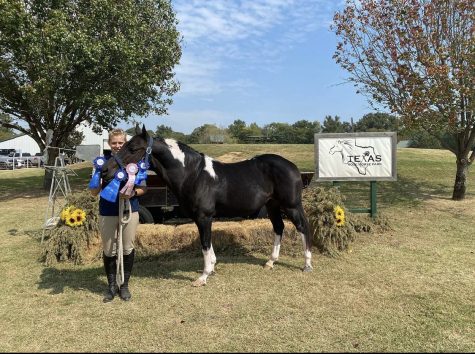 Plante's close relation to animals only further developed into a passion as he spent more time with Sandy and his other pets. His love for animals seems to only grow more as he continues to compete.
Most recently in early October, Plante participated in a jumping competition with his team, Two Stride Farm, and received first place in .75 height, first place in .85 height and first place again in .85 height.
View Comments(1)
About the Contributors
Karla Berrueto, staff writer
Karla is a Junior at CVHS who, along with writing, enjoys playing for the school basketball team and video games with friends. In the future, she plans...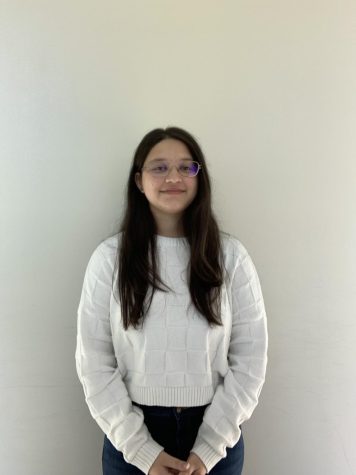 Nicole Rodil Suarez, Arts & Entertainment Editor
Nicole Rodil Suarez is a current Junior here at CVHS. Some tasks that she enjoys doing out of school are reading, specifically fiction, baking with her...