Junior Julian Chavez is all glitter and glam
He stood there, an eyeshadow brush pinned against his eye. Determination gazed back at him from the mirror. He arrived at this stage thanks to social media, family and a strong desire to express himself. For him, it was a moment of instant infatuation.
Known for his "out of the box" fashion and vibrant makeup looks, junior Julian Chavez has made heads turn throughout his time at CVHS with outfits that could grace the covers of magazines. In this interview, Chavez explained about his journey with cosmetology, from humble beginnings to where he is now.
Chavez's interest in cosmetology began early in life, stemming from his cousin.
"Her name's Cory. She's been doing makeup since forever," said Chavez. "I just would watch her do it when I would sleep over at her house. And I just wanted to do it ever since then." 
Although this interest followed him for most of his adolescence, it wasn't until the beginning of high school that he would really lean into it.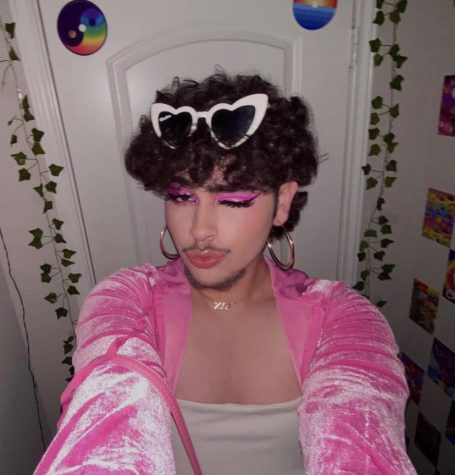 "The first time I ever [did] anything of cosmetology on my face was probably ninth grade," Chavez said. "My mom said, 'Hey, you want to use my old eyeshadow palette? Like, it's old, so you can use it, you can have it,' and I was like, 'Yeah, that's fine'… I remember wearing it out to school, probably first or second, maybe second semester [of] ninth grade."
Though he always loved cosmetology, Chavez's skills were not the best when he first started applying makeup. Nevertheless, he constantly tried to achieve self-improvement.
"It was a struggle! Literally, I would go to school with the worst contour, worst eyeliner and I thought I ate everything up, but you know what? It was definitely hard because I didn't know [how] to [do] makeup," Chavez said. "I didn't even know what steps or what items to use. I just put on eyeshadow and called it a day. [Later] on, I just started watching more videos because I wanted to progress."
Chavez also loves to compose outfits, fluctuating between different aesthetics in order to get people's thoughts and keep it fresh.
"Sometimes, I really like to go with a masculine outfit or sometimes I like to wear… like very feminine clothes with makeup and nails and earrings and hoops, all that," Chavez said. "I want to hear what people say and how [they] say, 'Hey, weren't you wearing a pretty pink outfit?' and then they'd say, 'You were wearing some black emo goth outfit?' and I'm like, 'Yeah!'"
But Chavez explained that he wasn't always like this. He emphasized that, before makeup, he was not the most extroverted person, but once he started using it more, it helped to define his personality. 
"It really shapes a personality because I really was a bland, dry person. Like, I was really not out there in the world. But when I started picking up on fashion trends and makeup trends, that's when I really got out there," said Chavez. "It's like, 'You know what? I'm starting to get used to this.' I really like having fashion be the top priority like having to do that, going out, and just learning to do the color and stuff."
Chavez credits his Hispanic culture to his bold self-expression and knowledge of fashion.
"Hispanics, they all go out when they wear makeup and outfits," said Chavez. "So that's the way I was basically accustomed to knowing how to put on outfits and makeup. So I would just watch. Specifically, 'Hey, here's how they do it. Here's the way I should do it.' And I have followed that sense ever since."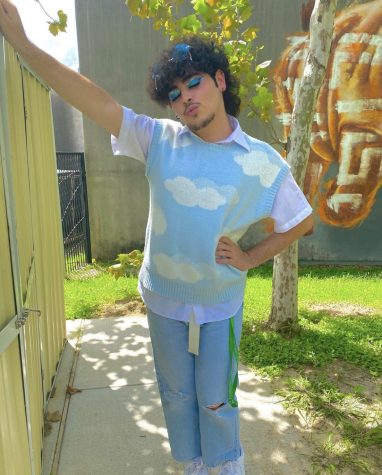 When it comes to his wide range of feminine and masculine styles, Chavez feels the most inspired by James Charles as well as Larray, both well-known influencers on YouTube. He then described his hope to become an influencer himself.
"I have dreams of having [a] camera, having a studio, having to do my makeup or teaching [other] people," Chavez said.
In addition to becoming an influencer, he said he'd love to be a model as well. Specifically, an Instagram model.
"[I want to become an] Instagram fashion model because I mean, obviously, Instagram chooses who they want to be a model," said Chavez. "So I want to be like one where Instagram is like, 'Hey, I feel like we like your outfits. Do you want to become a model for us? Or do you want to do makeup for us?'"
Going on, he said he'd love to do makeup for other people.
"[It's] so I can have the confidence and say, 'Hey, can I do your makeup for prom or something?'" Chavez said.
The length of his routine shows how dedicated Chavez is to curating his style.
"Like, after school around [late afternoon], I will play some music and look through my closet," Chavez said. "I will look [to see] which color have I not done or which I have not worn, and when I would pick a top, I would be like, 'Which bottom with which pants or shorts would go well with this?' And that's when I can start designing ideas of makeup looks I should try, which jewelry goes with which purse, stuff like that. It takes, like, two hours."
Chavez revealed that he doesn't shop at the more well-known stores like Sephora or Ulta. He shows that less-expensive stores are all you need for good quality makeup.
"[I used to go to] the dollar store because it's where I used to buy from, and then I went to Ulta, but girl, that's expensive! It was the same with Sephora and Mac, so I really tend to only shop at, like, Walmart or Marshalls or Walgreens for my makeup. So yeah, I don't really go all out for the expensive brands," Chavez said.
With his looks, Chavez wants to show others that he's a bubbly person.
"So with any outfit I try to like, like, that sense of style to like, 'Hey, I really want people to know that like, I'm like more than just color.' Also with the jewelry and with my makeup and stuff like that," Chavez said.
Chavez wants others to know that no matter how challenging it may seem, you can always use makeup or anything of that matter for self-expression. 
"I learned the hard way, but I'm going to say, 'Go for it.' Like, straight into it. It's a small blip of life. Everyone's going to look at it. Everyone's going to have different opinions, but still, it all depends on confidence. You just got to go for it because you can't be shy about it. Because if you really want to show people out there that you're trying to go with a new aesthetic change or a new makeup change, you really have to go for it," Chavez said.
View Comments (3)
About the Contributors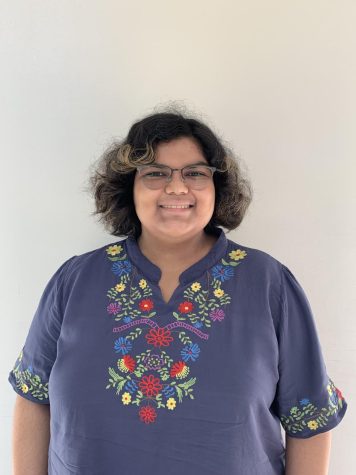 Manizeh Rahman, Staff Writer
Manizeh Rahman is a junior at CVHS. She's an unabashed Potterhead whose Hogwarts house is Slytherin. In her free time, Manizeh enjoys reading dystopias,...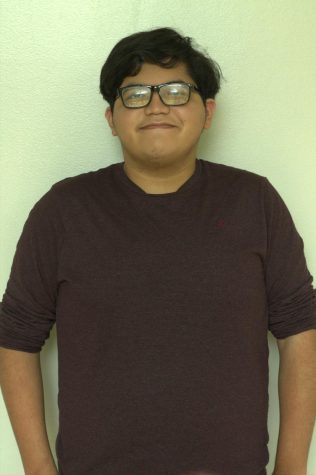 Ivan Salazar, Staff Writer
Ivan Salazar is a current sophomore here at Carnegie Vanguard High School. Reading is one of his favorite hobbies and a book that's recently caught his...