Spanish teacher Miguel Tristan shares his all time favorites
A new trip around the world could be great for many, but it's not as good as a trip that will define your future. Getting off the plane, Miguel Tristan felt the fresh air of a new beginning—he had never thought that one of his wildest dreams would come true.
While this might be the first year at CVHS for Spanish teacher Miguel Tristan, he is by no means new to teaching. After 17 years of experience teaching Spanish at all levels, Tristan is now teaching Spanish 2, 3 and AP Language and Culture at CVHS. 
Tristan did not originally plan to be a Spanish teacher. Tristan was a Teacher Assistant at the University of Houston, and throughout his pathway, he received an offer as a part time teacher at KIPP Academy, which made perked his interest to become a teacher over time. 
"I was a TA at [the] University of Houston. Somebody called and nobody wanted to pick up the phone, [but] I picked up the phone, because nobody else wanted to do it as a TA. And it was Mr. Dan Caesar from KIPP Academy," Tristan said. 
He was able to meet many people throughout his time as a teacher and became very close friends with two CVHS teachers, leading him to register and to take the spot of former Spanish teacher Luisa Jimenez, which also made it easier for him to transfer from his past school to CVHS. 
"I knew Juan Pablo, Mr. Peña, and the person who was teaching here, she was also a TA with me, Ms. Jimenez. So it was a colleague, so I knew those people and they said great things about Carnegie, and I said, 'Why not? Let's go back to public school.' It was really a smooth transition," Tristan said. 
Although his transition was smooth, Tristan is currently adapting to the increased load of assignments to grade and is using some of his free time to finish everything up on time. One of the biggest challenges he faces while grading is correcting students' grammar.
"Challenges… [include] work on the weekends, [like] when you go home and you're grading; the hardest part… for most of the students is just to keep up with the grammar," Tristan said.
During his first month of teaching at CVHS, Tristan appreciated that many diverse students were learning Spanish as their second or third language. Tristan also enjoys engaging with students and would love to get more involved in the future.
"The kids are awesome. I think we have… [a] population… [that] is diverse, and the kids are awesome. I think they are eager to learn and do whatever they want. I want to be more involved with the students in different activities, because I'm sponsoring some clubs right now," Tristan said. 
Back in his school years, there were not as many opportunities as CVHS students have now when it comes to clubs and engagement with others due to the challenges that went on in his native country, Peru. 
"When I was a kid, the government was different. We had a dictatorship, and it was not a good time, and when I was in college it was not that fun, because we [had]terrorist groups that attacked this city and it was not a good time. However, we sometimes had fun; there were students with their friends and family. So, it was hard times… not like now. Now, it's different," Tristan said.
Despite the fact that Tristan encountered violence daily in Peru, nothing stopped him from moving on and traveling to different places as a hobby. He enjoyed traveling to foreign countries and collecting matchboxes as a memento of that place.
"When I was a teenager, [I collected] match boxes from around the world with different shapes, sizes and everything. I was crazy about it," Tristan said. 
Besides traveling to Peru and countries around the world, there was nothing else that can compare to his trip to Greece. 
"The first time I was there, I actually cried. I cried because that was my dream. You think 'Why do you want to go there?' Well, it's because… Western culture started over there and I wanted to see that. I want to see so many different places, those beautiful islands, and when I was a teenager, I saw a movie that was about Greece, and I told myself that one day of my life I'm going to be there. And the day I got there, I just cried," Tristan said.
During his childhood and adolescence, Tristan grew up watching TV shows that many children of the 1970s grew up with. These shows were the biggest shows of that time period: comedy shows for all public audiences. In El Chavo del Ocho, all child roles are played by adult comedians, and the main focus of the TV show is on the people who live in low-income neighborhoods, particularly the orphan boy named El Chavo. Similarly, the Mexican animated television program Cantinflas Show is created by Mario Moreno 'Cantinflas' and was created for children, meant to be instructive in a laughable way. 
"I grew up with El Chavó del Ocho and also Cantinflas, maybe something that was really really good that I remember when I was a kid," Tristan said. 
Every time he travels to Peru, Tristan always gets excited to see the people he grew up with as he relives all the memories he made there with his family and friends. He also gets excited about the food. Due to the fresh fish in Peru, ceviche is his number one dish. Although there's different kinds of ceviche that are made in different countries, Tristan says nothing can compare to the fresh ceviche of Peru.
"So, since there's a lot of pre-Incas culture, you can see and appreciate the one that people lived in the past; the first part is fish, which is my number one. Peru is a country where you can have fresh fish. Good, high quality. So, the Peruvians' ceviche is very popular: it's not the same as all other kinds of ceviche's around the world. And the Peruvian food is now more recognized than in the past because there are not many restaurants now that are really popular. But Peruvian food is so complicated, it takes time to make. It's a lot of process even for the simple ceviche," Tristan said.  
Aside from his love for traveling, Tristan also loves the romantic sense of music. Romantic music reminds him of his relationship with his wife. 
"It's kind of romantic… love and what you're expecting about your partner, whatever they call honesty, is something that I think is a good characteristic, and I'm probably talking about me, because I'm really honest about that," Tristan said.
Although his life experiences have helped him develop as a person as well as a Spanish teacher, he is very happy that students enjoy learning one of the world's most used languages. Though it takes a long time to learn the language, Tristan believes nothing is stopping them.
"Roma no se hizo en un día," Tristan said. 
Leave a Comment
About the Contributor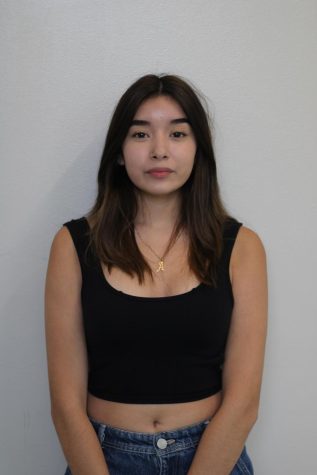 Ashley Becerra, Staff Writer
Ashley is a senior at Carnegie. Even though she is busy with school, she still finds time to do activities outside of school like playing soccer. Ashley...