2022 Skate America: This year's top performers
As the crowd looked on towards the handful of skaters beginning their warm ups, it seemed almost impossible for a single person to utilize all that the grand expanse of ice offered them. However, each performer was determined to rack up as many points as possible so they could qualify for the world's most renowned ice skating competition.
The first event of the 2022–2023 ISU Grand Prix of Figure Skating series, Skate America, is divided into four sections – women's, men's, pairs, and ice dance. Contestants are awarded points from multiple competitions which collectively allow them to move on to the world championships.
This year's performances produced some of the most rigorous choreography seen in Skate America's history. Featuring skaters from the 2022 Winter Olympics, this year's competition was a show of breathtaking, global talents.
Amongst these accomplished competitors, I was most impressed by or excited for Ilia Malinin and Jun-hwan Cha in the men's section, as well as Kaori Sakamoto and Amber Glenn in the women's section. 
ILIA MALININ (FREE SKATE):

17-year-old Ilia Malinin, also known by his self-dubbed yet rightfully earned title of the "Quad God", gave what was perhaps the most impressive performance of the entire competition. 
My first impression as he stood on the ice waiting for his music to play was that he had an incredibly dramatic costume. From the strongly contrasting warm and cool colors to the sharp lines dancing across his chest, the clashing symbols were hard to like. 
However, biased to contrasting glove colors ever since Valieva's free skate at the 2022 Olympics, I was immediately drawn to his own use of a similar tactic – using his outfit as a means to highlight his movement. Viewers' attention was immediately drawn to the expert and fluid utilization of his arms in his choreography.
He began lining up for his first jump, the quadruple axel – a notoriously difficult 4 and a half rotation jump, one that has never been landed in competition before.
Regardless, without so much as a wobble, he landed the jump. He calmly continued the rest of his performance as the crowd cheered uncontrollably, witnessing skating history right before their eyes.
Without a doubt, Malinin's performance was flawless. The overall performance was a grand show of his technical skill and gorgeous choreography. I could have used the angle of his camel spin in a pre-calculus trigonometry problem, his step sequences were executed exceptionally smoothly, he completed his complicated choreography with grace – every movement he commits to is accomplished perfectly.
JUN-HWAN CHA (FREE SKATE):

Jun-Hwan Cha's outfit gives a very unique take on the classic male skater outfit – usually characterized as form-fitting and flat, Jun-Hwan's gives him a distinctive, box-y silhouette. 
When I first heard he would be dancing to a James Bond soundtrack, I was a little frightened because I couldn't see how periodically flaring orchestral music could be used in a figure skating performance. After seeing his full performance, I'm confident in saying that his choice in music was brilliant, even if unconventional. 
In my opinion, Jun-Hwan has some of the best landings out of all the competitors. His fly camel spin is so straight that you might find it in an algebra 1 textbook. He glides across the ice as if he owns it. His lyricism, even for a complicated musical piece such as the Bond soundtrack he chose, was amazing.
Overall, I believe that he could have placed higher (even rivaling the score of Malinin) if his stamina hadn't run out before the second half of his performance. Because he had left the majority of his combos (a move that consists of two or more consecutive jumps/spirals) or other difficult jumps for that portion, it was crucial that he pulled them off – unfortunately, he couldn't.
KAORI SAKAMOTO (FREE SKATE):

As Sakamoto took to the ice, her costume left me breathless. I've always loved that shade of vibrant red (see: Alina Zagitova's 2018 Olympic free skate, Mirai Nagasu's 2018 Olympic free skate, and Kamila Valieva's 2022 Olympic free skate) and the almost 3D effect on the left side of her dress is gorgeous yet simple.
I can't even think of a way to describe how excited I was for her performance. As she landed her first jump flawlessly, I knew that this would be another amazing skate to come out of this year's competition. 
Like the other competitors in this list, she has amazing connections to her music. Her transition from orchestra to Sia's Elastic Heart through an on-the-floor spiral was beautiful. Each time she moves, it seems as if the music is matching her, not the other way around. 
Sakamoto constantly keeps her arms up and moving like a water current, looking elegant while doing it. She's incredibly powerful on the ice, yet her spins are perfectly manipulated and come out almost as ballet moves. 
My favorite jump from her entire performance was her triple flip and triple toe loop combination (two different kinds of jumps that both demand three mid-air rotations) – executed at insanely high speeds, she landed it without so much as a sweat. Of course, I can't forget to mention her flying camel spin – one that was so perfect I put a protractor to my screen and started calculating sine, cosine, and tangents.
Sakamoto's technicality and fluid movements combined with her flexibility, lyricism, and power are what make her such a strong competitor. There is no doubt in my mind that, if she keeps up with the performance she put out in her free skate, she'll definitely be going to and winning the championships.
AMBER GLENN (FREE SKATE):

Amber Glenn was one of the skaters I didn't know that well before this competition, but one that I was extremely impressed by coming out of it. 
Her choreography was what I loved most in her performance. Her lyricism and movements flow effortlessly – when the music's energy picks up, hers does too. 
In terms of technicality, however, I can see some room for improvement. She's still amazing at what she does (of course), but she's noticeably stronger in terms of her artistic element. I think that, if she was just a bit more technically skilled or included more elements to her dance, she could have placed over Isabeau Levito in silver. 
Overall, her skate was incredibly performative but satisfying to watch. She looked like an angel on the ice and seemed extremely comfortable in her movements. Her recovery and elegance on the ice shines through in her performance.
After watching all of the performances, I can confidently say that this year's Skate America has been one of the best in a while, and the magnitude of this year's skaters is both extremely exciting and also extremely frightening – I don't know how I'm going to pick just one to root for.
View Comments(1)
About the Contributor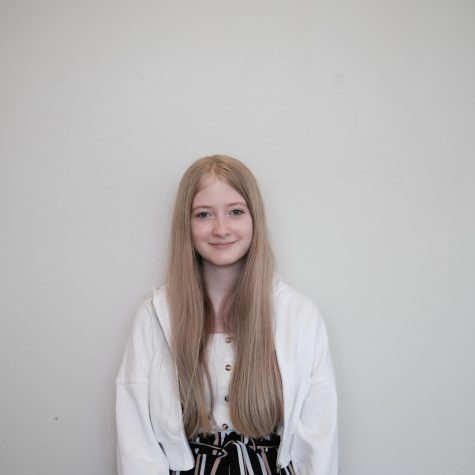 Nadia Talanker, Contributing Writer
Nadia is a senior at CVHS in her 4th year of writing for the Upstream. She has been writing as a hobby and competitively for nearly a decade and her favorite...