Coffee for two: A take on DUO Coffee
"What makes a good coffee?" is a question people have tried to answer ever since coffee became a mainstay in our global culture. Some say the ideal coffee is fast and convenient. Others claim that coffee only tastes good after drowning it in additives such as milk and sugar. DUO Coffee, however, has a different approach to the iconic drink.
Located at 2147 Westheimer Rd, DUO is a prime example of the new trend in coffee brewing, dubbed the "fifth wave." The concept follows the evolution of coffee through the ages, with the first wave being focused on getting the caffeinated bean juice to everyone, the third wave making it convenient enough to sip one every morning on the drive to work, and the ongoing fifth wave emphasizing the importance of authenticity and customer experience. 
This fifth wave doesn't cater to your average consumer. Its target audience is the coffee enthusiast, the experimenter always looking for new flavors to try.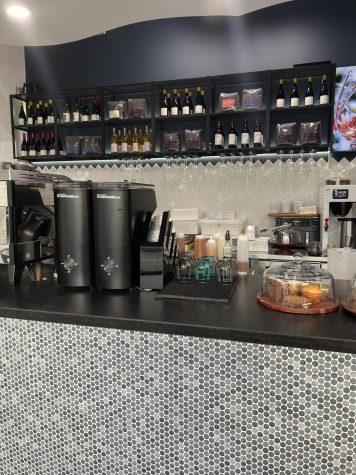 Such was evident as soon as we walked into the shop, with the soft tones of the walls perfectly complimenting the bright lighting, creating a chill vibe perfect for an hours long study session. We walked to the counter and the baristas excitedly greeted us, their hospitality on full display. Upon hearing that we were new to the coffee game and looking to try their best, they told us about the quality of their coffee, including the source of the beans and going in-depth on its flavor profile, and suggested we try a variety of brews and pastries.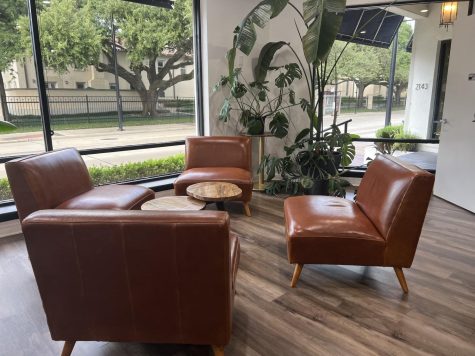 Now we do have to preface with the fact that we are not the biggest coffee drinkers. We both have a bit of a sweet tooth when it comes to drinks, and shy away from more bitter options. However, we were curious to see what a proper coffee/tea would taste like, and if it was worth the hype, so we cleared any preconceived notions we had about the drink and came in with an open mind. 
For caffeine addicts out there, here is Keiner's take on DUO's popular brews: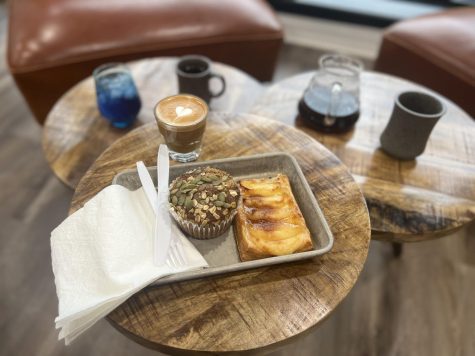 I eventually landed on the Cortado and Pourover coffees, as well as the Apple Pie Croissant. While I awaited my order, the baristas struck up a conversation with us, ensuring we were enjoying our time there. Once our orders arrived, we sat down by the window, the natural light pairing perfectly with the lush green plants beside us. 
I first decided to try the Cortado, its strong bitter taste being the first thing I noticed. A surprise to be sure, but a somewhat welcome one at that. Very different from the overly sugary coffee my grandma would make me, but a pleasant kind of different. being balanced out by the other components of the drink. After the initial shock subsided, the complex flavors of the Ethiopian bean began to manifest themselves, its fruity, citrusy taste being the main attraction, with its rich, velvety texture nicely contrasting the bold taste of the drink. Even though I wasn't too enamored by the bitterness of the coffee, it was rounded out by the flavor and texture, making it a lot better, even for my very different taste.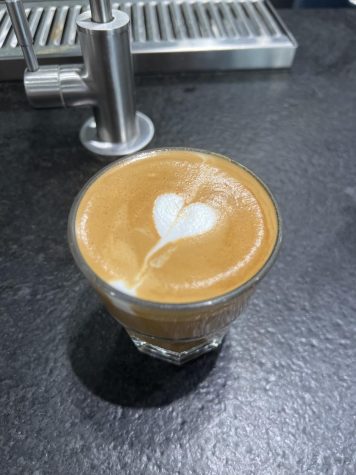 The Pourover was a bit of a different story. It had a similar flavor to the Cortado, but had a more watery texture, which didn't sit well with me. The portion of coffee was also a lot more, whereas the Cortado was in a small, shot glass-like cup, this was in a short carafe, which held around two servings of coffee. This wouldn't have been an issue, had I not been trying to savor the coffee, which led to the rest of the batch becoming cold, and honestly feeling like a struggle to finish.
Trying to get over the not so great encounter with the previous drink, I cleansed my palette with the Apple Pie Croissant, and it was absolutely the best way to end this short experience. The flaky croissant went perfectly together with the sweet and creamy topping, which itself was balanced out by the sourness of the apple, thus creating a flavor combination that hit all the right places in my mouth. My only regret is not having ordered more.
My past experience with coffee was starkly different to the one I had today. I still remember the first experience I had with the drink. When visiting my grandmother, she would always welcome me with an overly sugary cup of café con leche. Suffice to say, this new experience introduced me to a fresh outlook on the iconic caffeinated beverage.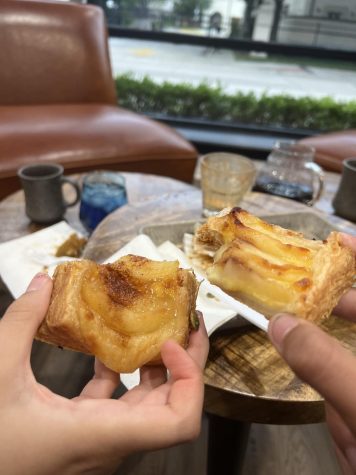 For those who enjoy a calmer take on caffeine, Anjali reviewed the most ordered teas:
I ordered two types of tea. Butterfly Pea Flower tea, and a traditional Rose Black tea. The waiter excitedly suggested that the Butterfly Pea Flower tea tasted very similar to a "burst of fruity pebbles." . I ordered it iced, and quickly received the bright blue tea in a glass cup.
Raising the glass to my lips, I downed a sip. A bitter minty taste hit my tongue. It tasted familiar. I was suddenly transported back to the memory of my 2nd grade science class. We were assigned to pick fresh mints from our school's garden, and out of curiosity, I ate a raw mint leaf.
Needless to say, it wasn't the best. And the tea tasted just like the mint leaf. I guess I expected a sweeter flavoring, considering its previous comparison to a cereal brand – but I kept on sipping away. I was convinced it would taste better if I sat down, and enjoyed the ambience, but I found myself enjoying my other tea instead.
The Rose Black tea came in a gorgeous gray mug, made of a texture of rock and ceramic. From my past experiences of Chai latte's, I was excited to try something new. Placing one hand around the handle, I took a cautious sip, careful not to burn my tongue. A gentle, warm, liquid spread through me. I was in a state of ataraxy. Never have I tasted something so balanced. Floral hints of Rose lined the strong black tea as you drank it. There was also a richness to it, you could taste the freshness and originality.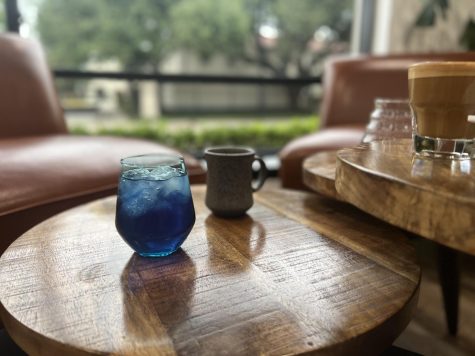 The tea's were a burst of flavors, from eccentric minty, to warm floral – they needed to be tied together with something solid. A pumpkin muffin.
I was hesitant at first, considering it's fall and I thought I've tried just about every combination of pumpkin flavored items possible. So, arrogantly, I took a piece and chomped it down.
But upon first bite, I thought I tasted a piece of heaven. Literally. The pumpkin muffin was airy, and sweet – but not too overpowering. There was a sprinkle of pumpkin seeds, that perfected the gentleness of the bread, and gave room for some spice within the sweetness of the pumpkin pastry. A delectable pastry, for another autumn day. 
Having had two wildly different experiences with four not so different drinks, we will say DUO is not a thing for everyone. It has shown itself to live up to the title of a fifth wave coffee shop, giving us a unique experience we were not expecting coming from a world filled with a Starbucks at every corner. The average student might not be particularly charmed by the idea of drinking a bitter coffee and enjoying it, however it is something we would recommend everyone try at some point, as it is interesting seeing how small differences in the brewing and preparation process can change so much about the experience of this drink. And who knows, maybe you'll find a new obsession.
View Comments (1)
About the Contributors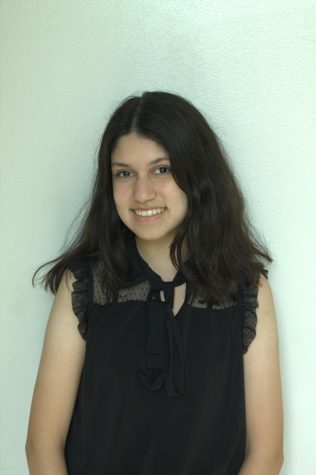 Anjali Martinez, Staff Writer
Anjali is a sophomore at CVHS. She enjoys learning about space and expressing herself through fashion. In her spare time she writes poetry, and reads literature....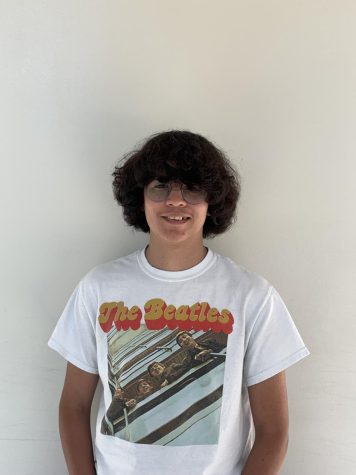 Keiner Rodriguez, Staff Writer
A sophomore at Carnegie, Keiner moved to the U.S. from Venezuela at the age of 8. He has always had an affinity for the press after spending afternoons...