Lishan Bartlett-Will and Baayan Badarna lead CVHS's first-ever girls' soccer season as a part of UIL
Senior Lishan Bartlett-Will and junior Baayan Badarna have been playing soccer for over half of their lives. They can barely recall their first games, lost to the mowed green grass fields of time. What they do remember is playgrounds, backyards, empty fields, boys kicking balls around. Badarna was encouraged to play by her family, while Bartlett-Will found her prowess playing with and against male classmates at recess.
"I used to watch my dad play and a lot of the guys in my family play. I think they just got me into it. At one point in middle school, I realized that none of the girls in my family do soccer and I wanted to be the first. In my culture, women are kind of supposed to be more feminine, so then the guys in the Middle East… they get more excited about it because it's not seen there as much," said Palestenian-American Badarna about her initial drive for soccer.
They both assert that their early days of athleticism being male-dominated never held them back. Rather, it just encouraged them to do better. Both Bartlett-Will and Badarna have been a part of CVHS's girls' soccer team for over a year, and have many triumphant memories from their time on it.
"In my freshman year, I scored the last goal needed to get us to the semi-finals, and that was really fun. Then I scored the first goal of the season my junior year," Bartlett-Will said about her own successes.
As captains of CVHS's first-ever University Interscholastic League (UIL) all-girls soccer team, they put their years of experience to good use. The team recently became UIL for the 2022-2023 school year, and for all years succeeding it. This came about after multiple years of students and faculty alike pushing for the change. The team had previously found success as a club sport for many years, and its members are happy to be allowed to compete as a part of a larger conglomerate now.
"I think at the time [before 2022] we were good enough to be UIL and it didn't make sense for it to only be an after-school club. It wasn't backed up by the school or anything. The girls from past teams did great, they got like three districts. But up until this year, we weren't UIL," said Bartlett-Will about why the team sought UIL status.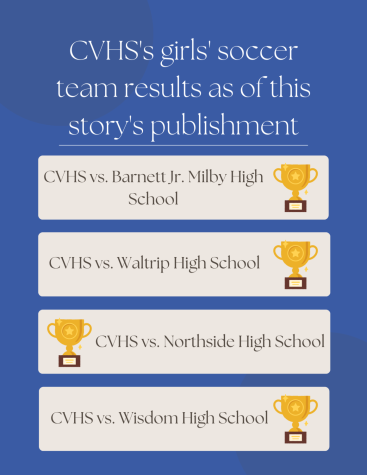 CVHS is known to have fewer UIL sports teams than the average school. The majority of its UIL accolades are taken home by the academics or fine arts departments. Many of CVHS's sports teams manifest as clubs, which compete against other schools' club teams. However, being a club team is difficult. Before the soccer team joined UIL, constant fundraising was the norm, as HISD had no obligation to support them at all monetarily in the way they do with UIL teams.
"It was a bunch of money, a bunch of time. And we weren't allowed to practice during school. Seventh periods are given to UIL sports teams, but we didn't have that as a club team," Badarna commented.
Joining UIL took a lot of asking, bargaining, and waiting. While past team captains, such as 2021-2022's Leah Ghebreyesus, were involved in the process, both Bartlett-Will and Badarna believe the team's sponsor, Antonio Arredondo, was the most heavily involved, and continuously gave him his flowers.
"Mr. A did a lot of it, if I'm being honest. A lot of it has to do with him talking to admin, us raising money for it and speaking out about it. It was a lot of raising money for us to become UIL, for jerseys and whatnot," Bartlett-Will said about Arredondo and the team's efforts.
However, once the captains reached soccer season, the effort was all theirs. Conditionings, practices, and games are all led by the two, despite Arredondo's invaluable help always being there. The team recently played their first UIL game against Milby High School, and despite it having unfavorable results, they still appreciated the experience as it allowed them to learn.
"The formation of the first game had a lot to do with it because it forced a lot of people to condense back. Then it kind of tired out the people who were dropping back toward the goal, like the defense. The midfield could have held up the ball a bit longer. There could have been more aggressiveness in action," Badarna said about how she would improve the team from the first game.
Improve it did, because the team also recently received their first win in a UIL game against Northside High School. This success helped improve the team's confidence and granted it a new drive and sense of motivation.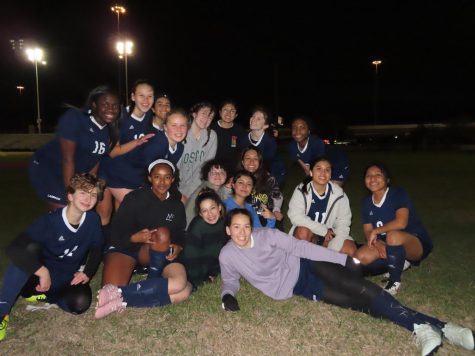 "It was really nice to win a game after the previous losses. I'm really proud of everyone and their efforts, I hope we can do just as well if not better in the next few games," said Bartlett-Will.
Ultimately, while the two appreciate their team members who are dedicated, they also recognize that they have a long while to go before the team reaches the level of achievement which they wish to. Both continuously asserted that consistent attendance is a must which some of the girls struggle with, and that they especially treasure those who make an effort to be there.
"I appreciate the girls who show up. More than anything. Some of them literally drive over 30 minutes. That may not seem long, but if we have like a weekend practice or if we have practice over the break, then I really appreciate their commitment to it. Mr. A drives probably the longest out of all of us and I appreciate everything he does for the team. And of course, I appreciate her [Baayan]. It was a rough start, but it was cool," Bartlett-Will said.
When asked about how they hope for the team to progress after they leave, and what their legacy with it may be, the girls were solemn. They have optimistic hopes for the team to improve, for the girls to bond and become closer. They know Arrendondo will be there for the team as long as he feels able to. 
"I want the team to continue to push, and show that they belong in the UIL. I want them to show UIL that they deserve to be there and that we fought for UIL for a reason," Badarna confidently said.
View Comments (2)
About the Contributor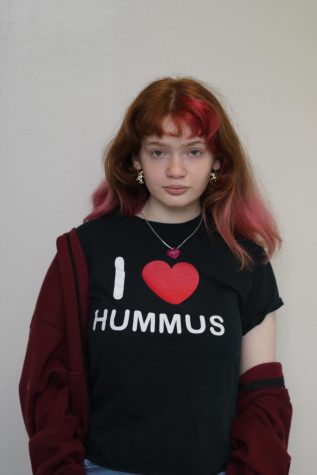 Danielle Yampuler, Co-Editor in Chief
Danielle is a senior, as well as an activist for queer and feminist rights, which often makes its way into her writing. She is a family and friendship-oriented...