Burger Bodega Review: a taste of H-Town in a New York-style smash burger
To the inattentive eye, Burger Bodega appears to emulate New York City bodegas, millennial-styled corner stores selling anything from lottery tickets to a hot cup of joe. The walls are lined either with metal-rack shelves crammed with detergent, liters of soda or vintage cereal boxes, or with posters advertising such items. Every booth, counter and surface have vibrant graffiti cutting the walls with bright solid colors and accented with cobalt-blue neon lights and ketchup-red gloss. 
But looking a little closer, the Houston cultural imprint is clear. The liters of soda are emblazoned with Houston's area code "713-Up" and every detergent bottle and condiment read "H-Town." These cheeky inclusions left us in awe of the Houstonian culture we often take for granted. 
"
Growing up in New York, I often stopped by bodegas for deli snacks and sandwiches that were often advertised by posters plastered on the windows, so seeing the familiar posters stamped with "Get it while it's hot!" made me feel right at home.
— Neela Ravi
Despite the difference in culture, Burger Bodega does not feel like a piece of New York transplanted smack-dab in the middle of H-Town. The influence of the city was clear in the art style of the graffiti along with the taste of the food, and the ambience of the restaurant was right up Houston's alley. 
After being initially blown away by the vivid interior, we finally gathered our bearings and were pleasantly surprised with the simple set up. A neon sign that said "Order" and a neon sign that said "Pick Up." Menu: burger, fries, milkshake. As someone who despises a large, laminated menu with 58 possibilities in nine-point font to fit everything in, the terse menu was a relief. The value, however, was not.
The portions were quite small for prices that high. It was about $9 to $11 for a burger the size of our fists, $6.50 for fries and $6.50 for a milkshake that was smaller than a Starbucks tall latte.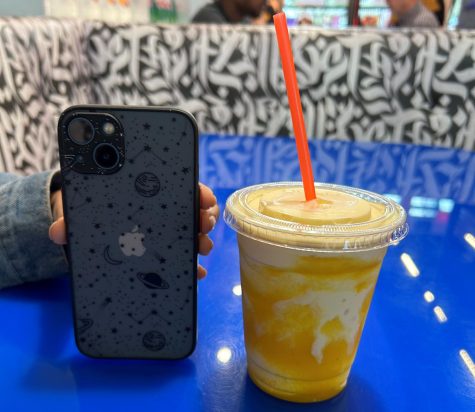 While the portion sizes were small the range of flavors was quite the opposite. We had ordered a double smash burger, a chopped cheese burger, screwed fries and a mango lassi milkshake. If you're wondering why all the food here is smashed, chopped and screwed, don't worry, because we were too. 
A smash burger is typically a ball of ground meat that has been "smashed" into the skillet and grilled very thin and crispy. For this reason, there are two patties included in the burger. A chopped burger is more self-explanatory: the patty is chopped up into pieces.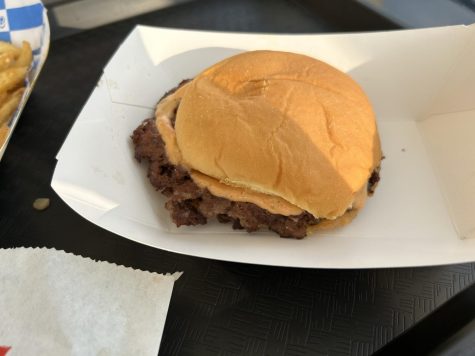 The smash burger had a soft bun laid with two smashed patties that were crispy and flaky on the edges, separated by bodega sauce, cheese, onions and mayo. Altogether, every bite was completely satisfying and almost nostalgic. The meat was touched with a hint of smoke from the grill, which brought me back to the smell of Houston backyard barbeques in our neighborhood. One hundred percent would smash this burger (pun intended). 
The chopped cheese burger was a chopped patty, blanketed in a hero roll smothered with Bodega sauce, mustard and a mean vegetable aioli. One bite in and we realized that this one was for the New Yorkers. This chopped cheese burger was a revamped and elevated version of the chopped cheeses I grew up eating, messy and delicious. However, we couldn't taste much cheese, despite what its famous name elucidates. So while the sandwich was fantastic, don't go into it looking for cheese.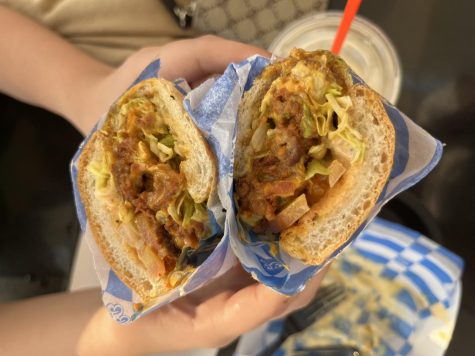 But for us, the star of Burger Bodega was not the double smash burger, nor the chopped cheese. For us, it was the screwed fries. These fries were slightly thick but undeniably crisp around the edges, drizzled with Bodega sauce, cheese and caramelized onions. Neither of us could ignore the tangy flavor of the sauce, perfect saltiness of the cheese or the lush layer of sweetness that the onions brought. The flavors came together in a perfect symphony with the fries, and we would never eat fries the way we used to if we could help it. It was the only dish we truly believed lived up to the price.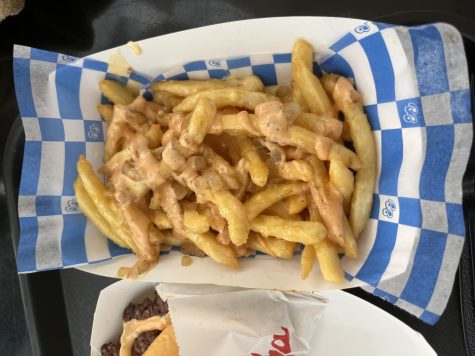 We finally washed it all down with the mango lassi milkshake. Mango lassi is a creamy South Asian mango drink involving yogurt, mango, sugar and a hint of cardamom. However, this mango lassi milkshake tasted like ninety percent ice cream, ten percent mango and a whopping zero percent cardamom, which is the main ingredient that adds a subtle flavor of herbal warmth to the drink. After having such a rich and heavy meal, we'd anticipated that the lassi would serve as a refreshment, but it ended up overwhelming our taste buds with sugar. 
There is certainly room for improvement in the composition of the dishes, but flavor seems to be something that Burger Bodega has down to a tee. The incorporation of Houstonian flavors and techniques with the art and the dishes made the restaurant a welcoming place for friends, nostalgia and great food. 
View Comments(1)
About the Contributors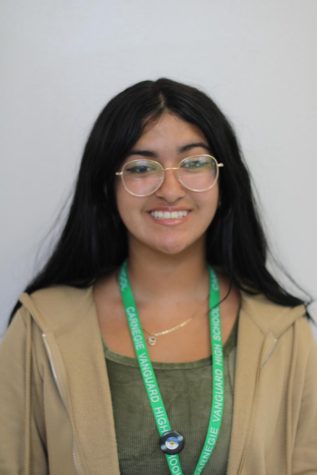 Katheryn Consuegra, Staff Writer
Katheryn has a naturally inviting personality and is a really bright person. In her spare time she loves to read and create Spotify playlists.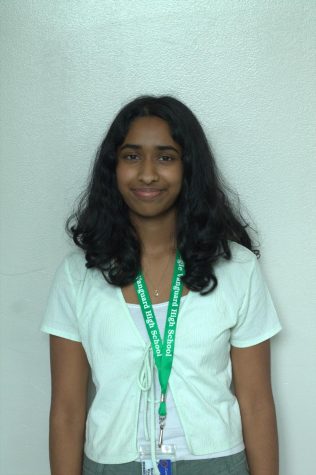 Neela Ravi, Feature Editor
It wouldn't be a surprise if the first words Neela Ravi ever uttered were "Swiftie 4 life," or "stream Taylor's version on Spotify." Constantly equipped...