Enikubahiry Bekele: pride and passion
https://open.spotify.com/episode/4KTuDPTDQgH4JLolFPu0P9?si=DMYmB3RGRKOTJWSXxfqGpg

https://open.spotify.com/show/4B72P0pBuGzGvJNfBYKQ1r
(listen to it here)
Standing in the middle of the field, the halos of the bright overhead lights beamed off the silver of the empty bleachers. Nothing and no one in sight. Just him, the soccer ball and the goal. A moment of symbolism, so regular to him, yet so defining at the same time.
Soccer has never been simply "just a sport" to junior Enikubahiry Bekele, who goes by Enku for short. The sport has been a gateway to his drive, discipline, sociability and character. Something that has been able to connect him to people around him, especially in an unfamiliar place.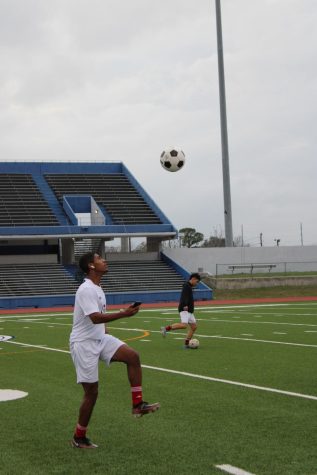 Bekele moved to the United States roughly six years ago from Ethiopia, and with this move, he developed a great love for soccer. In fact, an unlikely story about an anime he enjoyed explains the spark of his interest.
"I would say, for me, it's kind of funny, it's because of an anime I watched called Captain Tsubasa growing up. It was around when I was, like, nine. I just saw it and, you know, I thought it was fun. So I started playing it all the time. I just couldn't stop," Bekele said.
Bekele was able to use soccer as a crutch when he first came to the U.S. He never would have known that a game would allow him to better navigate communication and relationships with others so naturally.
"It was a great connection with my friends and family back home. And here too, it was easier to make friends while playing than it is, you know, talking, because at first, it was very hard to learn English. But you know, when you're outside and you're playing soccer, you don't use words, you just use your feet," Bekele said.
He's beginning to take the sport more seriously this year, after joining RISE Soccer Club. Naturally, when he heard that the CVHS boys' soccer team finally entered UIL, he jumped on the opportunity.
"For the first year, I think the team is really good. Even talking to other coaches and everything, they see potential in our school's team. They know we're improving day by day, game by game, and we should be a really good team running in the next couple of years," Bekele said.
Despite the potential that the team has, it isn't lost on CVHS students that the team did have a losing streak, up until their recent win against Sterling High School. Bekele's experience playing club soccer has certainly made him aware of what the team "should" look like.
"As you go through soccer, like club soccer, and how tough it is, there's some point you have to realize that a winning team is better off. Like for me, I went through many clubs and every club is not the same," Bekele said.
This reality raises the question for him: is skill or community most admirable within a team?
"Some high clubs, you know, they don't want to lose their position in the club and everything. So there's not really going to be a community. So it's always up to you, and I think I would honestly choose [skill]. You know, winning, because I want to have a challenging time, and improve my ability," Bekele said.
Even when the ball isn't always in their court, when it comes to winning, there is something bigger than just winning that comes out of playing with the team for Bekele.
"People are not there to watch the game. They see through [the] stats, and the stats do say that, you know, we're not performing as well. And I guess, you know, it's a genuine thing. It's people's opinions. Nobody really can change it. We just got to show them moving on," Bekele said.
The team at CVHS, however, definitely has filled the "community slot" in his soccer-loving heart.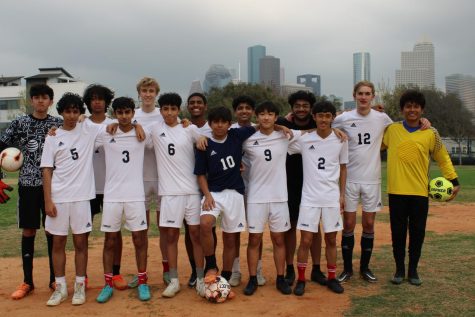 "If you are there to watch the game, you would see more than just the score, you know. Like how the team is trying, how hard they're pursuing the team, because sometimes, we might not have all the players. Other teams might have more subs; sometimes, we only have, like, 10 players, but we still run them for 90 minutes, 80 minutes. That's going to take a lot of energy and stamina, but we're putting in the work, so that is a relief to say," Bekele said.
A notable thing about Bekele is definitely his sociability, constantly beaming his pearly whites in the hallways and talking to people. Along with soccer, this is a part of him that he learned benefited him when it came to a new society.
"It's just small things. It's always the small things, you know, just say[ing], 'Hi, how's your day?' Asking people 'how it's going,' you know, caring. You've got to be a caring person for people to find you helpful somebody they can talk to. And I think that's part of me that I like to work on more, you know, understanding people and trying to help," Bekele said.
With the new UIL soccer team's addition to CVHS, Bekele wants to encourage more people to join the team in the future. He hopes to improve the team and help people feel passion for the sport just as much as him.
"You've got to take it seriously. I know it's just for fun sometimes for people, and they might not take it seriously, but if you genuinely want to join and you know you genuinely think soccer is for you, then you've got to work on it. By yourself, individually. You've got to run every morning. You've got to build the stamina, work on your techniques, even when you're alone, even when it's boring and everything. If you have a wall that's all it really takes. A wall and a ball and just work every day," Bekele said.
As passionate as he is, it's still uncertain whether he will work to take the game to the next level and pursue a professional soccer career.
"But I guess for me, soccer is just, I just thought, you know, it's fun. I mean, I always say it's up to God for me," Bekele said. "I don't like to say it out loud. I don't like to say anything. I just like to pursue what I like, you know, go until I can't go anywhere."
Leave a Comment
About the Contributors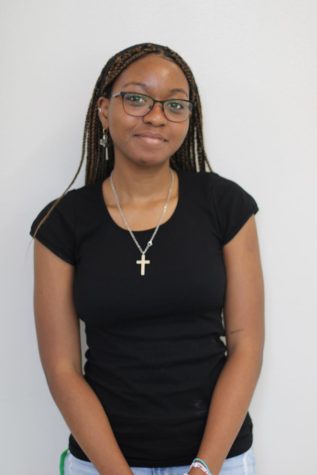 Chiamaka Uwalaka, Staff Writer
Chiamaka has one of the most welcoming and sunshine-filled smiles you will ever come across. She, like most teenagers, is still trying to figure out the...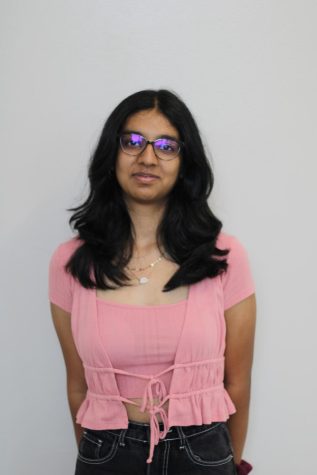 Dia Vaswani, Staff Writer
Dia is a junior at Carnegie. She enjoys reading rom-coms, standalones, and anything by John Green. Dia also comes from a rich cultural background, and...