Ramon Moss: On His Journey to Becoming CVHS' Beloved Principle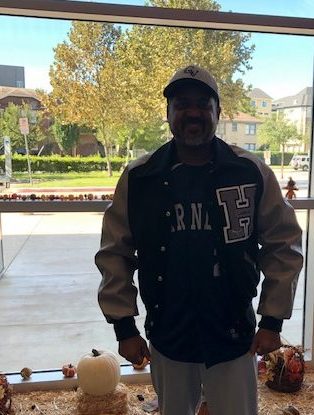 Last month, October, was National Principal's Month, so Upstream News wanted to celebrate that by featuring our school's beloved principal and getting to know him a little bit better. Reporter Andrew T. Mai sat down with Principal Ramon Moss to discover the path that brought him to CVHS.
PRINCIPAL MOSS' HIGH SCHOOL DAYS
Q: Okay, so as a student in high school, how were your grades like?
MOSS: I would say my grades were not stellar, but they were good. There were certainly some courses that I liked much better than others. I was kind of a math student. And I also really enjoyed a psychology class that I took, which eventually led to me being a choosing psychology as a major in college.
Q: In high school, where you like a good student? Did you like to behave well? Or did you ever get in trouble? 
MOSS: Certainly. There was never an issue. I went to a very rigorous program, very similar to Carnegie. It was St. John's school. And they're very well known for the student performance and academics. Although, I was a minority there, in terms of the population, so I kind of had a tough time socially. But I was able to fare pretty well with the rigorous academics.
Q: So the people that you hung out with every day, did they influence you socially, or did they help you anyway? 
MOSS: You know, I think we all helped each other because again, the atmosphere was very similar to Carnegie in terms of academics, so we would certainly rely upon each other to review work and make sure that we had a good understanding. So I would say I had a good network of friends, but it was a small group of friends.
COLLEGE LIFE
Q: What college did you go to? 
MOSS: So I graduated from Texas Southern University here in Houston. That was for my undergrad degree. For my master's degree. I went to the University of Houston, central campus, and I'm currently a doctoral student at the University of Texas at Austin.
Q: So, in college, what were your hobbies? Like, what did you do out of college?
MOSS: Hobbies…that's a good question. I worked a lot when I was in college. I had several jobs, one working with my parents in the air conditioning and heating business. I also move band equipment for a couple of groups. The one location is no longer here, but it was called a Scott Gertner's Sky Bar. Anyway, I used to move and equipment for Scott Gertner's for a very short period of time. I worked at a store that is no longer in existence called Blockbuster Video.  So I used to work there, and several other jobs. And also a store that is no longer in existence. It became Express Myth. 
Q: So were there any sports you liked to play?
MOSS: Well, actually now that you to bring it up, I did run. So as an elementary and middle schooler, I used to run track. In high school, I ran cross country and then in college, every now and then, I would I'd run and used to go to Hermann Park. And I used to play tennis a little bit. I would say that's probably the extent of those hobbies.
BECOMING A PRINCIPAL
Q: So did you ever imagine yourself as becoming a principal as a kid? Did you have other jobs in mind?
MOSS: As a kid? No. I wanted to be a doctor or a veterinarian when I was in elementary school. And even after I finished high school, I was uncertain of what I wanted to do. But teaching was not on my radar. But with a major in psychology and a minor in Spanish, once I graduated, I kind of narrowed it down to a couple of choices. With a psychology major, I really would have had to go back to school in order to kind of do something with that degree. But I was really kind of ready to be in the work field and make some money. I had an aunt, an uncle, a grandmother, and several family friends who were in education, and it was really my uncle who persuaded me to consider education. I did and became a long term substitute for a few months. I received my certification through its alternative certification program to become a teacher. Because I had a minor in Spanish, the district wanted me to consider being a bilingual teacher. I wasn't so certain about that, but they felt that I was strong enough to do so. So I became a bilingual teacher. I taught third, fourth, and fifth grade for three years each. Still, my administration was not on my radar. I didn't, at that time, have aspirations to be a principal. But along the time as a teacher, I started picking up more and more responsibilities, things that I was interested in and someone said, "Hey, you should consider administration".  So that's really how the idea got planted. And it grew to the point where I was able to eventually become a principal.
Q: So are there any people that you aspire to be and represent as the principal?
MOSS: So when you say represent, first and foremost, as a teacher, or an educator, and especially a principal, you have to keep students as your number one priority. So those are the persons that I hope to inspire and I get inspired from students. I always want students to have a better learning environment than I had in high school. And again, mine was strong in academics, but I know that the social and emotional component is also very important. Those are important aspects. So at Carnegie, we try to present an atmosphere that will where students feel comfortable. And for those who show signs otherwise, we try to address as best that we possibly can. Because I want really everybody to be happy. But in terms of people who have been influences for me, the educators and my family. At one time, we had a district superintendent, Rod Paige, who eventually became the Secretary of State for the United States. I remember having conversations with him when he was the district superintendent, and various other people.
"
But first and foremost, the students will always remain my priority. And I love when students have an interaction with me when they feel that they can come to me when they have a need, or just to talk about any subject, and it doesn't have to be anything serious."
— Moss
Just that we see each other in the hallways and we can say, "Hey, what's going on?" So, yeah, students are my priority.
THE EXPERIENCE OF OUR PRINCIPAL
Q: As a principal, like in general, just all your years of being a principal, how was your experience? Like, in the beginning, you know, how did you feel about being a principal?
MOSS: So, transitioning from being a teacher and going into administration, there was a certain level of fear, I guess, fear of the unknown. Yeah. So I became an assistant principal, which was good training for me to ultimately be a principal, as the assistant principal, you know, you kind of are involved in various different things. And so, that was not as intimidating I guess, as it was becoming a principal means that the buck stops with me. And pretty much I feel responsible for anything that occurs on the campus. So even though there was an element of fear, fear also serves as a motivator for me, because I'd become so invested in something. Some people have described me as kind of a perfectionist and I always think I'm very far from that. But I wanted to invest a lot of my time at the front end of something to make sure that I've addressed everything so that we can have the success that nothing falls through the cracks or that something is not. I try to avoid failure at all costs. So Being a principal is very demanding and the amount of time and dedication that you have to put into the position and job. Yeah.
Q: Do you enjoy being a principal and why?
MOSS: I enjoy my job for the most part very much. And I am so proud of the environment that we've created here. First and foremost, I love working with students who are so intrinsically motivated to want to do well. And not just because there isn't any tangible or monetary incentive to it, but they recognize the value of a great education and ultimately, they'll be career and college ready and then be productive citizens for the future. Again,  it's very time-consuming. And sometimes it's hard to create a balance between your professional obligations and your personal life. So sometimes I feel that I'm still trying to create that balance. But Carnegie is an atmosphere where so many people come together to make it work and make us successful. It's really the greatest job that I've ever had. Parents are committed to working with educators are teachers. I'm always amazed that the work that they are able to do and motivate students who are already highly motivated so that they can take them to the next level. So I'm really appreciative of that.
Q: What past schools have you worked at? And how does that compare to your experience here?
MOSS: Okay, so when I entered the field of education, I was that long term substitute. And eventually, I taught at McGregor Elementary. It's an HISD. It's an elementary campus. It's a music and Science Academy. So it's a magnet school. And again, I taught three, four and five, those grade levels for three years each. Then I moved into a program to really become a principal. And I worked at Yates High School, just for one year, I was an administrative intern, and I worked very closely under the principal there. Then I actually got the assistant principal job at the High School for the Performing and Visual Arts and I stayed there for three years as assistant principal. And then that led to me being here at Carnegie for think I've got this is either my 15th or my 16th year of being Principle.
Q: What are the students like to you? And especially since this month is National Pincipal's Month, do they treat you with respect? 
MOSS: So I really appreciate this month but, again, the support that I've developed with students over the year, whether they're a freshman now or juniors, sophomore, junior or senior, I really appreciate the daily interactions that I have with students and not only am I interested in their academics, but maybe some of their hobbies or whatever and whether it's a club sport or a UIL, activity, academics or athletic. I want to be visible and I want to be able to, again, strengthen that rapport with students and let them know that I'm interested, foremost with academics but also their overall well-being. 
Q: What's your favorite part about being a principal here at Carnegie?
MOSS: Again, seeing students excel. And I recognize the value of my education, not while I was in high school, but after high school when I was in college, and I'm like, "Okay, I know this stuff." I felt confident with myself. And that's the sentiment that I want for the students here at Carnegie. And when I'm doing an observation or a classroom visit, and I see students engaged. Nothing to me is greater than a student being able to articulate what his or her learning is. So, for me, that's, that's kind of pride and joy.
Q: So, do you have any future maybe visions of what you want Carnegie to become throughout the next few years? 
MOSS: Good question, and also kind of hard to answer because, you know, we've had many different accolades. You know, we've been one of the top schools in the nation either top 20, top 10 top six. We've been ranked number one locally by Children at Risk. We are a Blue Ribbon School. There's a lot that we've already accomplished. And so you know, we kind of have that on our resume and our profile. I would just love for our students to continue to excel. And this is one thing that separates my experience with my high school compared to Carnegie students, and especially graduates. I think socially, I didn't have such a great time in high school. But Carnegie graduates want to come back. They want to visit with their teachers they know. They want to come usually during December or January, when we have like a social, where students from different previous classes can come and network, not only with our people here, but with each other. And I would love to see that develop more. As as far as I know, we have not had involvement in a like a reunion. Even though the school is now 17-years-old. We would love to be a part of that because really the success of the school is based on the students. I'd love to see that flourish a little bit more.
Leave a Comment
About the Contributor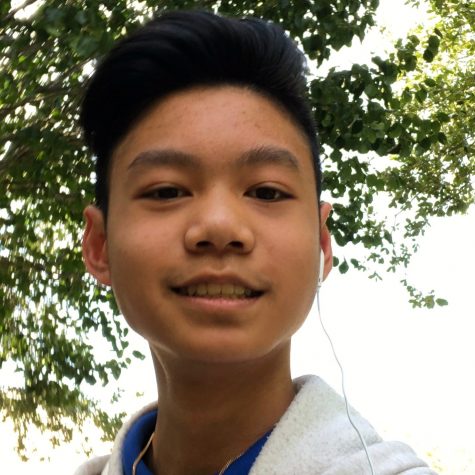 Andrew T. Mai, Staff Writer
I'm a sophomore and I play piano as a hobby and a little guitar. I like to play video games with friends.