The Fractious Fight for Affirmative Action
Harvard does not discriminate against Asians. That was the ruling of federal Judge Allison Burroughs on October 1, 2019. Although the case between Students for Fair Admissions v. Harvard has been an ongoing discussion, the recent case ruling is still raising questions about whether affirmative action is really needed.
Harvard may have won one affirmative action battle. However, the fight for affirmative action still remains fractious.
Affirmative action policies are used mainly by colleges and universities. They were placed in order to improve educational opportunities for groups that have been excluded and discriminated against in the past and present, such as minority groups. The case had threatened to remove the policies placed. The removal of the policies placed could potentially take away many opportunities for minorities.
According to author Robert Putnam in his book Our Kids: The American Dream in Crisis, 74% of students that have the highest test scores in the nation come from the highest income quartile and will graduate from college with a degree. In contrast, only 29% of students from the bottom quartile will graduate from college.
Senior Danielle Henry believes that affirmative action is something that is still needed in our society. Henry is a female African-American student who comes from an upper-middle-class family. She takes into account that race isn't the only factor that can limit a student from reaching their full potential. Factors such as living conditions can have drastic effects on how students perform academically.
"I think we still need it, especially because there are so many groups right now, especially immigrants, that don't have those experiences. They live in areas where, if you didn't go to a great middle school or high school, then you wouldn't necessarily have the grades or opportunities to get into those colleges. Had they been given the opportunities, they would have done really well," Henry said.
Similarly, senior Cookie* has parallel views with Henry. Cookie comes from a lower-middle-class Asian-American family and will be the first person in her family to attend college. She has been offered many opportunities to explore colleges through the program Emerge, which helps first-generation and low-income students explore and attend top tier colleges such as Yale and Harvard. She believes that rather than focusing on race, affirmative action should focus on other aspects, such as income.
"I believe that it depends on the area that someone is in. Rather than affirmative action based on race, I think more of that support should go to individuals that are struggling because of other reasons. [This includes] students that don't have the same resources because they are from a low-income family or students that aren't aware of the many opportunities that schools offer because they live in rural areas where most of their peers didn't do those opportunities. I myself am fortunate enough to have gone to Carnegie where I am able to access quality education and have access to programs that let me explore colleges. However, this may not be the case for some students in other regions as not every district has programs like Emerge and such programs are not advocated for. In such cases, affirmative action would be best," Cookie said.
However, she does believe that affirmative action is generally no longer needed. She points out that problems of racism and discrimination have decreased over time, and that affirmative action, created under the JFK administration, has now created other forms of inequality. 
"I don't think that it's as needed anymore because a lot of discrimination now stems from these issues, such as lower socioeconomic related issues, and less about racial issues today," Cookie said.
Senior Julian Canales, too, believes that affirmative action is no longer needed. He is a Latino-American from a lower-class family. Canales believes that although affirmative action is very helpful to minorities, the policies also make people look down upon its beneficiaries.
"I think [affirmative action policies] come from a good place. However, to an extent, it makes some people take away credit when minorities are accepted into really competitive schools. I don't think minorities need this because their achievements should never be attributed to like "oh it was because of affirmative action," Canales said.
Canales was recently selected as a QuestBridge National College Match Finalist. Although he personally has never received backlash for getting any help to get such opportunities, such as scholarships, he is aware of many others who have.
"The world isn't really a fair place so there are disadvantages, ranging from microaggressions to full-blown racism. This limits some opportunities I get. If I were to get into a good college with the help of affirmative action policies, I wouldn't be surprised if someone told me 'you only got in because you're Hispanic,'" Canales said. 
Similarly, Henry also believes that the policies that were once placed to help protect minority groups and offer them more educational opportunities have been used to target them.
"Sometimes, there are people that will say 'Oh, this person got in–not because of merit–but because of their race' and in some cases that's true. Sometimes students get in, don't try at all, and flunk out and they just wasted the spot that someone else could have had. But I think, in general, looking at the whole, giving people opportunities that they wouldn't have already had, is generally a positive thing and we should continue to do it," Henry said. 
When asked if any of them have ever faced discrimination because of their race, their answers varied.
While Henry recognizes that discrimination towards her race is very common, she believes that because of her good grades and her overall success academically, she has been able to avoid discrimination.
"I think the only reason that hasn't happened to me is that my parents worked really hard to make sure I've had really good grades, and that takes precedence. But if I didn't have good grades it would probably happen to me," Henry said.
Likewise, Cookie also believes that discrimination against her race is fairly common, specifically with test scores. Statistically, Asian-Americans score much higher on the SAT, ranking in the 93rd percentile. In comparison, African-Americans rank in the 52nd percentile. This places more pressure on her to perform better on tests and in school.
"I think that my race impacts my academic success. At times, it can be frustrating because people have preconceived notions about how well you should perform in school because of your race. This can be disheartening because, at that point, it is more about how you compare to your race rather than how well you perform as an individual," Cookie said.
The Students for Fair Admissions v. Harvard  ruling comes at a time when celebrity Felicity Huffman served time for her involvement in a college admission scandal. Wealthy parents pay large sums of money to elite colleges to accept their children, to coaches to recruit them in sports they do not play, and to college, exam proctors to cheat on tests like the SAT and ACT. These recent scandals shine a light on the real question of whether affirmative action is enough. 
Celebrities Lori Loughlin and fashion designer Mossimo Giannulli paid $500,000 to a fake charity in order to secure both of their daughters' spots at USC. They both pleaded not guilty to charges of conspiracy to commit fraud money laundering and now face up to 45 years behind bars. Their next hearing is on November 2nd. Felicity Huffman, who paid $15,000 to have her daughter's college exam altered, was recently released from her 2-week prison sentence early, serving only 11 days.
However, for students of lower-income, such as Cookie and Julian, whose parents do not have the money to pay their way into college, affirmative action is still an avenue to obtain a good education. 
"I feel like [affirmative action] is something we need even if some people feel cheated by it. But, I also think that we should revise the policies in order to make it fairer, socioeconomic-wise," Cookie said.
*Pseudonym used to protect the identity of CVHS students.
Leave a Comment
About the Contributor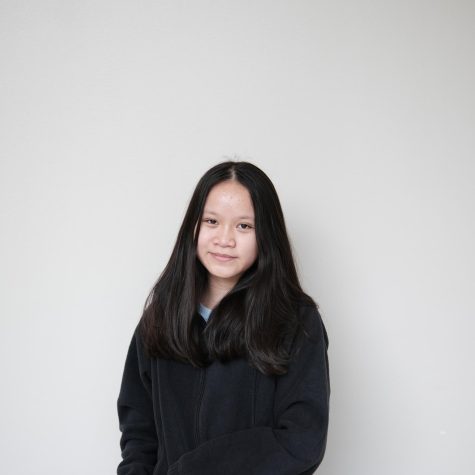 Hilary Nguyen, Opinion Editor
I'm a senior who loves reading, taking naps, and the Oxford comma.