Thanh-Tri Nguyen champions tennis districts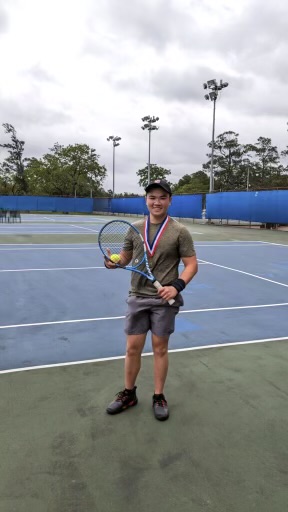 Known for his extremely friendly disposition and massive water bottle he always carries through the halls, junior Thanh Tri Nguyen is a core pillar of the CVHS tennis team. Beyond his academic skills, he has racked up a vast history in competitive tennis. Starting the sport at the ripe age of 8 years old, just this month, Nguyen played for CVHS at the district level competition where he took home the first-place title.
"I really like playing for the team, so when I went to districts, it was fun watching my teammates, because I was able to give them constructive criticism by saying things like, 'Hey, this opponent's strong in this, so why don't you counter by doing this?' I could provide feedback, and it really helps me improve, too," Nguyen said.
Considering how early Nguyen began playing, it has always been clear to him that tennis was the sport he would commit to. As an individual sport that permitted him to practice independently, it allowed for much freedom in practice regimes and self-reliance, which has been very compatible with his headstrong personality. 
"When I played tennis, I really enjoyed it, so I really went all in on that and didn't even think about trying any other sport," Nguyen said. "It was really fun to just be able to rely on you and sometimes one other to practice. And as I've gotten older, it's a really independent sport, and it's good to turn your brain off."
After initially overcoming the learning curve of grasping the fundamentals of tennis, such as his younger self's struggle with maintaining a proper grip, Nguyen quickly began his involvement in official competitions. Just two years later, he joined the United States Tennis Association, which hosts numerous tournaments for different ranks and age groups. And with competitions and ranks coming into play, it was guaranteed that Nguyen would begin to really amp up his practice.
"When I was younger, it used to be just me playing with my other little kiddo friends, but it started to pick up in sixth grade when I really became more proactive in practicing and playing tennis. I started to go to this place, Chancellor's, where I played maybe eight to 10 hours a week, and that's when I really started to improve greatly," Nguyen said.
But of course, for anyone with a decade-long commitment to anything, there were many hurdles Nguyen had to overcome, specifically the major burnout period of when Hurricane Harvey hit. 
"My major burnout was roughly when I was in seventh grade. I was displaced by Harvey, so a lot was going on at the time, and it seemed like tennis was like a backburner problem. What helped me overcome it was [that] I just started to play more. I thought that it was not a backburner problem, because it allowed me to tune up my brain, relax and do what I loved," Nguyen said.
Luckily, through a number of guiding figures in his career, he has found constant sources of motivation to continue working hard and hone his tennis skills even further. In addition to CVHS's team and Mr. Tran's encouragement and coaching, Nguyen looks up to a number of external role models in his life, such as his retired coach Keith Diepraam and renowned professional tennis player Rafael Nadal. Diepraam has played an extremely influential part in Nguyen's perseverance and improvement.
"He was the one person that kept me on tennis and kept me motivated. One time, I remember I was losing motivation and he said, 'Hey, look, I'm here to teach you. I'm not here to make you play. If you're not, that's on you. So either get on the court and you hit with me or you leave and find another sport,'" Nguyen said.
With Nguyen playing in the division of other high school juniors, competition is very aggressive, with many players aiming for a college scholarship or even a career in tennis. Nguyen's district win is just a single testament to his hard work and dedication to the sport, which has paid off in his success. And even as graduation is soon approaching for him, he aspires to continue his tennis endeavors and potentially join teams or clubs in college.
"Tennis has always been a tremendous part of my life, and I plan to continue playing for Carnegie until I graduate and hopefully maintain and improve my skills in college and even beyond. Above all competition or serious matters, I just really love the sport and truly enjoy playing," Nguyen said.
Leave a Comment
About the Contributor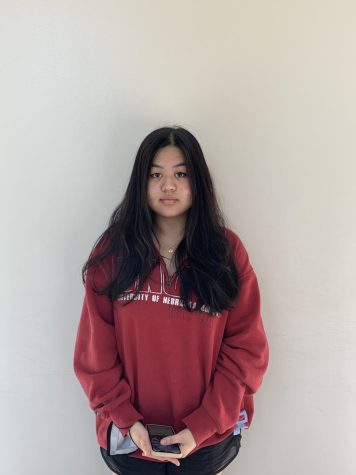 Cindy Cui, Staff writer
Cindy, a junior, loves thrifting, makeup, and the color purple. In her free time, she likes to play tennis and cook for her family where she is the oldest...