#TakeItBack Through an Artist's Creation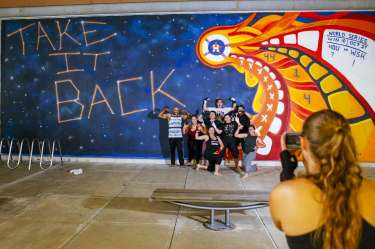 With tensions rising high due to the end of the 2019 World Series being so near, its no surprise that fans are starting to go above and beyond. Whether it's painting their body orange, or having huge Astros-themed parties, or even trying to distract the Nationals players, the citizens of Houston are showing their pride.
One specific example that comes to mind is the art of it. Specifically, the murals. The Astros have commissioned a team of local artists to dedicate a mural for every win in the playoffs. The artists have full freedom, with only a few requirements: the artist must display the score from that playoff game, a number of X's for each game won so far, and their slogan (#TakeItBack).
For this review, I'll be focusing on the most recent mural, done by Gonzo247 in Pearland Town Center.
Gonzo247 is a local Houston artist, and for this mural his talent is wonderfully displayed for the world to see. He embraces the "astro" world as he paints a background of a constellation to spell Take It Back. The image inside against the background is a baseball painted in the image of a comet, with beautiful flames behind it, complete with the score and the X's set in white.
When looking at the art, the clear talent of the artist grasps you by the shoulders and won't release you until you have appreciated the full beauty. The colors of the flames are bright and beautiful, and somehow manage to blend and contrast fantastically. The starry night sky in the background is a captivating mix of light and dark that marbles in an epic way, and captures all the mystery and wonder that an ordinary human imagines space to be. The artist manages to pull all these elements together in a clear and concise way, giving no room for doubt that the Astro's are the best baseball team in the galaxy.
The creativity of the artist and this piece shows the world that H-town does not play when it comes to pride. There is no better way than to show that pride in the power of creativity, and we can continue to hope that the Astros will #TakeItBack.
Leave a Comment
About the Contributor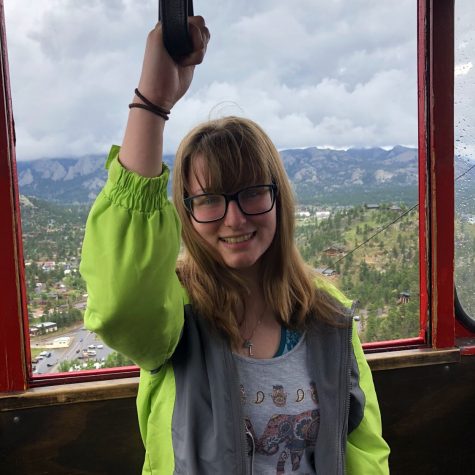 Shaun Wood, Arts & Entertainment/ Opinion Editor
I'm a sophomore who loves Disney Movies and baking (as well as eating everything I make.)

Instagram: @shaun_renee

Twitter: @shaun_wood2022