Girls varsity volleyball unseat top tier, leaving the court with a season to remember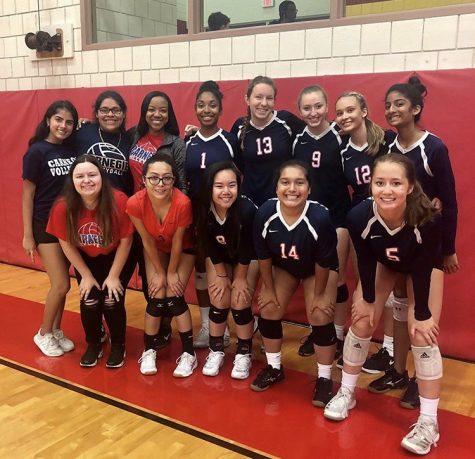 The girls volleyball team topped off the season placing 2nd in the district, allowing them to advance into the elite UIL playoffs. With a striking final of 22 wins to 5 losses, the team mercilessly defeated top tier schools Lamar and Westside twice each, and took another set from rival Bellaire HS for the 2nd consecutive year.

For players Gierra Cottingham, Allie Rossmiller, Victoria McKean, Haely Nguyen, and Carolina Macias, the 2019 season was their last in a CVHS uniform. The upcoming 2020 graduates are walking away with one of the most iconic seasons in CVHS history to remember, and left the court blazing with anticipation for future seasons to exceed.

The Varsity Volleyball team headed into this season with the goal of unseating one of the top three teams in the district. "This year we came into it and I feel like we were really headstrong about our what we wanted to accomplish," senior middle hitter Allie Rossmiller reccalls. Now, they have finished their regular season second in the district. 

Even though the team lost their first game Nov 6  in in the state playoffs to Cy Falls H.S., they finished their regular season with the best record ever. The team beat Lamar and Westside twice, when before this season, they had only beaten the top three- Lamar, Westside, and Bellaire, once in 17 years.

The end to their best regular season came on October 23, when the team went up against Lamar at the Delmar Stadium. They ended the game 25-22, beating Lamar for the second time this season. 

Entering the stadium, everyone had a bead of doubt, however, that was quickly swept to the side with confidence for victory. With Li Bahler starting the game, everything went into motion. Thanks to the team's game plan beforehand, they confidently played hard throughout the evening. 

"In the past, we haven't beat Lamar, so this was a big year for us" coach Miyuki Scott said. 

On October 26, the  team went up against Westside, playing at the Delmar Stadium. They won the game 25-21. 

"We remained confident and we played our game" said Bahler.

Strategically, the Lady Rhinos weren't expected to advance as far into the season as they did. Westside and Lamar, generally receive a larger pool of players who play club volleyball, meaning that they've had more game experience and are generally more competitive. 

"I have learned that every team's beatable. It's kind of like technically we weren't supposed to beat them since you know, they're more competitive, but it's so possible," Cottingham states.

The team believes it has been their rigorous practice and pure determination, that helped them pull through this season. "I think in years past I've had great athletic ability, but this year, they really, really wanted to win. And the way the heart and determination more than one person had, and most of the team had that," Coach Scott reflects.

And with their determined attitudes entailed an equally fierce input into practices. When asked what influenced this season differently from the past, senior outside hitter Gierra Cottingham noted the team's outstanding efforts on the court. "Most of the girls being new to varsity, the work ethic was very different. They came to practice working way harder, I think to kind of like, you know 'I got to step it up.' I feel like last year compared to this year, like it was more lax," Cottingham explains.

"We're here to keep our winning record" said Coach Scott.
Leave a Comment
About the Contributors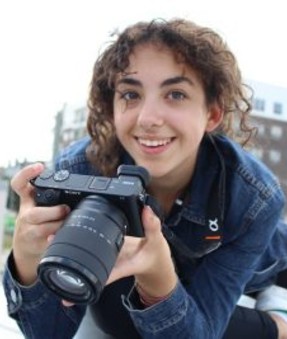 Gabi Rodriguez, Editor In-Chief
Hi! I'm a junior, and I'm really passionate about listening to people's stories.
Allegra Fernandez, Staff Writer
I am a sophomore and I'm also someone who enjoys art, writing and reading.