Get in the mood for Valentine's Day with these Romantic Comedies…
Today is Valentine's Day and it is time to watch and enjoy movies to get yourself and others in the spirit for the holiday. Well, known ones such as Clueless, 10 Things I Hate About You, and Sixteen Candles are considered favorites to a lot of people. Netflix has a wide variety of shows and is a streaming service to watch Romantic Comedies. These are my 5 favorites streaming now:
To All The Boys I've Loved Before

imdb
The movie opens with a sixteen-year-old girl, Lara Jean Covey, desperate for love, but is afraid of it at the same time. She writes love letters to boys she likes but never mails them out until one day her younger sister finds them and sends out all of them. Peter Kavinsky, one of the boys she wrote a letter to, has no attraction to her but persuades Lara Jean to be in a fake relationship with him to make his ex-girlfriend jealous. Lara Jean agrees because one of the boys she wrote a letter to is considered "off-limits" because her sister dated him. Peter and Lara Jean end up falling for each other and end up together. The plot of this movie is original and very relatable to teenagers. This movie is filled with lots of laughter but doesn't make you cry. 8/10
The Kissing Booth

(imdb)
Elle Evans and her best friend, Lee Flynn, have been friends ever since they were babies. However, their friendship is challenged when Elle and Lee's older brother who is strictly off-limits, Noah Flynn, begins to date. When Lee finds out he cuts off Elle completely so Elle breaks up with Noah and doesn't see him anymore. Flynn forgives Elle and eventually realizes she can't choose who she loves and accepts the fact that Elle and Noah are meant to be together. The movie could make you cry but is mainly towards the comedy side and is relatable to the teenage crowd. The plot is somewhat original considering Elle and Noah have a "forbidden" love, but people soon realize they are meant to be together. 7/10
3. Love, Rosie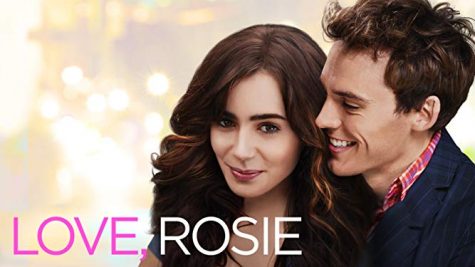 Alex and Rosie have been best friends for a long time. They share a kiss on Rosie's birthday while she's drunk and Alex realizes he has feelings for Rosie. The next day Rosie said she wished that night never happened and Alex believes that she wants to keep their relationship as just friends. They fall into different relationships and are in contact with each other over the years. When Rosie fulfills her lifelong ambition of opening a hotel, Alex confesses his love for Rosie and they finally kiss again. This movie isn't focused on the comedy part but more on the romance part. The plot isn't very relatable but original and will likely cause you to cry. 9/10
To All the Boys: P.S. I Still Love You
Lara Jean Covey and Peter Kavinsky are going on their first date. Although she has very deep feelings for Peter, one of the other recipients of her love letters has just responded. John Ambrose McClaren tells Lara Jean that he has feelings for her and they coincidently volunteer at the same place. Lara Jean starts to overthink hers and Peter's relationship and feels as if her new friendship with John is easy. Lara Jean finds out Peter has been talking to his ex-girlfriend Gen and decides to break up with Peter. Lara Jean then confronts Gen and Gen tells her that Peter was helping her with her parent's divorce because he went through something similar. Lara Jean then kisses John Ambrose at the place they are volunteering and realizes she wished she kissed Peter. She then goes to him and they confess their feeling for one another and get back together. This movie is more focused on the romance side rather than comedy and will most likely not cause you to cry. The plot is somewhat original and is relatable to high schoolers. 9/10
She's Out Of My League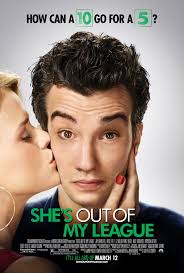 Kirk Kettner meets Molly McCleish at his job as a TSA officer. Molly had just been heartbroken over her last boyfriend and when she meets Kirk and notices how he treats her courteously. Kirk and Molly begin to date and Kirk's friend doesn't believe the relationship will last because Molly is a 10 and Kirk is a 5 on the level of attractiveness. Their relationship becomes too much for both of them and they decide to break it off until Kirk's friend decides he caused them to break up when he said they were physically incompatible. He then makes a plan for them to meet each other and Molly then confesses her true feelings for Kirk and their relationship resumes. The movie is funny but will not cause you to cry. It isn't relatable to teenagers but moreover to young adults. 7/10
Leave a Comment
About the Contributor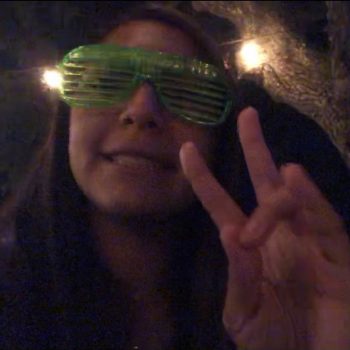 Carys Oriana Reyes, Staff Writer
I'm a sophomore as well as a cheerleader. I like baseball, and watching Netflix.