Varsity volleyball captain Li Bahler channels her fighting spirit to lead a fresh team this season
Captain of the CVHS varsity volleyball team, junior Li Bahler, can't remember a time when she hasn't been playing volleyball.

"My sister started playing at the YMCA, you know, and I used to do gymnastics. And so then I was like whatever my sister is doing, I'll try it. And then, I just ended up loving it and sticking with it," Li recalls.

This year is Bahler's first year as the varsity captain, and she is bringing her many years of experience playing club volleyball to lead a team where the majority of players are playing varsity for the first time.

"If you want to be captain, you have to encourage, you have to be a presence on the court, and you have to know how to bring a team together and talk to them in a way that uplifts their spirit," Li states.

Being the underdog has always driven Bahler to play harder, and this season has been no different.

"So I was at the YMCA [at age 8], and I was not good at all. I was one of the worst on the team and all I remember was being absolutely terrified. But I wanted to improve so bad so I was like, you know what, I'm going to stick it out, and I'm going to try this," says Li.

The varsity team currently has a record of 7 wins to 4 losses with 3 more games to go this season. Bahler is sharing her fighting spirit to the rest of the team to battle to the end of this season.

"I think you're [as the captain is] important for keeping the morale up on the court during the games because that is such a huge part of whether you win or lose, you know is how your attitude is on the court or when you lose a point are you shaking it off, or are you dwelling on it. And I think as a captain, you really dictate how you to react in those situations" says Bahler.

"

"You may not be the most talented, the most skilled, the most experienced player out there, but if you have the hustle and the want for it, you can win it""

— Li Bahler

"I think the girls need to realize that just because they're playing against a big name school like Bellaire or Lamar, that doesn't mean we can't do better. If you really fight for it, you can get there. The game isn't dictated already before we play. You can define how the game turns out, so don't just get scared and give up before the game."

For Bahler, relationship building is an integral part of building and leading the team.

"We don't have a lot of club experience here and so a lot of the girls don't know what tough love is like and they don't know what tough coaching is like. So, sometimes I have to be aware of that. I have to know how to talk to them in a way that is understanding."

Li has played with many teams, but she shares that last season's CVHS varsity team has been the most memorable for her. The team won second in the district and set a CVHS record.

"I really bonded with all those girls, and we got second in the district, which was the highest Carnegie has ever gotten."

When asked what her most memorable game was, Bahler recalls her time with the Houston Juniors during a qualifier tournament in Spokane Washington in a bid to get to Nationals against a San Francisco team.

"It was the most intense game we've ever played. We worked our butts off and won that game. We were all in tears because it was the hardest we'd ever worked and it felt really good to win," says Bahler.

The euphoria that Bahler has experienced from playing competitive volleyball has also been met with struggles balancing academics and setbacks when injures occur.

"Two years ago, I got a concussion. I've gotten multiple concussions playing club [volleyball]. I used to play Houston Juniors volleyball, but then my parents pulled me out because I started missing school from tournaments and injuries, and they were like, you got to focus on academics," says Bahler.

Concussions and setbacks have not stopped Bahler. If anything, it has shown her that that will-power and drive is what is needed to win.

"We lost to Bellaire, which was pretty tough. But we won our other games and those after. We didn't fight for it. There wasn't enough push on the team and I don't think there was enough heart.  I think that's why we lost, and the other girls just wanted it more. But I think that we can get there if we try. I think we really need to work on our yelling and our communication because I feel like we only have a couple people who really stand out and we need the whole team to come together if we're going to work together."

"You may not be the most talented, the most skilled, the most experienced player out there, but if you have the hustle and the want for it, you can win it," said Li.

Listen to our podcast to hear more about Li's journey on her road to success

.
View Comments (10)
About the Contributor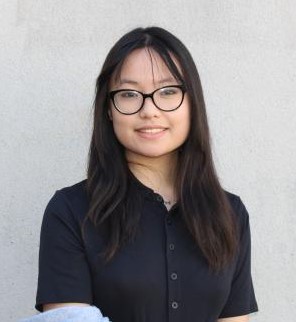 My-Tran Vo, Staff Writer
When My-Tran Vo isn't testing out a new knife by cutting a salami stick for a midday snack, she's out taking care of the stray cats she feeds. She...