Senior Michael Lewinbuk- the New King of Carnegie Theatre
1984- the connection of this Orwellian dystopia to today's politcal and social moment- the refusal to hand over power, the popular protests- resonates clearly with senior Michael Lewinbuk who plays the protagonist Winston Smith in the company's upcoming production of this play, streaming live December 3, 4, and 5.
Like the protagonist Smith, Lewinbuk sees himself as a normal guy who wants a better world and future for himself and for those around him.
"Winston is just wanting the world to be a better place. I think we all can agree with that, that there are many people who are victims to things like government, inequality, and just natural human occurrences. People will fall short or be picked out of that. And so I think he is he [Smith] cares about people and and wants the freedom to say what he wants," says Lewinbuk.
When asked how his own personality is different from that of his character's, Lewinbuk remarked that the country's current situation has not driven him to a desperate act of individual heroism.
"He [Winston Smith] feels extremely empowered throughout the play that it almost becomes a desperation. I don't necessarily feel as a challenge or as oppressed as Winston would feel. So I feel like the oppression he feels every day, the constant reminder of like him deleting people, that has caused him to be more anxious and more desperate to change things. Everyone should want to change the inequality that occurs in the world, but he almost wants to take it on alone and do it himself," says Lewinbuk.
This year, Lewinbuk is also the president of the Carnegie Theater Company. He traces his experience back to middle school. In fact, Lewinbuk met his future theater director long before he arrived at Carnegie. They met at one of Lewinbuk's middle school plays, Little Mermaid.
"I was wearing a shark costume from Party City. And it was in this tiny theater and we were doing kiss the girl know the song like kiss the girl, a little mermaid. And I was at the front like laying down or something as a part of the dance routine. And Mr. Savage was right in front of me."
Since joining the Carnegie Theater Company, Savage has continued to look after Michael, acting as a mentor for him.
"I always want to thank that man for believing in me. He's probably one of my closest mentors. I can talk to him whenever I need anything. I feel so trusted by him, so I would just say thank you," Lewinbuk says to Savage.
Over the last 4 years, Michael has acted in, as well as helped in the production of a number of plays, including Let The Right One In, Faust, One Man and Two Guvnors, and now 1984, just to name a few.
"I think I'm definitely more comfortable in my own skin. I feel like I have less to prove and more investment in the art not necessarily myself, if that makes sense. So I'm not necessarily worried about what people will think of me, if I do this, or that. I'm just doing things on stage that I feel are right, and just having fun on stage."
"I also feel like I'm able to understand why people do things more. Just because as an actor, I have to figure out why a character said something or why someone does something. I think it's just a better understanding of people in general, that has come out of being theater for me," says Lewinbuk.
Lewinbuk hopes that he can continue to build a supportive environment in the company for theater students.
"Theater has become an outlet for many people. If they're having a bad day, they can just go to the theater or they have friends in the theater. So I think just keeping us together will really help the mental health of our theater students," says Lewinbuk.
As president of the theater company this year, Lewinbuk has to work with other officers to address the obstacles of producing and presenting a show during virutal learning and finding ways to fund this. But at the end of the day, he wants to remind theater students to enjoy themselves in the process.
"I think keeping a solid year in terms of quality of our work is very important, just because we've had some difficulties trying to experiment with doing things online versus doing things in person versus filming. I think we're really focused on trying to make a solid year, and we have other shows planned, so hopefully, we'll be able to move forward with those as well. So, I think maintaining good quality shows, and still somehow raising money. But also just making sure that everybody is still having fun. That's really all I care about," says Lewinbuk.
Finally, Lewinbuk gives CVHS students a preview of the 1984 play to come.
"I think the play is going to be really cool because we're experimenting alot with the capabilities of film. We have plans to have multiple different cameras and do different scenes in different places. You have people filming stuff at home, and we have all these different ideas that are coming together. Not being in-person presented us with a challenge of combating that challenge. It has inspired innovation."
To reserve tickets for 1984, go to Carnegie Theater's box office here.
View Comments (10)
About the Contributor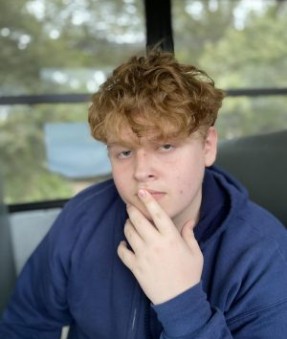 Cameron Hart, Staff Writer
I'm a sophomore who's really into anime and just helping people out. Stay hydrated, eat fresh.

Insta: @brownie_plugg