Limitless Minds- Juniors Monica Balakrishan and Madeline Hsu expand the local chapter of this non-profit tutoring service for struggling Houston-area students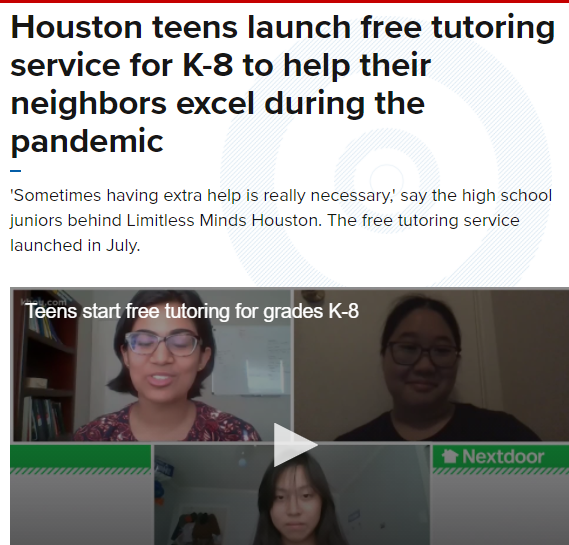 While most students were hunkering into a long season of isolation and silence behind their cameras for virtual learning, CVHS juniors Monica Balakrishan and Madeline Hsu, along with Bellaire H.S. junior Oceana Jin sought to reach out to other students struggling with virtual learning from the onset of the pandemic. Back in April of this year, they started the Houston chapter of Limitless Mind, a non-profit free tutoring service run by students for other students.
"We know a lot of students that need help, especially like now, because when they had to go to virtual, a lot of students were/ are struggling," said Balakrishan. 
Since April, first using Instagram and then the app Next Door, the local chapter now has 230 tutees from the Houston area and 120 tutors, 30 of them from CVHS. The chapter started only a few months ago, but it is already one of the biggest chapters in the national organization. They have even been featured in the Houston Chronicle, and KHOU TV, among other media. 
KHOU TV
Hsu says that she is proud of "how far we've gotten in such a short amount of time."
"We've hit many milestones in terms of number tutors, tutees, outreach, all that. But  I wouldn't say that is necessarily a goal. A goal directly is to help as many people as possible, and reach as many people as possible," said Balakrishan.
Each tutee gets a tutor so they can focus on 1 on 1 learning. After a student signs up to be tutored, the organization matches the student to an available tutor based on the subject and availability.  All tutoring sessions are virtual. 
"Most students really appreciate that it is one-on-one because a lot of organizations have a huge class of like 200 students and one teacher, that's not very effective. With one-on-one tutoring, you get your exact personalized attention. We customize based on the student's needs, and we find a tutor that helps them in that aspect. They've [the tutors] build this kind of bond and connection with their student,"  said Balakrishan.
The chapter offers tutoring in all the core subjects, and even electives, such as debate. The methods tutors use vary depending on the tutors and their students, and oftentimes, teenage tutors are not afraid to think outside of the box and take creative approaches to tutoring. They aim at creating a safe place for kids to learn and grow with guidance. The founders noted that they make sure their tutors are willing to put in the time and work to teach these kids. 
"We've kind of fostered and built a community that is helping students and also just helping students in general through this pandemic by giving them almost like a high school mentor," said Balakrishan.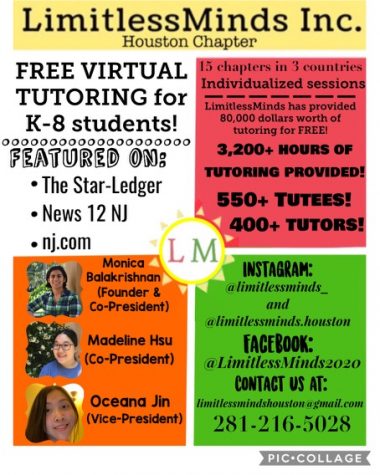 The founders emphasized that because the organization is non-profit and offers free services, parents who are unable to afford a regular tutor are still able to access help for their children.
"The parents are very grateful for all that we've done and they hope that this thing continues for a long time," said Jin. 
However, there are growing pains. Because the organization has media attention and is experiencing more requests from parents, there is now not enough tutors to match with tutees.
"We have more students that want the service and we don't have as many tutors on hand to provide them with," said Balakrishan.
"We want students and Carnegie students, any high-schooler in the Houston area who would like volunteer hours to please please sign up!"
If you would like to be part of this growing community (and fulfill your 100 required volunteer hours), you can reach out to Monica Balakrishan, Madeline Hsu, or Oceana Jin. and sign up to be a tutor.  For more information, you can go to their website LimitlessMinds, or email at [email protected], or find them on instagram @limitlessminds.houston. 
Leave a Comment
About the Contributors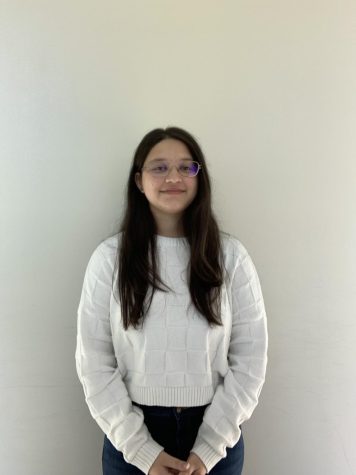 Nicole Rodil Suarez, Arts & Entertainment Editor
Nicole Rodil Suarez is a current Junior here at CVHS. Some tasks that she enjoys doing out of school are reading, specifically fiction, baking with her...