Cameron Hart's Easy Carrot Cake Recipe- Perfect for a cold day at home
The sound of jingle bells on Christmas morning. The taste of something sweet. A carrot cake to eat, while opening gifts left under the tree. Taking a bite as my mom hands me that first gift- it is pure joy.
Carrot cake is a popular type of cake that includes the use of carrots in the batter, and most modern recipes also incorporate frosting into the cake for added flavor. It was originally invented as a carrot stuffed with meat, known as carrot pudding, in 1591. It served as a substitute for sugars due to how expensive it was during that period of time. Nowadays, carrot cake is a delicious and popular treat for all year round that many people, myself included.
The cake has a very sweet taste, but with a subtle hint of saltiness hidden with its contents. The frosting on top of the actual cake manages to compliment it brilliantly, while not taking over the entirety of the flavor, leaving room for the cake to shine with its own salty sweet flavor. The actual cake is as soft as marshmallows and is like biting into a cloud. Regrettably, the appearance is nothing much to look at. Simply a regular looking brown colored cake with messy white frosting resting above it, but still leagues above anything simply store bought. When it's made at home, you can practically taste all the hard work and fun you had baking it.
A cake so good, it reminds me of my days as an elementary school kid, eating this for the first time. It's comparable to biting into cotton candy, and just as delicious. Carrot cake still may not be something for everyone, but it is always worth trying even to those who do not appreciate carrots by themselves.
Ingredients for the cake include:
Avocado/Vegetable Oil (1 2/3rd cup)
White and brown sugar (1 cup for both)
Eggs (6)
Vanilla extract (1 tablespoon)
Flour (3 ¼ cups)
Ground cinnamon (1 tablespoon)
Nutmeg (½ teaspoon)
Cloves (¼ teaspoon)
Baking soda (2 teaspoons)
Baking powder (1 teaspoon)
Salt (2 teaspoons)
Freshly grated carrots (1 pound)
Frosting Ingredients:
3 (8-ounce bricks) of cream cheese
1 cup (2 sticks) salted butter
1 tablespoon vanilla extract
½ teaspoon fine sea salt
6 cups powdered sugars
Instructions:
Step 1: Prep baking pan. Grease and flour the baking pan or use baking spray.
Step 2: Make the batter. Mix the oil and sugar together, then add in the eggs and vanilla, followed by the dry ingredients and lastly the carrots. Mix it all together.
Step 3: Pour the batter into the pan and throw it into the oven. Depending on how much batter you have, pour it evenly between 1-3 pans. Bake for 25-30 minutes at 350 degrees Fahrenheit. See if the cake is ready by sticking a toothpick down the middle of the cake, and when it comes out clean that's when you'll know it's ready to come out. Let them cool down until it reaches room temperature.
Step 4: Make the frosting. While the cake is cooling you can make the frosting. Stir cream cheese and butter together with the vanilla until its been smoothed out. Then add in however much powdered sugar you need to make it firm.
Step 5: After the cake is baked, wait for it to cool down and then put the frosting on top.
Step 6: Enjoy your freshly baked cake.
View Comments (10)
About the Contributor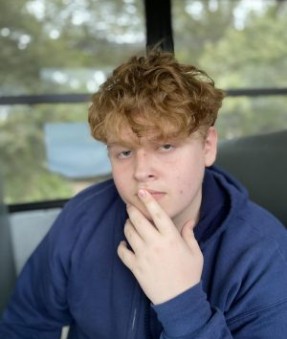 Cameron Hart, Staff Writer
I'm a sophomore who's really into anime and just helping people out. Stay hydrated, eat fresh.

Insta: @brownie_plugg