The Everchanging Cityscape of Houston
Walking down the flat cityscape of Downtown Houston used to be a meaningless experience, but recently, thanks to hundreds of commissioned artists, Houston has become an oasis of beautiful and vibrant street art.
Once an illegal act, street art has become one of Houston's most notable and prominent features among the Brobdingnagian buildings. You can't turn a street corner without meeting a wall doused in various vibrant colors, with every wall becoming its own canvas and art exhibit.
You may know of a few pieces already, such as the alligator by the campus of U.H., the god with a spray can in midtown (which is notably Houston's largest mural), or Houston's pride and joy – the Houston is Inspired mural, which features neon colors and a graffiti-esque print, commissioned by the Greater Houston Convention and Visitor's Bureau (GHCVB) and painted by Gonzo247, also known as Mario Figueroa.
The once bland and somewhat boring buildings have now become masterpieces; the uniqueness of every building reflecting Houston's diverse background.

Houston is Inspired is a grand mural painted on Travis Street, right by Market Square Park. It features stylized text reading "Houston – Inspired, hip, tasty, funky, savvy," with a simple cityscape of Houston sitting atop the words. Emerging from the centerpiece, vibrant and sprightly colors display across the wall, giving the piece character and bringing attention to the inscription. 
The mural itself was unveiled in May of 2013, taking artist 'Gonzo247' two weeks to completely paint. Commissioned by the Greater Houston Convention and Visitor's Bureau (GHCVB), Gonzo247 began painting and designing the piece in April of 2013. He has received an abundance of recognition for the piece, opening many Houstonians' eyes to the world of street art.
Mario Figueroa, also known as Gonzo247, began his journey into street art as most others did – through painting trains and back alley walls. Many of his works feature vibrant colors and swift, curving lines – uniting the usual "graffiti" style with a clean, lively look.
You can find Houston is Inspired on the corner of Travis Street across from Market Square Park. With its iconic design and energetic colors, it'll be hard to miss. 
Visiting this mural was truly an experience. I'd been walking for almost 2 hours mural hopping without a map. This was originally going to be the first stop on my journey, though I passed it a street over. Heading back to my car, amongst the gray concrete walls, an explosion of color immediately caught my eye. The mural was just as vibrant as the pictures, if not more. Not many people were present aside from a few joggers. Across from the mural, a large parking lot stood, giving viewers the perfect space to take photos of the entire wall.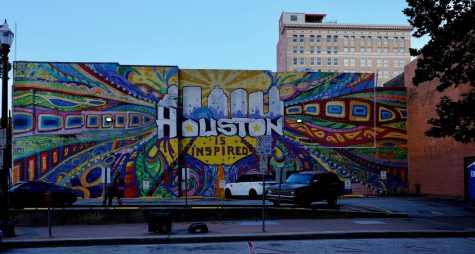 One of Houston's largest murals, the Preservons la Creation, is a large, realistic painting that is approximately 10,000 square feet. With a portrait of a god holding a spray can, this mural brings street art to an entirely new level, the skill behind the art incredibly evident. The god is radiating an electric yellow, separating the figure from the vibrant background as well as giving it the illusion of the figure coming directly off the wall.
Though a gargantuan size at 5 stories tall and an entire city block wide, French artist, Sebastien Boileau, kept a keen eye on details. Each and every clothing fold, strand of hair, skin detail, etc. has a unique textured look from the artist's manipulation of the paint. It almost looks like the figure is made of small swirls, only giving this piece more life and movement.
Partnered with the Texan-French Alliance for the Art's "Open Door" project and the Midtown district, Preservons La Creation was made in 2014. It shows a more modern twist on The Creation of Adam, painted by another famous artist, Michelangelo. Taking 27 days to paint, two 65 foot boom lifts, 500 cans of spray paint, and 150 gallons of wall paint – this masterpiece is one of the largest both size-wise and cost-wise. It took about $90,000 dollars to fund this work, though, with the final product – It looks to be worth it.
The meaning behind the piece is truly to make Houston more beautiful, though the name, Preservons la Creation, which translates to Preserve the Creation, tells us about how we need to preserve our urban street art in Houston, which is prone to being defaced or removed entirely. One of the artist's own past works was defaced, the Biscuit Paint Wall in Montrose being suffocated by a wall of symbols placed by vandals. On the side of Preservons la Creation, Mr. D left the inscription of "Walls are to paint on, not to divide people!".
You can find this piece on 2800 San Jacinto Street in Midtown, with the building itself facing Fannin street. With its size and colors, it'll be difficult to miss this masterpiece. Sitting in front of the painting is a completely empty lot, perfect for taking photos.
Viewing this piece was almost like something out of a fairy tale. You really can't understand just how large and beautiful Preservons La Creation is until you're standing 50 feet away from it, just trying to get the perfect view. The colors and realism are beautiful and making my way there, I saw many more of Sebastien Boileau's works.
Sebastien "Mr. D" Boileau is an artist originally from Versailles, France who started his journey into street art and murals after the pop art movement of the 60s, 70s, and 80s. He joined his first contemporary art group in 1995 as well as started his own mural company named Eyeful Art Murals and Designs in 2000. His main artistic goal is to remove any stigma still surrounding street art by using his skill and mastery in the craft to open people's eyes to the beauty of street art.
Mr. D focuses on more realistic styles, though the signature term he uses to describe his art is "canpressionism". This is a neo-impressionist style, though the main media used with it is spray paint and other street art essentials. 
His most notable pieces include the Preservons la Creation, the Biscuit Paint Wall, My Life as a Houston Mural, and the U.H. gator mural. He's painted countless memorable and beautiful works, and if you've been in Downtown or Midtown recently, you're sure to have seen one or two of his works.
Some of his major accomplishments include creating the two largest murals in Houston, creating his company (Eyeful Art Murals and Designs), being chosen by Red Bull to make an exhibit at Scope Miami Art Fair in 2014, being selected as the Liquitex ambassador and sponsored artist, among others. He is clearly an incredibly accomplished and talented artist.
To visit Mr. D's website, click here.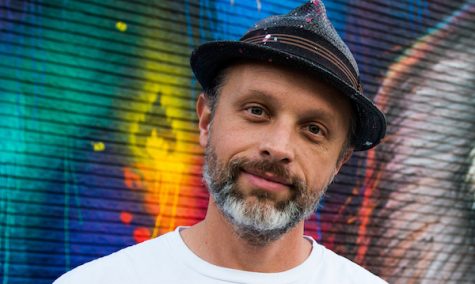 One of Boileau's other works is multiple murals featured in the Spaghetti Warehouse on Katy Freeway.
The Spaghetti Warehouse has deeply interested me for a while now, from its haunted lore to its sweet history, it deeply saddened me to see it destroyed by Hurricane Harvey. However, in the beginning of the year, it was remodeled and reopened, with a shocking artistic touch inside. The Spaghetti Warehouse now features three murals of different female models along the walls of the inner café. Each portrait is painted with soft tones and a somewhat stylized texture. All three women represent different backgrounds, emphasizing the diversity of Houston. One of the models, Krista Davenport, spoke in an interview with CW39 Houston. "I hope they got to experience, like they got to have an experience of some sort. Not just going to a restaurant and eating food, but they got to hear our stories, read our stories, and see us for who we really are and hopefully leave feeling more empowered and more inspired."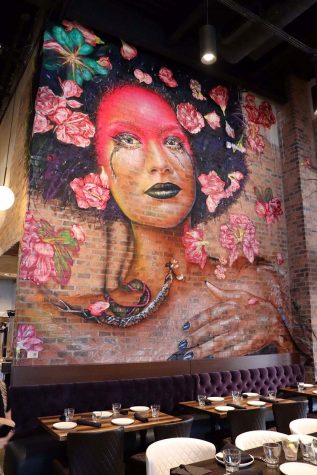 Unlike most other street artists, Anat Ronen never had a start with graffiti. She originally started when she came to America from Israel, looking for a visa and green card. She is completely self taught and practices many other art forms, though says she has found her true calling with street art. 
Anat Ronen mainly focuses on realism, her talent of manipulating lighting, shading, and colors to create designs that appear 3D incredibly prevalent. Not only does she work making murals on walls with paint, she makes street art on floors with chalk, paints on canvases, and many other mediums. There's no doubt that she's an incredible artist with a talent for realism.
She has many notable pieces ranging from around the U.S., such as a realistic candy still life titled Sweet Dreams/Eat Your Veggies in Menomonee Falls, Wisconsin or the Pangolins she painted for the STAMP mural project in Bhubaneswar, India. Though, most of her works stand in Houston, such as the owl eyes she painted on the concrete retainer walls of a ravine in the Houston Arboretum and a gorgeous gorilla mural for the Houston Zoo among others. Currently, she's working on a mural for the Friends for Life at the Heights featuring many different animals painted on vibrant backgrounds on a 15 foot tall wall. 
To visit Anat Ronen's website, click here.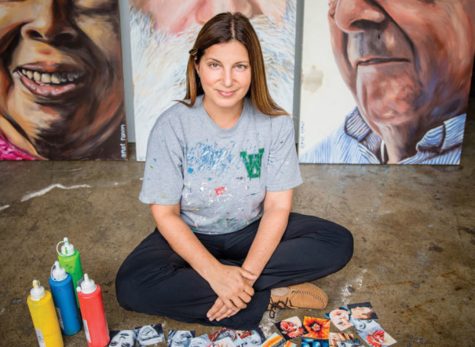 The owl eyes Anat painted for the Arboretum were piercing among the trees. While I wasn't expecting to come across a mural in such a natural environment, it was refreshing to see. The colors of the owl's feathers blended into the nature around them, though the yellow eyes practically glowed as I walked by. I remember staring at it for a while, admiring the art from a distance. It truly is a gorgeous mural and if you're in the Arboretum anytime soon, you should definitely check it out.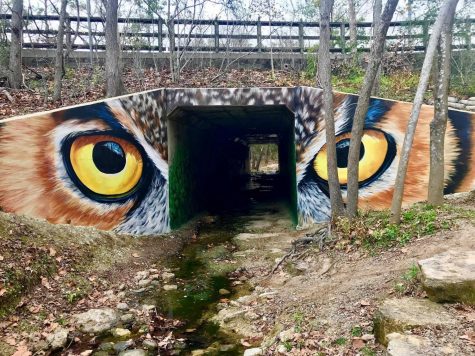 Houston is quickly becoming a city filled with gorgeous murals, street art is becoming more and more incorporated in our daily lives. Personally, I remember passing the Preservons la Creation every day two years ago, never knowing its history or even that it was street art. Houston is going through a massive wave of beautification thanks to these talented artists and commissioners. I truly hope that Houston incorporates more murals into the city as I believe adding more murals will do us all good.
There's always the option to go mural hopping around Houston, and it's definitely worth your time. The memories and sights you see on the way will surely be any trouble you go through in order to see these murals. I would rate my experience of going out and seeing these Houston murals a 4 out of 5 as the murals were extraordinarily beautiful. Each piece was vibrant and pleasing to see, giving onlookers a real view into Houston's character. They all represented Houston well as well as accomplished their jobs of beautification. This was truly an amazing experience and I would highly recommend setting up a route and visiting some of these murals.

Create your own Houston mural tour of every downtown mural here.
ABC 13
View Comments (4)
About the Contributor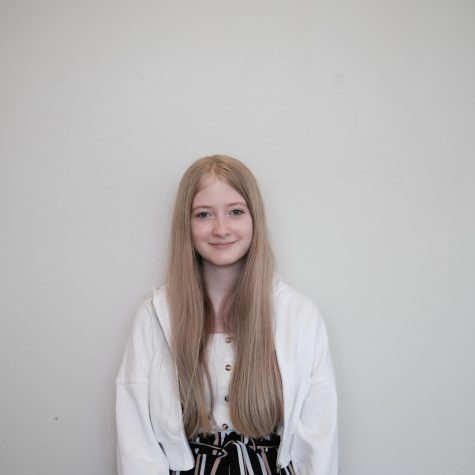 Nadia Talanker, Contributing Writer
Nadia is a senior at CVHS in her 4th year of writing for the Upstream. She has been writing as a hobby and competitively for nearly a decade and her favorite...