Album Review: Tickets to My Downfall- Themes for 2020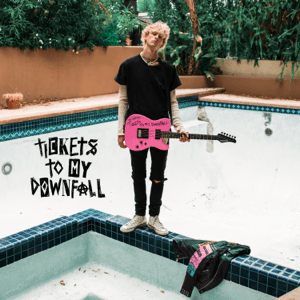 Machine Gun Kelly is a well-known rapper from Cleaveland, Ohio, and has recently been in the spotlight for being versatile with his new punk rock album, Tickets to My Downfall. 
Each song in this album holds a special meaning to Kelly, and it can be felt by every fan who listens in. I've been playing this album every single day as of the release date, and every time I listen I hear a new lyric and realize what it meant.
The first song is "Title Track." The simple strumming of the guitar chords shows us a snippet of what we are about to experience. Title track made me immediately go back in time. The song's lyrics express that you could be living life and no one would notice unless you are crashing and burning through the lines, "I sold some tickets to come see my downfall, it sold out in minutes, I saw friends in the front row."
For example, if you look up and see an airplane, you are not going to pull out your phone and take a picture of it. Nobody else would either since it's not trendy. But if that plane starts to drop suddenly, suddenly everyone is there watching, taking pictures, and just living in that moment. It's trending, everyone is joining to watch. No one is here for you-  they are just there waiting to get tickets to your downfall. This was proven to be true, as the album ended up being a best seller and #1 on the charts.
View this post on Instagram
Multiple lines in the album are so simple yet hold so much meaning in them. Such as in the song, "All I know is Trippie Redd," as well as, "The world is crazy, so corrupted," and "I'm by myself, so I don't feel too involved."
There's so much happening in 2020, but sometimes we can feel so dissociated, it is simply so surreal. As a teen in 2020, I really relate to this line, since so many things are going on in the world, which must be changed. At the same time, we are too young to understand, but too old to not do anything. Protests are still going on, the election just ended, yet we are still having problems with it. For me, this is feeling as if it's Teen vs The World.
Another example was in the song, "Hangover Cure": "Sunset on my black parade, and I can't wait to see what's next."
This line made many punk/emo fans, like me, start making connections to the legendary band, My Chemical Romance, and their famous song "Welcome to the Black Parade" from 2009. Was this a reference to a famous emo band or was this just a coincidence? Little details like this make the whole album so nostalgic. I love My Chemical Romance, and hearing that MGK and I have the same idols gave me pure serotonin.
This album has also highlighted other amazing artists, such as Halsey, Yungblud, Blackbear, and more.
Bodybag ft Yungblud and Bert McCraken was my favorite collaboration overall. Their song reminds me of other songs such as "Dance Dance" by Fall Out Boy. Middle school vibes all around.
As adrenaline-filled as this album is, there were also some heart-wrenching messages in a few of his songs. His father died this year on the first anniversary of his last album, Hotel Diablo. It was eerie since in his song "Glass House" in Hotel Diablo, he sang, "Doctors said my dad won't be here one year from now." His aunt died of cancer in 2017 and she was his biggest fan. He dedicates the song, "Lonely", to his late father and aunt with the most painful lyrics: "And then he said goodbye way too soon, and this don't feel right without you," and "Lonely, lonely even when the room is full, I'd trade it… I would trade it all for you…lonely even when the room is full…I'm lonely without you. " 
This is my favorite song out of the whole album, possibly my favorite out of all my music. The simple chords leading up to the repetition of the people he misses is a gut-wrenching empathic experience. This song has been with me through the stressful last months of 2020. Knowing that I'm not alone in my grief is comforting. 
The finale of the album ends off with, "Play this when I'm gone," a suicide note he wrote in December 2019 for his daughter Casie. He stated, "I wrote her a song so I won't have any regrets if my time ever comes." 
In a way, Kelly's introduction of his pop-punk lifestyle left us all in awe. With Travis Barker and many fans on his side, he released an amazing album to finish up the year. He saved my year. Machine Gun Kelly hated 2020 so he brought us back to 2005 in the best way possible. 
Leave a Comment
About the Contributor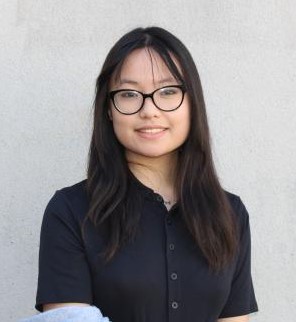 My-Tran Vo, Staff Writer
When My-Tran Vo isn't testing out a new knife by cutting a salami stick for a midday snack, she's out taking care of the stray cats she feeds. She...