A homemade Christmas ornament with things you might already have at home
Since this whole COVID 19 pandemic has hit we have become more isolated and are full of more pandemic fatigue day after day. But HEY! Christmas is right around the corner. With Christmas comes the jolly Christmas spirit. Although it might sound quite cheesy, having a Christmas spirit can encourage you and take your mind off the COVID 19 , and other problems that you might have been experiencing as well.
Every year my family and I go and buy a Christmas tree for our house. We also buy Christmas ornaments if we need some additional ones. And my favorite part is when we take out our very old lights from the garage and work together to string them up outside. And even though sometimes the lights might not work, we tend to revive them once again every year.
With the pandemic, we want to make sure to go out only when absolutely necessary, so things to decorate with have become very hard to find this year. Therefore, I decided to try and come up with an idea of how to stay safe while still being able to celebrate and enjoy Christmas. And what better way to do this than to construct homemade ornaments for the tree. 
Many people around The United States actually make ornaments and display their projects to their communities. For example , a young woman called Caroline Picard always shares her ideas online on how to make homemade Christmas ornaments.
I decided to try her project and see how it would turn out.
First I had to go to the store since I needed to buy the supplies, which were very easy to find. While I was building the ornament I was faced with some minor challenges. I burned myself with the hot glue quite a few times. But  besides that, the result impressed me and I was astonished by how great the final product looked.
If you would like to build a homemade ornament like I did these are the following supplies you will need.
The supplies needed for this project are listed below:
Foam ball

Hot glue

Ribbon

Beaded Necklaces

Glue Gun

Scissors

Bow
Step 1- First decide what combinations of colors you would like to use.
Step 2-Start by gluing your beaded necklaces in a circle around the top center of your foam ball , but make sure to leave an empty space to glue your bow.
Step3- Start gluing your beaded necklaces in a circle around the whole foam ball until you reach the bottom center.
Step4-Cut the remaining strand of your necklace and glue the final part as best as you can.
Step5- Now grab your bow and glue it to the empty space you left at the top center of the foam ball.
Step6- Once you have glued your bow cut a piece of ribbon to make it as long as two or three inches.
Step7- Fold the piece of ribbon in half and add hot glue to the tip where it is not connected.
Step8-Attach the tip with hot glue behind the bow to add a hanger for the ornament.
View Comments (1)
About the Writer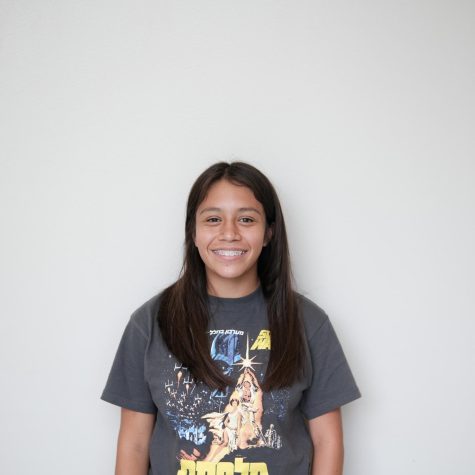 Abigail Nunez, Staff Writer
Abigail Nunez, has two older brothers and a best friend named Esperanza. She has always had a thing for sports , and now plays with the u17 National Salvadorian...