Quick Breakfast Ideas for Busy Students
Exasperation- the first emotion of the morning after an intense beep beep beep, and then snooze once. Beep beep beep. Five more minutes! Snooze twice. Beep beep beep. I'll just "rest my eyes" for a bit, snooze for a third. After a third time, we are tired of hearing that intense blaring, so we shut the alarm off. After, we look at the clock only to realize we have only so much time before class starts. First things first, hygiene, brush teeth, wash the face to wake up, brush hair, get dressed. After this, we can only crunch in a little bit of time before class begins. We can't skip breakfast as it is the most important meal of the day, so we have to make it in a crunch. Making breakfast has to be quick, easy, it must give us the energy we need to jumpstart our day. What better way to accomplish this efficient breakfast through hacks is there?
As a student, time is of the essence in the morning. When we wake up, we lack energy, and time can become our enemy. Students may have a hard time squeezing in breakfast or opt for no breakfast. On a couple of occasions, I was running short on time but knew I should grab a bite to give me energy. I would advert to the lazy option and just eat 2 slices of bread. I find that when I don't eat the breakfast my body needs or skip breakfast myself, I am tired and doing the bare minimum just to get through the day. I seem to not be able to focus quite well when I am running on little to no breakfast. The hunger and drowsiness consume me and completely take away any sort of ability I once had to attain information. However, it is important to eat before class begins because it improves cognitive focus which is beneficial to the student. Instead of opting for skipping breakfast, opt for breakfast hacks. We present to you 5 simple breakfast ideas that we put to test to see if it really saves time so that you don't have to.
1) Overnight Oats
Overnight oats, the answer to my busy morning breakfast prayers. Not only is it time-saving but it is a healthy, filling breakfast option that is perfect to jumpstart the day before school. This meal prep serves as a grab-and-go for the next morning. The prepping takes around 5 minutes and lasts up to 5 days in the fridge. Its shelf life makes this hack convenient for those long school nights making prepping not an option so you can just grab it one of those mornings with no prep or wait time. This is the ideal breakfast for a student as it is quick, easy, efficient, and more importantly delicious! I rate this 5 out of 5 stars would definitely recommend this to any student who has busy mornings.
Step 1: Mash half a banana and add to the container (any kind of container works fine)
Step 2: Add half a cup of rolled oats
Step 3: Add tablespoon of chia seeds and preferred spices/toppings (I added nutmeg and cinnamon)
Step 4: Add a cup of preferred milk
Step 5: Stir mixture all throughout
Step 6: Place container in the fridge for overnight or around 6 hours so it thickens up
Step 7: Take out of the fridge and enjoy as so or add toppings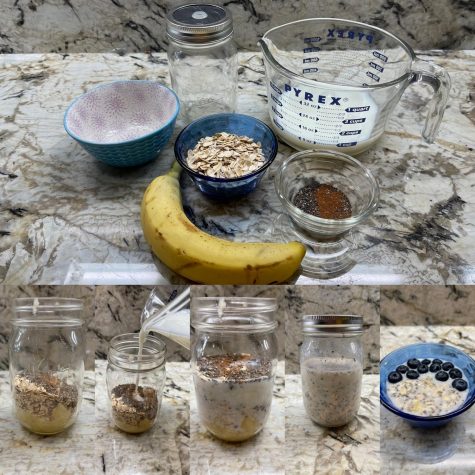 2) Omelet in a Mug
I have formed a love-hate relationship with this breakfast hack. Although quick, it is also inconvenient. I found myself going back and forth and by the time the microwave timer was done I didn't even get something else done. I had to babysit the microwave, terrible for multitasking in the morning. Although this requires puppy-guarding the microwave, this hack is still an option for saving time in the morning before school. The whole process took less than 5 minutes and a bonus was no measurements required which makes this process so much quicker. As for the taste and texture, it was as expected, just like a regular omelet, but with a twist- it was made in a mug. Overall the omelet in a mug is a success and time-saving, but also inconvenient, so for that, I give this 3 out of 5 stars. If this hack sounds like your thing here are the steps to this breakfast hack.
Step 1: Spray mug with a cooking spray (so the egg doesn't stick because who wants that) and crack however many eggs you want.
Step 2: Add your toppings! (I used a tablespoon of milk, grated cheese, tomatoes, and parsley, but anything is fine)
Step 3: Whisk away!
Step 4: Heat in the microwave in increments of 30 seconds until cooked, between each increment stir the mixture
Step 5: Enjoy!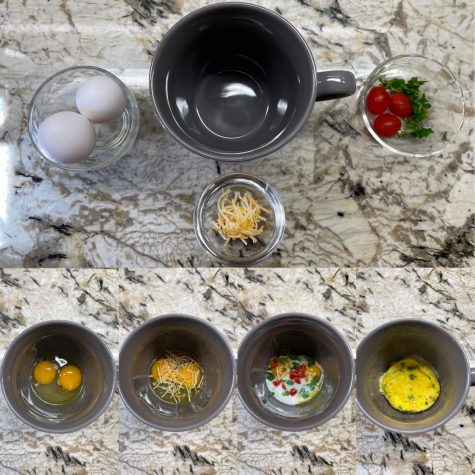 3) 2 Ingredients Pancakes
Putrid, disaster, both understatements for this breakfast hack. Well, this is not a hack, this is the devil's work. This is not even an option for super busy mornings. These 2 ingredient pancakes consist of 1 egg and half a banana. In regard to overnight oats, you could use the other half of the banana for this quick breakfast, well, if horror is your thing. If so, follow these steps that take less than 5 minutes altogether. 
Step 1: Mash half of a banana down to a baby food consistency. 
Step 2: Mix in a large egg. 
Step 3: After mixing pour the mixture on a preheated pan and cook it as if it were an actual pancake. 
The problem I ran into when attempting this recipe was the flipping. It was flimsy and did not look like a pancake whatsoever. It looked questionable, disgusting to be more precise. The taste resembles its looks. The texture of egg, but the taste of bitter rotten food. This breakfast hack that was although quick and simple, was definitely not worth my time. I give this a whopping 1/5 out of generosity because hey, at least it was quick.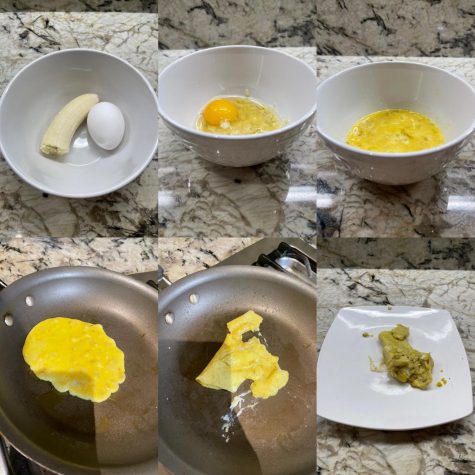 4) Prepped Smoothie Bowls
I scream you scream we all scream for… smoothie bowl? Light fluffy pink, consistency imitating ice cream, a wonderful boost of energy in the morning. Its chilling temperature helps wake you up when all else fails. Its taste resembles its look, appealing and delicious. All you have to do is pair your preferred fruit together, put it in a baggie, then freezer, and the following morning just throw it in a blender. This made easy recipe is time-efficient, easy, and the fastest way to make breakfast. Perfect time saver for a student, especially on days where you have a test first thing in the morning. It is not just fast, but it is so fast it would even leave you enough time before the test to review.
Step 1: Freeze paired fruit of preference inside ziplock bag (I used banana, strawberry, and pineapple)
Step 2: Once frozen, remove from bag and put in a blender (depending on how long it has been in the freezer, microwaving fruit for 20 seconds helps with blending faster) 
Step 3: Blend until preferred consistency
Step 4: Pour in a bowl, add preferred toppings if any, and enjoy!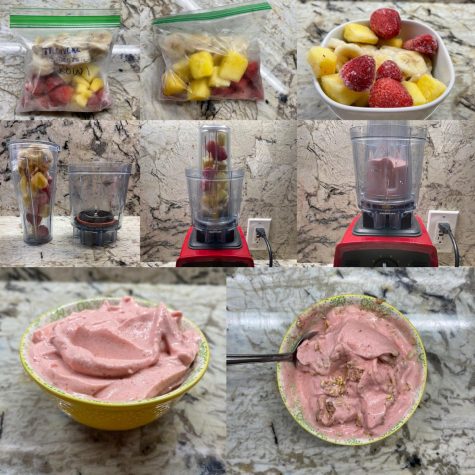 5) Freezer Breakfast Sandwich 
Feelings unclear. I do not know whether to love it or hate it. One thing I definitely like is the fact that it is customizable. They are simple to make, but I don't know if that makes up for the taste. If it was not frozen and just warmed up as normal, perhaps it would taste good. After rewarming the sandwich once it had been frozen, the taste was almost nonexistent and the sandwich had sadly become soggy. It tasted as if I left the sandwich out in the sun to defrost, the taste of the fridge if that makes sense. It is fast to make (3 minutes), and then once frozen, only takes around 2 minutes to defrost. The time is the winning factor, but the taste and texture throw me off. It is too unappealing for the time to be worth it. I rate this 2 out of 5 stars for being quick and efficient, but lacking appeal.
Step 1: Grab preferred breakfast sandwich ingredients (I used an English muffin, large egg, and cheese)
Step 2: Add cheese to toasted English muffin
Step 3: Cook egg in preferred cooking style
Step 4: Add egg to a sandwich
Step 5: Put the sandwich in a ziplock bag and freeze
Step 6: Remove from freezer, defrost in microwave for 1 minute and 30 seconds, and voila, an appetite reducing sandwich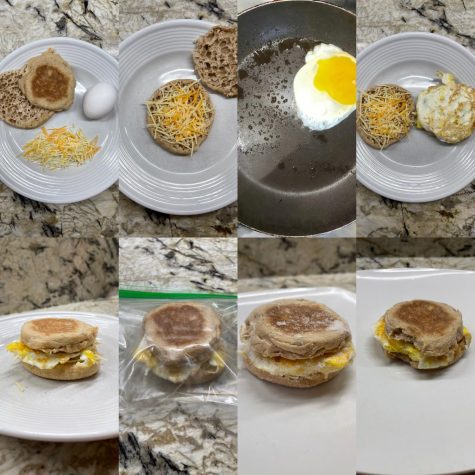 View Comments (8)
About the Contributor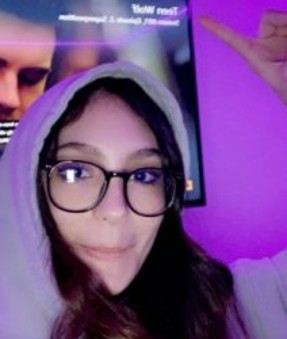 Alexandra Silva, Staff Writer
My name is Alexandra Silva and I am a junior. I love to eat almonds and pretzels. In my leisure time, I like to play with my dog or watch teen wolf because...