A strawberry cake recipe to try during your Spring Break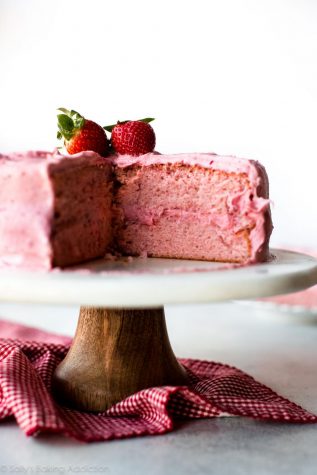 I was obsessed with strawberry cake when I was younger, and I remember the first time I ever tried the moist, warm, fluffy strawberry cake my mother made me.
She had made it for me on a normal day for no reason in particular. Perhaps it was to get me to stop bugging her about making it. She was baking and cracking eggs, whisking, and it felt like a whole day passed while I waited impatiently, asking her consistently when the cake would be finished. She pulled the red and black pan out of the oven and the cake was almost a tan brown on the top, and the inside could be seen from the middle. it was bright pink. There was no frosting, just like my mom knew I liked. I took my first bite, and it was to this day the best cake I have ever tried. It was so bouncy and tasted like a strawberry cloud.
Strawberry cake is the perfect Spring Break recipe for a sweet, delicious dessert that sticks to the seasons when strawberries are just ripe.
This a recipe from scratch by Sally's Baking Addiction , that is great for a Spring Break strawberry cake. Strawberries are ripening and it is the perfect time to pull out that baking pan. Here are the instructions on how to make it.
Strawberry Cake-
3/4 cup (1.5 sticks; 170g) unsalted butter, softened to room temperature
2 and 1/2 cups (285g) sifted cake flour (spoon & leveled)*
2 teaspoons baking powder
1 teaspoon salt
5 large egg whites, at room temperature
1/2 teaspoon baking soda
1/2 cup (120ml) whole milk
2 teaspoons pure vanilla extract
1 and 3/4 cups (350g) granulated sugar
1/3 cup (75g) sour cream or plain yogurt, at room temperature
1/2 cup reduced strawberry puree 
Instructions:
1) Blend 1lb of strawberries, reduce mixture on the stove for 30 minutes
2) Make the reduced strawberry puree (check step above) and allow it to cool completely. Preheat the oven to 350°F (177°C). 
3) Grease and lightly flour two 9-inch cake pans. 
4) Whisk the cake flour, baking powder, baking soda, and salt together. Set aside.
 5) With a whisk attachment, beat the butter and sugar together on high speed until smooth and creamed, about 2 minutes. 
6) Beat in the egg whites on high speed until combined, about 2 minutes. 
7) Then beat in the sour cream and vanilla extract.
 8) With the mixer on low speed, add the dry ingredients until just incorporated.
 9) With the mixer still running on low, slowly pour in the milk until combined.
 10) Whisk in 1/2 cup of reduced strawberry puree, making sure there are no lumps at the bottom of the bowl.
 11) The batter will be slightly thick. Pour batter evenly into cake pans. 
12) Bake for around 24-25 minutes or until the cakes are baked through. 
13) After letting the cakes cool completely you can frost them. I do not like frosting so I do not. 
Leave a Comment
About the Contributor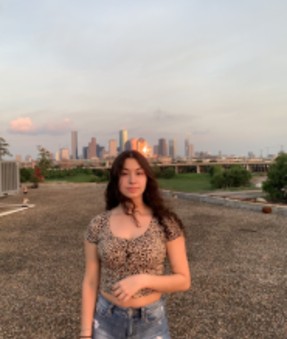 Talia Moghnieh, Staff Writer
i'm a sophomore staff writer. i like to bake and paint