30 Books- Thousands of Quotes- 10 Months-Go!
CVHS' Name that Book team wins first place at the district level this year.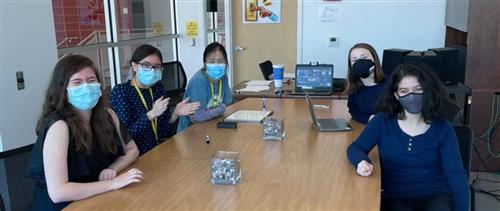 On March 12 CVHS's Name That Book team took home 1st place in district, for the 2nd year in a row.
Captain Katalina Li-Kroeger and members Shir Carasso, Brooke Ferrell, Sophia Dai, and Annabelle Li-Kroeger each worked throughout the year preparing for this event. They each had to read 30 books from a specified list and memorize random lines from each within the given time frame of 10 months.
Name That Book is a district wide competition which starts as early as May. Competitors receive a list of 30 books to read and memorize. Then in the following March, schools from around the district come together to compete. During the competition, judges will state a quote from a random book from the list, and each team must write down the title of the book they believe the quote is from. The wrong "A" or "The" can even cost the team points. 
"When I came to Carnegie [in 2019], we didn't have a team, and I knew that if I had if we were going to go to competition I had to make some sort of structured team," says team captain and CVHS senior, Katalina Li-Kroeger.
Other members soon joined, and they began preparing hard for the competition. When they could, they would hold meetings online due to Covid 19. Each member would be assigned books to specialize in and the team would hold practice rounds to get ready. 
"As we're reading, we do something called quoting, where we try to find quotes, send them in to the captain. Then for practice. She reads the quotes we do to us as a team and we try to figure out what the answer is," said CVHS sophomore Sofia Dai.
Major decisions usually come from their captain during the competition since she has studied and worked hard.
"I take it upon myself to finish the book before everyone else, so that I can assign out the book. I also had to go into school quite a few times in order to attend meetings with Ms. Schulze, the librarian, who's our sponsor, to make sure that we knew what we were doing and that we would be ready for competition. I also had to go in early to organize and to prepare the room," says Li-Kroeger.
 They soon won first place in 2019 and they wanted to repeat the success this year. 
"The entire reason why we were practicing really hard is because we really, really wanted to end off on a high note because it is Katalina's last year, and she's been doing that book for like eight or nine years. It's insane. So we really wanted to leave on a high note. She really inspired us to do that," stated CVHS junior Shir Carasso.
The studying may sound easy but due to Covid-19, accessing the study materials have become a lot harder. 
"I prefer reading physical copies because I get distracted easily sometimes if I'm on the computer, and if I just have a physical copy, and just stay away from electronics that usually doesn't happen, but when I'm reading an ebook. I get a little bit distracted, and that can cut into my reading," says Dai.
Covid-19 also changed the competition. Instead of going in person with other competitors, each team competed within the comfort of their own school   .
"Our sponsor got to hear what we were talking about because usually when the competition happens, it's all of these teams in one room, and you're in a circle, and you have to be really quiet whenever you're discussing the books so that people around you can't hear it. This year we shouted and yelled, we were in a conference room [at Carnegie] but I really hope no one heard us. We were really insistent, and we got to be as enthusiastic as we wanted," says Ferrell.
Even through the chaos of the pandemic, the team still managed to bond together as a team to create memories.
"I like to do a lot of team building exercises instead of just meetings where instead of practicing or reading, we just talk and get to know each other and joke around like friends. One of our new members ,Shir, already knew me and got to know the other two members of the team through the year, through just conversation and communication," said Li–Kroeger.
The team bond over the books. Each member of the team have their own favorite book but a similar least favorite book, as well.
"In Dear Evan Hanson, the narrator is just pathetic. It's like you're reading a book about him being sorry for himself, and it was just irritating to me," said Ferrell.
"In Dear Evan Hanson, the main character is pathetic. I mean I don't want to call him pathetic, but he's very pathetic," said Carasso.
And of course all their hard work paid off as they moved from the preliminary competition, to the finals, and eventually winning first in district, while creating life lasting memories.
"The two main things of this club were getting to know the team and being able to read the books. Things really ended on a high note this year," said Carasso.
View Comments (6)