Beyond the Model: Junior Jessica Lin exposes the intersection of the model minority myth and Anti-Asian violence in her documentary, featured at the SXSW Film Festival
The South by Southwest (SXSW) Festival draws over 230,00 attendees and raises over 355 million dollars yearly. The festival only features 7 productions for the category "Texas High Schools" out of the thousands of films submitted, and CVHS's junior Jessica Lin's documentary film entitled "Beyond the Model," which explores the recent trend of anti-Asian hate, was selected as the next film generation among Texas high school students.
Lin was one of the 2021 Audience Awards winners of the Film Festival for SXSW Online, which means Lin had the best film in her section "Texas High School Shorts Competition." On top of everything, Lin was also awarded with Special Jury Recognition for Directing.
Recently in the U.S., Asian American have been specifically targeted due to the global pandemic of Covid-19. Trump's attacks on China for causing the pandemic, calling it "the Chinese virus" and "kung-flu," has sparked the recent spate of  attacks against Asians in the U.S. Recently on March 16, six Asian women working in a nail salon were shot and killed, while many more are daily being assaulted on the streets.
Lin's documentary highlights the worsening trend of Asian American hate crimes, and explores the root causes. 
"In light of the violence against Asian Americans, especially because of COVID, my film shines a light on what it's like being a model minority in 2020. It explores both the external and internal racism that Asians face," says Lin.
Jessica Lin
Knowing that Asian minorities are often neglected, Lin wanted to create a documentary film that could expose multiple aspects of the social issue in only 5 minutes.
"It examines a not long forgotten, but a more overlooked group of people in America. Because, usually, when we talk about minorities, we don't talk about Asian Americans. So their perspectives and their voices, their struggles and just how race plays into, like, our community," says Lin.
Jessica Lin and her family are a part of the Asian minorities that helped ground her throughout the rigorous film process.
"My mom is from China and my dad is from Taiwan, my parents they [are] immigrants and they've managed to work their way up in their respective fields. And I really think that they're really smart and intelligent and they're good role models that they have managed to accomplish in their lives," says Lin.
Jessica's film making process was not your usual camera to edit process. Rather, she was faced with the pandemic, which limited her to film from her home. These circumstances led her to find an original approach to filming. 
"The biggest challenge is just the fact that I wasn't able to get out of my house. Initially I wasn't planning on making it in the style that it was. I wanted to go out and like, and collect footage, but I couldn't. And so, I guess that was also a good thing because it made my film unique in the like stylistic sense," says Lin.
Even further through the process Lin had to change the whole film from what she originally pictured.
"I wrote down a few questions, then scheduled interviews, performed the interviews, then discovered that there's other narratives that I wanted to explore as well. I was initially only going to touch on the violence against Asian Americans, not necessarily also how Asian Americans view other races, but then everyone who I interviewed seemed to have a story. I had probably two hours of interview footage that had come through, and then I cut out parts that I thought flowed together, and made a cohesive story," says Lin.
Even more surprising than the unique process Lin found to complete her filming was the time it took to complete her process.
"The program [Representation Project] was four weeks long. In the first week, we literally just spent time learning about stuff. So I guess most of it was within, like, a few days. I did an all nighter to finish editing it," says Lin
Lin's goal to create a film to educate others and spread awareness of the discriminatory Asian hate crimes across America.
"While there is violence against Asian Americans, especially now, it's also important to realize that we all need to stand together and we shouldn't be divided. We shouldn't try to compete to see who's the most oppressed," says Lin.
Lin added her own opinion on how she views the hate crimes and what she would like to tell others who might be facing the same problems. 
"I would just say that they should stand for what they believe in because part of the model minority narrative is that Asians keep their heads down, and that they just take whatever comes at them because they were like "submissive." I would say that we need to stand our ground, and to let them know that people have their backs. Once the general public was informed of these attacks, people showed their support. Others are reading about further incidences and also just supporting the community. Because even once the news coverage stops, it doesn't mean that these incidences do," says Lin.
Thankfully Lin has not experienced or has physically seen any of these Asian hate crimes, and her family has stayed safe during the pandemic.
"I'm thankful that I live in such a diverse community because Houston has such a large Asian American population. So I feel like if I didn't live in a community that I know respects me, then I would probably have some fears about going out and walking through the streets," says Lin.
However, moving forward, there's a lot of change that Lin still is hoping for in this country.
"I just want our country to work together to solve the issues that face us. Because there has been so much division in America, especially in 2020 with the presidential election, alot of that division isn't helping us right now, and some of it people blindly follow the side that they think is right. But then like you don't thoroughly analyze what that side means. I think that we should focus less on our differences and focus more on working towards our common goals," says Lin.
View Comments (7)
About the Contributor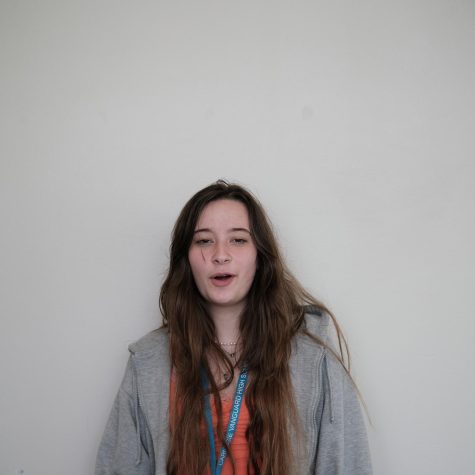 Julian Namerow, Features Editor
Hi, I'm a senior. I am a feature story editor and i have the best dog in the world.