Is Biden's treatment of children crossing the border really any different than Trump's?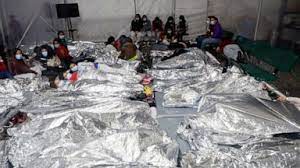 Last month, CNN reported that in the month of February, alone, Border Patrol apprehended nearly 9,300 unaccompanied children at the US southern border, up from around 5,600 in January. To put this into perspective, this shows about a 61% increase, according to federal data.  

While both sides of the aisle are blaming each other for the crisis on the border, very few people are asking if Biden's treatments of undocumented children are that much different from Trump's.

President Biden has been determined to un-do some of the Trump-era policies, as outlined in his goals for his first 100 days in office. Thus far, Biden has issued executive orders to a) stop funding new construction of the border wall, b) repeal the "Muslim ban," c) repeal Trump's criminalization of sanctuary cities, d) strengthen DACA, or the Deferred Action for Childhood Arrival. On March 18, the House signed off on the American Dream and Promise Act of 2021, or HR 6, which looks to provide green cards and potential eventual citizenship to migrants who entered the US as minors. In addition, the House pushed HR 1603, which would provide legal status for migrant farm workers. 

This is seen in stark contrast to Trump's policies in which enhanced enforcement and detainment practices, begun the construction of a wall along the US-Mexico border, increased ICE agents within the US border (10,000), and reduced the amount of refugees allowed into the US to from 110,000 to 50,000. 

While Republicans are characterizing the recent increase in migrants at the border to Biden's policies, the Trump Administration has faced similar skyrocketing numbers of unaccompanied children trying to cross the border, throughout his presidency. This graph below shows the numbers of accompanied children detained at the Southwest border within the last decade.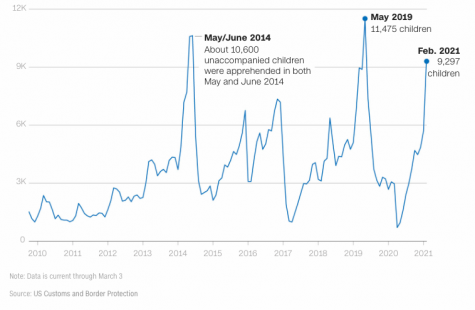 Trump's processing of children at the border has been compared to jail-like conditions, or most famously called "kids in cages."
Elora Mukherjee, the director of the Immigrants' Rights Clinic at Columbia Law School, visited a border control facility in July, 2019 and recalled it as being completely over its capacity.
"I have never seen conditions as appalling as what we witnessed last week.. the children are hungry, dirty and sick and being detained for very long periods of time," over the 72 hour permitted holding time, "there is a stench… the overwhelming majority of children have not bathed since they crossed the border."
According to NBC News, Mukherjee said almost all the children had been separated from the adults they crossed the border with — siblings, aunts or grandparents, or even their parents.
According to the NY Times: "Children as young as 7 and 8, many of them wearing clothes caked with snot and tears, are caring for infants they've just met." 
Many young children were forced to take their of the siblings after being separated from their families.
Speaking on the conditions in El Paso, one inspector mentioned that "some of the detainees had been held in standing-room-only conditions for days or weeks," with some detainees standing on toilets "to make room and gain breathing space, thus limiting access to the toilets."
While Biden has signed an executive order to initiative family reunification, is the Biden Administration's treatment of children at the border drastically different than the Trump Administration's? 
With an increasing amount of immigrant children needing shelter, the more it has come to light that the Border Control facilities are not of quality or quantity to hold children 100% humanely. With around 18,000 unaccompanied children in US custody and more than 5,700 in actual Border Control facilities, and with the ongoing pandemic, it has visibly become increasingly difficult to provide the correct care for these children.
One of the rapidly set up immigration camps has even seen positive COVID-19 cases of more than 10% of the camp's population, making it even more difficult for the Biden Administration to situate minors. Even with these numbers, Biden has said they are still turning away migrants seeking asylum. This photo, shown below, shared by the CBP shows a glance at one of the emergency facilities holding migrant children this past March. These facilities have been described as cramped, makeshift, and not suitable for children. 
As resources continue to shrink, migrant children and families have even started being held under a bridge in McAllen, Texas along the US-Mexico border, forced to sleep on the dirt. These facilities are built to hold adults for up to the 72-hour permitted holding time. However due to current conditions, children are being held for 136 hours on average, as the CBP scrambles for spaces for these children.
While Border Control is looking to "provide a safer and less crowded environment where children are cared for a processed as quickly as possible," it can be seen that these children are being put into incompetent facilities.
In my opinion, there is not a drastic difference under the Biden and the Trump administration in regards to the conditions in which these children detained: instead of being caged by wired fences, young migrants are now caged by a less penetrable plexi-glass. 
Leecia Welch, an attorney for the National Center for Youth Law, says that Biden "inherited a dismantled immigration system and the impact on children, in particular, is becoming increasingly dire," and added that, "building more and more holding centers without services or case management is just trading one set of problems for another."
While the current border control facilities are, in Biden's words, "totally unacceptable," the administration must quickly look for other alternatives to safely house incoming migrants, especially children. 
View Comments (5)
About the Contributor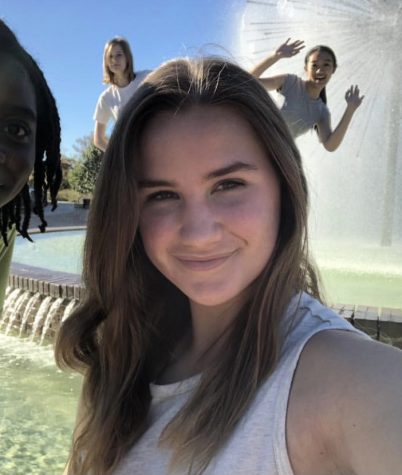 Emma Pierce, Staff Writer
HEY! My name is Emma Pierce and I'm a senior. I am apart of the girls soccer team and love photography