Carnegie theater make memoires off-stage while exploring memory-making on-stage
The Carnegie Theater Company advanced to UIL Regional and performed their award winning One Act Play, Describe the Night, on Saturday, April 17, at San Jacinto College. They did not advance to UIL State but still, they managed to fit a Russian story of 90 years into 40 minutes and win individual actor awards. 
At Regionals, the Carnegie Theater Company left with very impressive awards such as an honorable mention award to Jacovia Young, a junior actress who played as a character named Yevgenia. Best technician award went to senior Emma Perch and an all-star cast award, to the lead role of Isaac Babel, played by Michael Lewinbuk.
The play is based upon a nonfictional historical figure named Isaac Babel who is a Soviet Jewish writer. The journals were written in the 1920's and are stories from Russian history that get passed through 8 different characters all the way up until the 2010's. The play includes the love story of a mysterious KGB agent spy with a beautiful woman and a plane crash carrying the Polish government. However throughout time no one can find where the truth ends and where the lies begin in Babel's journals.
"What really is the truth, what can we really believe, what are we being told, do  you know even if we're being told something [that] is true, and what is your own personal truth? Because there was so much censorship in the Soviet Union and a lot of the information that people were told, they were not even sure of it," said Lewinbuk, the senior lead role of Isaac Babel.
Lewinbuk coincidentally has strong relations with his character in real life.
"My family is from the Soviet Union and I have books from Isaac Babel in my house so like I grew up reading his work so it's pretty personal in the sense that it's like my culture and my people. So I understand the significance of his work and how it affected people in the Soviet Union," said Lewinbuk.
As the audience witness the characters listening to the stories in Babel's journals, the character starts to understand that Babel's journals are only his own personal descriptions of the events.
"Isaac actually asked Nikolai (a Red Cavalry officer) to describe the night and Nikolai believes that everything is straightforward, a description is a lie, but in reality no one's description of the night is really true. If we all look at this night at the exact same time, will my description be more true than yours, even though mine is different? No. It's really interesting because a lot of truth is subjective. And in reality, how we view the world is our personal truth, and it can be skewed and subverted in multiple different ways," said Lewinbuk.
Describe the Night also includes a very prevalent theme to today's modern societal ideas, through the movement and the changes of news and media.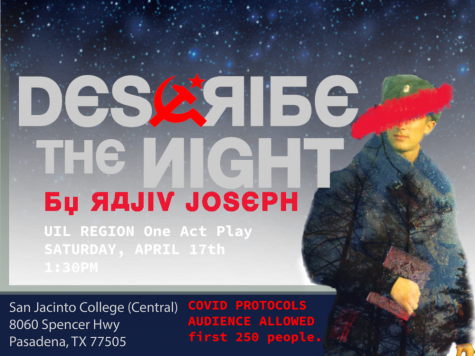 "I feel like there's parallels to that now, with all fake news going on," said Lewinbuk.
"I definitely feel that our government, our society, our world is hiding a lot from us and from the people, and it's very hard to make out what is true and what slides through social media, because misinformation just gets spread around so easily," said Daiji Bertrand a junior who played the role of Felix, a sporadic car rental worker.
The Carnegie Theater Company has been looking at performing this play for almost four years, they finally were going to perform it last year but then Cold-19 struck and cancelled any and all competitions for Carnegie Theater.
"Right now, we came back to this UIL experience. And so we auditioned and it changed a lot of things which was rough because we couldn't figure out our dynamic anymore since we didn't have our original cast, but then we ended up pushing through it, and we went to our competitions," said Bertrand.
Every member of Describe the Night worked day and night through countless hours of tiring effort to present an exhilarating performance.
"I will say about four months.  Every single day except for Sundays. We would rehearse. We started winter break. And then we were still going, because we still have a public performance. 330 hours is a total from all the shows," said Zainab Zaman, a junior who plays the role of Mariya. 
"We've had rehearsals that go from 8:30 to 8:30. We've actually had an entire week of rehearsals that went from 8:30am to 9pm. So, we also have spring break rehearsals, which is 8am to 10pm," said Ashley Jessup, the stage manager.
Though this play could only be 40 minutes long for UIL, our Theater Company worked to cut a 3 hour play into 40 minutes and almost went over that time limit during their biggest performance.
"It's really different because our space is so small that moving to a bigger space really adds time onto our show viewers, if you exceed 40 minutes you're disqualified. So, being on a bigger stage, adds a lot of time and [our show was] 39 minutes and 45 seconds," said Jessup.
Committing through the Carnegies Theater company director Mr. Savage's rigorous process is one of the hardest challenges for the actors and crew to overcome.
"At the beginning of our UIL process, we had 28 people. And at our last competition, we had, including me, had 16. [Everyone is] split up into like three teams. So, actors, alternate, and technicians. We didn't have any alternatives this year so we didn't have anyone extra. Also after district our sound technician wasn't eligible to compete anymore. So we had to throw someone else in and completely teach them the program like they had no idea like teaching them everything about it," said Jessup.
Through the work and practices actors started to develop real relationships with their characters, and they can point out all of their similarities and differences. Zainab Zaman plays a character named Mariya, who is very confident and will always fight for the truth.
"She's a baddie; I'm not. I don't think I'm as confident as she is, she is very powerful. And she's not really scared of anything. I tend to be a little bit more scared, not as not as not as confident in bold choices as she is, but working on her, made me less intimidated," said Zaman.
Additionally, Michael Lewinbuk plays the Russian writer Isaac Babel, who expresses his emotions and thoughts through literature, in which he finds many similarities in their personalities.
"Isaac sort of wants a better world and he feels like art and literature are the things that can help save people, and sort of writes because he feels this great compassion for the world he lives in, so I would say that I'm similar in that respect," said Lewinbuk.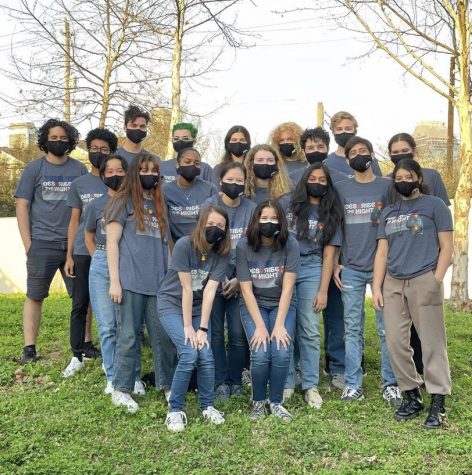 Even though the cast and crew pushed themselves to work everyday they all agreed that the best parts were still when they were working together.
"My favorite moments are the ones where we'd be like rehearsing a scene and then we just like going into laughing fits for like maybe 30 minutes, just doing the dumbest things, and it's just like it's a good just break," said Bertrand.
The audience never gets to understand the struggles that happen behind the scenes, but every single person had a major contribution as well as major individual challenges. As an actor and a crew member Zaman's biggest challenge was with designing modern and vintage costumes.
"We're in four different time periods, so all of the costumes have to be periodically accurate in order to make sure that the story is told. A big one is that Yevgenia is a beautiful woman and she's [placed] in 1940 and I could not find anything. Eventually we found this beautiful 1940s themed jumpsuit dress thing, and it was absolutely gorgeous. The biggest issue when making and designing was the time periods and making sure that everything was cohesive despite being in different worlds," said Zaman
At the end, the audience was nevertheless amazed by their performances.
"The most enduring theme or enduring theme was the resilience of writing because the whole premise is based on Isaac Babel's diary, and how the tumultuous times of Russia and Poland, and how people are dying left and right, but his words in his diary, still remains, and it's still cherished and it's a treasure," said audience member Sofia Hegstrom. 
View Comments (11)
About the Contributor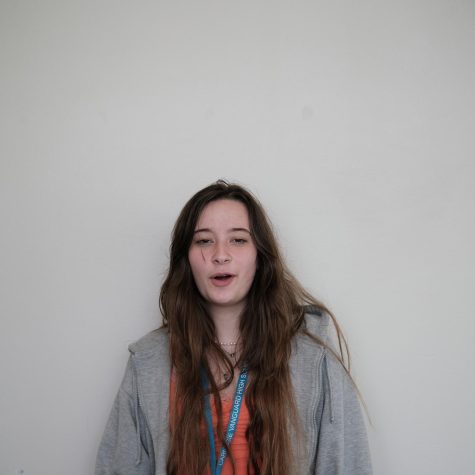 Julian Namerow, Features Editor
Hi, I'm a senior. I am a feature story editor and i have the best dog in the world.