CVHS junior Cayla Gottesman begins a protest against the Texas abortion ban
CVHS junior Cayla Gottesman never felt right about standing up for the Texas pledge. Everytime she stood, all the injustices, brutality, and inequality that happened in the country she stood on, the very same country that promised 'liberty and justice for all,' would haunt her.
When Texas put in place the abortion ban, Gottesman decided enough was enough, so as of September 10, she decided to sit for the Texas pledge.
While Cayla has always stood for the pledge, she has never felt comfortable. "I've always kind of felt a little bit uneasy just like pledging, honestly, to a country. I feel weird pledging myself to comply, just in general but also pledging myself to a country sometimes, especially with [the lack of] black rights and a whole bunch of other people's rights, " Gottesman said. "I just feel like I just started sitting, but there's more beyond that. I guess I just stood before because I mean, it's been ingrained in us to stand for."
Texas Senate Bill 8 is a near total ban on the abortion of an unborn baby after a heartbeat is detected. Before the abortion ban women would typically get an abortion before 21 weeks into the pregnancy. Now women may not even know they are pregnant, so the 6 week period isn't enough for them to get an abortion. It allows private citizens to sue a woman and everyone involved with an abortion even if they have no connection with the case. Those who sue and win their case can be rewarded up to $10,000
"It's disgusting, having private citizens sue and be able to earn at least $10,000 reward if they win the case against someone in an abortion clinic," said Gottesman. "Someone that drove someone else to get an abortion, and don't even know, even if they might, if they were didn't intend to know about it that's a little shaky and their case might not call, but if they like someone drove someone to a n abortion clinic, they can be sued."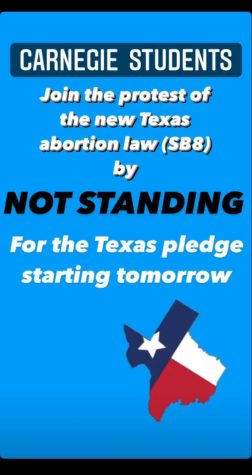 Gottesman believes that the abortion ban will not be effective because women will find a way to get an abortion either way.
"The people that can afford it, they'll just go out of state and get an abortion. The doctor says it's normally six weeks so if it's after six weeks and they can't get an abortion in Texas and they'll go out of state, but the people that can't afford it stuff, they're going to try to get it done like like illegally or they're just going to try to do it in a backhand way that will put their own lives in danger which we saw when a portion of illegal abortions didn't stop there they did it by themselves, often kill the mother," Gottesman said.
Gottesman and her parents discussed the new ban. In the conversation, her father suggested sitting for the pledge. This prompted her to write a letter to her advocacy informing them that she would not be sitting for the Texas pledge and the reasons as to why.
"I was really upset about the new abortion law, and all that. How I wish I didn't have to stand for pledge then my dad was like, 'why don't you? why do you have to?'[stand for the pledge]. I would be disrespectful, I responded. Then I said you're right I don't have to," Gottesman responded. "And then at school, I just wrote a letter to my teacher because my teacher requires that everyone has to stand for the pledge unless you have a reason not to. So I wrote a letter explaining why I'm not standing."
Initially, Gottesman messaged her close friends and asked if they wanted to join her. She posted it in her Instagram story hoping that other students would decide to join too. Students from all grade levels started posting screenshots of Gottesman's message onto their stories and joined her protest.
"That weekend I started organizing stuff like and texting friends and asking them if they would join me in it and so I posted my story ]and had quite a few people who would repost it." Gottesman said, "I've been going around telling people about it, hoping to spread the word and asking people if they can tell other people or share it on the stories I had quite a few posts on stories, and just telling people about it,"
Although this strategy has been effective, Gottesman would like to be able to conduct a formal protest to make even more people in and out of Carnegie aware of the impact of the abortion ban
"Not everyone's going to notice like you're sitting down for the pledge of allegiance, for example, I feel like protest signs and staff will create a bigger impact and catch your attention." Through a formal protest, Gottesman believes she can create a bigger catch of attention and drive Carnegie students to take action with her to prevent the Texas new Abortion ban law established.
Even if the Abortion Ban does not affect you or your family know it could affect someone else in the future.
"There will be someone one day that will be impacted like any one of us here at school, anyone, family, friends, family, or future generations like you have to think of your kids, your kids, grandkids and everyone else like after you someone will eventually know right now. I'm lucky enough to," Gottesman said.
View Comments(1)
About the Contributors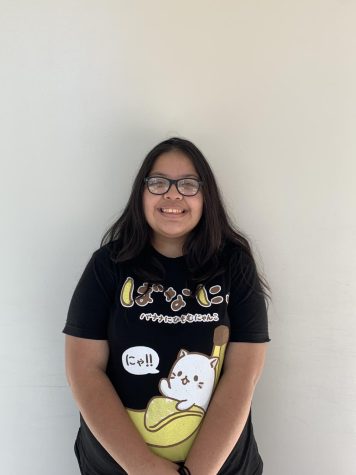 Judith Carrizales, News Editor
Judith Carrizales is a junior at CVHS. She participated as a member of the Film, Riot, and WISE clubs. Her favorite subjects are Journalism (of course!)...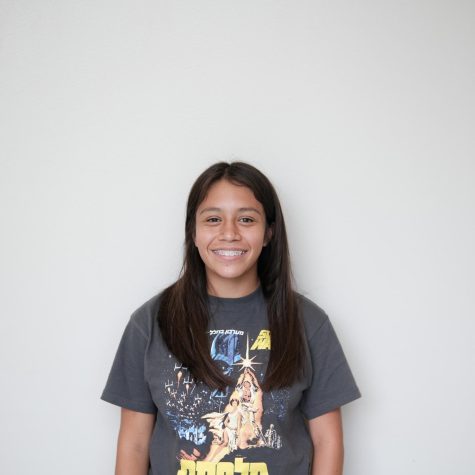 Abigail Nunez, Staff Writer
Abigail Nunez, has two older brothers and a best friend named Esperanza. She has always had a thing for sports , and now plays with the u17 National Salvadorian...