Coming Out Day Celebrated at CVHS
On October 15, Carnegie Vanguard Highschool's GSA club hosted another wonderful Coming Out Day for both the students and staff to celebrate. The event took place outdoors in the courtyard's amphitheater. Everyone was welcomed as GSA shared pronoun stickers and the stage for anyone who wanted to come out of the "closet", a prop door used in part of the celebration. The event lasted over an hour and shared many memories for everyone.
"I feel really happy and included that like CVHS is celebrating it and it makes it a real comfy place and shows everyone is welcomed." -Cherry Vo (Freshman)
"I really liked being able to celebrate coming our day at my school. especially because the school that I was originally zoned to, has horror stories about the LGBT community that attends there, it feels so good and comforting to know that I'm in place where i can have a flag around my shoulders safely, and with a staff that supports the students when they decide to do things like that." -Davy (Sophomore)
"I am very happy that we had a coming out day celebration at school! I'm not out to my parents or my siblings (yet) so at school is the only time I can be out, I obviously can't go to pride so this was like the closest thing. The fact that i got to wear my pride flag was so exciting and it just meant so much to me. " Ellis Choi (Sophomore)
"My experience felt so freeing to be out like a life long decision that sort of breaks you free of the grip of hiding who you are coming out of the "closet" and everyone cheering me on gave me a new found confidence in me that I never knew I had, the supporting community here at Carnegie has let me be free and helped me find amazing friends and able to have some things in common with people." Atlas Chavez (Freshman)
Leave a Comment
About the Writer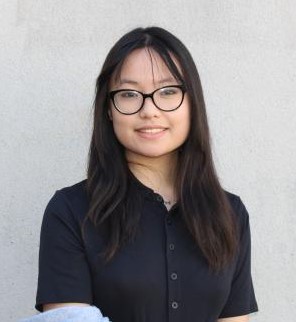 My-Tran Vo, Staff Writer
When My-Tran Vo isn't testing out a new knife by cutting a salami stick for a midday snack, she's out taking care of the stray cats she feeds. She...