Counselor Kylaa Griffin draws on her upbringing to provide a safe space for students at CVHS
CVHS students carry piles of stress, anxiety, and schoolwork as they drag their feet across the dull, grey floor. Days and weeks begin to blend together with no end in sight when suddenly, from the corner office next to the school's main office, a ray of hope beams. 
Ms. Kylaa Griffin, one of CVHS's new counselors, aims to provide a comforting and safe environment for students to work out the dilemmas on their minds. Following in the footsteps of her mother, Griffin is the social and emotional well-being counselor and the 504 and Services for Student with Disabilities (SSD) coordinator of CVHS.
Griffin has spent all of her time right here in Houston, starting off her career in Stafford Municipal School District and then moving to Fort Bend ISD. After spending 13-14 years there, she moved to Houston ISD. 
Griffin was originally certified in Louisiana, but found a job here in Texas before she found one there.
"One of the requirements for us to graduate in education was to be certified in the state, but I ended up finding a job within a month in Texas, so then I had to get certified here in Texas," says Griffin, " I just had to sit for an exam."
Griffin's career grew right here in Texas. Keeping close to home was important to her, so even when she went on her quest to become an educator, Griffin stayed close. Before coming to Houston, she moved around various school districts that gave her many different opportunities and experiences. Though she went from place to place, Griffin's goal was to bring the same joy and security that her mother brought to her students and her schooling experience gave to her.
"I went to a private school. It was a smaller setting, so we were really close. Then, as I got older, I went to a neighborhood school, but it was small as well. So I just always had great teachers that poured in a lot and cared way outside of what they were required to care," says Griffin.
Griffin feels that these years have prepared her to be a school counselor. In the small and intimate space, Griffin felt well-cared for and that she had a solid support system. Now, Griffin works for a similar space. 
"I am here at Carnegie because I am very fortunate. I feel honored to be a part of such a great place, with such great, great students and great faculty and staff. I feel like it's something that I've been preparing my whole career to be able to handle. So I am here because I heard a lot about Carnegie, and I wanted to move to the secondary level, and be able to help some students that are getting ready to, you know, really start their lives," says Griffin.
To work here at CVHS is something that Griffin has been working towards for most of her career. After completing an assessment with the faculty on the school itself and spending some time here, she feels that we have lived up to the expectations she was given.
To qualify for the position of a school counselor, an individual must complete certain requirements; being a classroom teacher, receiving a master's, then passing a certification test to be a counselor. However, when it comes to specializing in various aspects like mental health and 504 accommodations, the process is slightly different. 
"So, the requirements are that you just have to be a classroom teacher for three years. Then you have to go back and get your master's degree. Once you finish your master's, you go on to take the certification test to be a school counselor." says Griffin
A 504 is a plan that accommodates students who have certain learning impairments like ADHD or dyslexia. They can receive various accommodations like extended testing time or extra time with teachers to plan out major projects or assignments. 
"I'm just working with a lot of students at one time on all levels and with the students that have special needs. And then also just, you know, going to extra conferences and dealing with being on campuses that have behavior issues, because I have been a behavior interventionist for several years, so just working with a lot of kids coaching, being around a lot of kids and being very observant, I think is what's helped me kind of do what I do," says Griffin.
When it comes to being both a 504 and well-being counselor, Griffin states that attaining a certain skill level has to do largely with on-the-job training. While she studied subjects like psychology in school, learning how to help students in a way that would impact them positively would come from years of experience and training. 
"My mom was an educator, so I was around education for a very, very long time. I saw her work with our kids and how much of an impact and a difference she made in their lives. Even as adults, they will come back and, you know, still thank her and be happy that their own kids were still in her class," says Griffin
In the decision of a career, Griffin chose to try to bring the same peace of mind to students that her mother did unto her students. Observing her mother throughout the years as a trusted and respected individual to others inspired her to do the same and without a doubt, she knew that she wanted to be in education.
Griffin says, "I've always liked and enjoyed working with kids I've coached for many years in the school arena as well as outside of school."
For Griffin, working with kids seemed like a no-brainer. She wanted to be a support for students when they needed one and one that they could keep coming back to. As she's met with students throughout the school year so far, she wants the word to be spread that she's here for them.
"The great thing I think about is that when I help one student and they find out that it's an okay place, that this is a safe place to come, then they tell other students. That's how I want it to be," says Griffin.
Creating a space in which students can be themselves is important to Griffin. By doing that, she can reach every student in the school. Even when days are hard and she has to tell a student news that will impact them for the rest of their lives, Griffin manages to keep her head up and preserve so she can continue to be the rock that other students need when they are in crisis. 
"They may be panting, their heart rate is up, they're sweating. They're shaking constantly and are moving about. Can't really sit still, just very, very uneasy. So I tried to make sure that the atmosphere here is great. I try to make sure that I can get them to where they can focus on their breathing because that's the most important part of it. So if I can talk to them and calm them down to where they can focus on breathing, then we can move on to other things." says Griffin.
To be able to address a student, she needs to know what has gone on with them previously. She looks up background information and proceeds to use different breathing techniques that can help students slow their heart rates and allow them to think clearly and calmly. Though she has already helped a numerous number of students, Griffin wants to be able to reach every student at Carnegie. It is important to her that the student body knows that she is there for them. 
"That my door's open, even though it may be closed because a student is here, but it is always open to you. I would love to, you know, connect with everyone in a school year and just, you know, make sure that they understand that the support that they need is here for whatever they have going on. And I enjoy what I do every day. I love coming to work," says Griffin.
This is the message that Griffin wants to relay to students. She wants them to know that she is always there for them. Her life experiences have prepared her for this, and if there was one thing that she would like to say to her struggling teenage self, it would be that "You did all right."
Leave a Comment
About the Contributor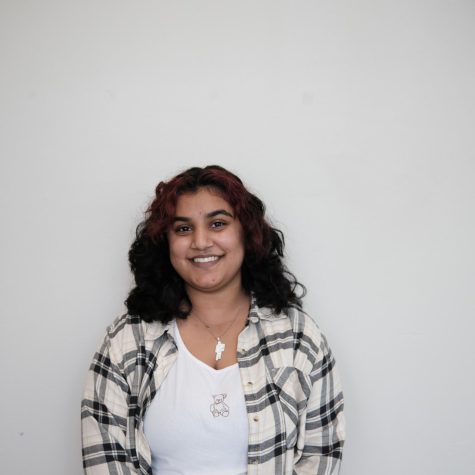 Esha Sharma, Staff Writer
I am a senior who enjoys traveling, writing and hanging out with friends.