Bread with pumpkin spice makes everything nice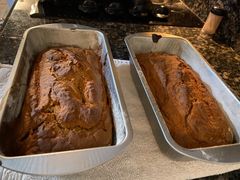 The world seemed to spin as I walked into the neighborhood bakery. No autumn is complete without all things pumpkin- carved pumpkin jack-o-lanterns, pumpkin candles from Bath and Body, pumpkin latte from Starbucks, and finally pumpkin bread.
The smell of pumpkin reminds me of baking in the kitchen with my sister when we were younger. We would spend any free time available trying to recreate every single dessert we've seen. The calendar just switched to October which meant it was finally socially acceptable to celebrate all things pumpkin. I would bring a loaf of fresh pumpkin bread to enjoy in the comfort of my room. My sister and I would split the loaf of bread with a cup of milk. The bread was as warm and comforting as the fire in our living room. It seemed to fill an empty spot in my heart, or more importantly, stomach. It was pure euphoria. A perfect shade of brown, yet light as a feather. My sister and I would spend the whole night watching movies and chatting as if we haven't seen each other for years, just bonding over this one simple loaf of pumpkin bread. I knew at that moment that I wanted to recreate this moment many more times.
I went to the internet to find any recipes for pumpkin bread to try out and I was shocked by the fact that pumpkin bread is extremely easy to make. I only needed three ingredients and an hour of my time to create this piece of gastronomical euphoria. 
I gathered my ingredients and supplies then went on to preheat the oven. My favorite part of this recipe is how simple and fast it was for me to gather everything. I didn't need to ask my mom to run to the store since it was just eggs, pumpkin spice mix, and one can of puree pumpkin which is found almost everywhere. 
The instructions were extremely simple and I believe that I could've made the bread blindfolded. All I had to do was mix three ingredients into a bowl and place the batter into the pans. My experiences with baking were similar to trying to get your pet cat to take a bath. I was always clumsy and rushing things as if my life depended on it. If I had a nickel for every time I dropped something important while baking I'd have enough pennies to buy a boat. I'm glad these steps made the whole process very relaxing. My younger sister even decided to join in since she saw how fun something so simple could be. As she baked with me, we recreated that moment where we would stay up and talk, sharing the loaf of bread. The nostalgia was uncanny as it was a Sunday evening and somehow freezing outdoors. It is Houston after all. My mom was playing classical music in the other room, but just like the smell of pumpkin, we could experience it no matter where we were in the house. I felt like I was starting the week off right with no problems at all, feeling like I had no limitations.
Moments after we placed the pans into the oven, the house seemed to be a remake of the bakery. The smell of pumpkin-filled every room and it was as comforting as a fluffy pillow on a Sunday morning. The smell seemed to hit me with the scent of pumpkin spice, nutmeg, and cinnamon. If scents could scream, it would scream autumn. I heard the oven ding when it was completed and ran to the kitchen with my sister right behind me. I took the pan out and immediately cut a slice. It was as hot as hell but it smelled like heaven. I was skeptical at first since the pumpkin bread didn't look aesthetically pleasing and it didn't look anything near like the loaf I bought at the neighborhood bakery. It seemed more of just a brick inside of a pan. It looked nothing like the perfect bread from the bakery.
My sister and I split the slice and although it was hot, we enjoyed every bite. The bread was moist and smooth, like velvet, and every bite was like flying up to the sky and personally biting one of the many clouds in the sky. The best part about the bread was that it wasn't too sweet. I don't like sweet foods but this snack was something I would take with me during an apocalypse. My sister on the other hand loves sweet things. I thought she wouldn't like this bread since it's not as sweet to her liking. Shockingly, she said it was sweet enough for her liking. 
We thought this was a successful recipe. Even though it looked nothing like our bakery bread, it still was able to create more memories that I'll cherish forever. It was sweet enough for my sister, and at the same time plain enough for my liking. The affordable and accessible ingredients, plus the simple steps, have made this one of my top favorite recipes to create at home. I recommend that everyone try it with family or friends and create as many memories with this pumpkin bread recipe.
---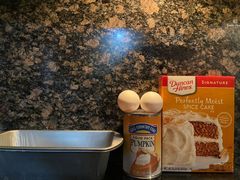 Recipe 
box of perfectly moist spice cake 

2 eggs

One can of puree pumpkin

2 bread pans

Wax paper 
Directions
Preheat the oven to 350 degrees Fahrenheit. 

Mix 2 eggs, the box mix, and one can of puree pumpkin into a mixing bowl and mix thoroughly until smooth.

Set the bowl aside and line your bread pans with wax paper

Pour half of the batter into one pan and the rest into the other pan

Bake for 40 minutes at 350 degrees Fahrenheit

Let cool and enjoy
Leave a Comment
About the Contributor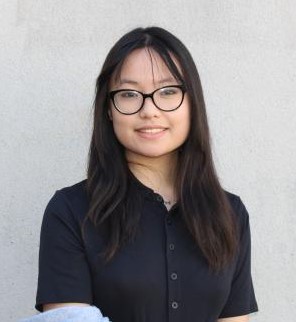 My-Tran Vo, Staff Writer
When My-Tran Vo isn't testing out a new knife by cutting a salami stick for a midday snack, she's out taking care of the stray cats she feeds. She...