Thrifting Through Montrose
My eyes darted from clothing rack to clothing rack. I was glued, searching for a unique piece that I could flaunt with the words, "It's thrifted!" My friend, Senior Julian Namerow, had been trying to snap me out of my trance for the past five minutes to go to the restroom. She was on the verge of peeing her pants but I couldn't take my eyes off the kid's section bottoms rack; I was looking for red athletic shorts that I envisioned with a grey crewneck and white high socks for a comfy athleisure look. 
Five years ago, eyebrows would have been raised at anyone trying to brag about thrifting an outfit. "Used clothes?" Now considered the counterculture thing to do, friends gawk in response to finding out an outfit of mine is thrifted. Thrifting has grown to become a $28 billion dollar industry predicted to eclipse the fast fashion industry. Its growth can be credited to the normalization of the practice by TikTok and expansion by sites such as Depop. Thrifting is no longer seen as a negative thing, but rather a sustainable and inexpensive creative outlet.
The massive scale thrifting has grown to is upheld by Generation Z who account for over 40% of global consumers participatingin secondhand fashion. Influencers such as Emma Chamberlain, who started off their Youtube careers by integrating "thrift hauls" into their vlogs, are credited with the emergence of thrift culture in recent years. 
"
"Ever since I started getting into fashion, thrifting has been my favorite resource to build my closet.""
— Emma Chamerlain
In addition to the already fast-growing industry, the demand for "vintage" clothing put thrift stores at the number one spot for teens in search of low-rise jeans, tight henley tops, and cotton grandpa sweaters. Stores found in malls just aren't making the cut. The constant change in style trends, accelerated by social media, has left name-brand stores such as Abercrombie and Hollister in the dust.
Despite the positive impact Depop has had on the growth of secondhand fashion, simply said, I hate it. My deep hatred for Depop stems from the fact that I consider it "fake thrifting." Users can buy sought-after items, so they don't have to go through the hassle of sore arms from sifting through two hundred pairs of jeans. Items such as 501 style Levi jeans are hard to thrift especially when looking for the perfect size. Consequently, people in search of these perfect-fitting jeans flock to Depop, where the work of finding the jeans is already done for them. 
To add to my disdain for the site is the negative effects of its unregulated prices. Considered the epitome of "free-market capitalism," sellers can buy items for practically nothing at a thrift store and resell popular trendy pieces for quadruple the original price. Not only does Depop allow for these outrageous price gouges, but it also completely takes away from the fun, creativity derived from physically going thrifting.
As a way to get out of the house during the pandemic, thrifting became a fun escape. There was a period in time where I was begging my mom to take me thrifting every week. Now, I am a self-proclaimed thrift god, and whenever I have free time after school or on the weekend, I love to go thrift shopping.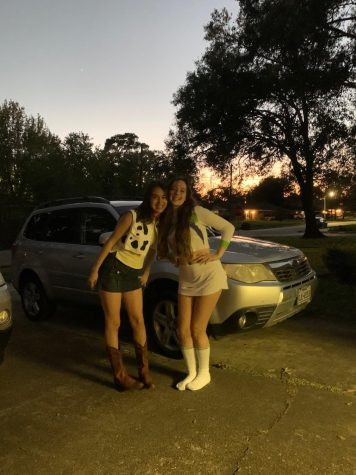 A six-minute drive from Carnegie, Leopard Lounge, and Pavement, located on Westheimer seem to always be buzzing with business. The items in the stores are already sifted through, separated from the less desirable pieces you may find at a thrift store. This way, it guarantees a better chance at scoring a safe find compared to Goodwill or Value Village. But at these vintage stores, there's no satisfaction of pulling out a once-in-a-lifetime piece from the clothing rack like you would at a thrift store. The rush you get knowing you just found the best thrift find known to man isn't the same at these vintage stores because the clothes are already picked out to reach a target audience. 
Leopard Lounge honestly isn't my cup of tea. The store is filled with 2000s streetwear pieces ranging from vintage Rocket's jerseys to Tupac graphic tees. The clothing is way too overpriced to be considered a thrift store, so I tend to stray away from the unfortunately convenient spot. In contrast to their streetwear theme, their Texan side comes out. The store is overflowing with shelves of cowboy boots. After searching all of Houston's thrift stores for boots, I went against my thrift morals to Leopard Lounge. Not to my surprise, the boots were overpriced for the condition they were in. Scuffed and creased, there was no way I was buying $120 "gently" used boots.
Right next door, I consider Pavement to be a "little trendier Plato's Closet." Both stores encourage customers to bring in their old clothes in exchange for cash and it is up to the employees' discretion what to buy from the customers. However, Plato's Closet typically goes for the outdated preppy items from seven years ago whereas Pavement seeks out Levis and graphic tees, catering toward more recent trends. But don't get me wrong, I'm not a Pavement sympathizer. I didn't find one thing from my hour-long visit. Even though the items are relatively still new, fashion trends are changing too quickly for the store's cash-exchange method of supplying to keep up. 
On the flip side, a seven-minute drive from Carnegie, the Salvation Army located on Washington Avenue is my go-to spot for last-minute outfits. From spirit week outfits to homecoming dresses, Salvation Army has been a lifesaver every time. My last-minute decision to go to the St.Pius homecoming meant I needed to find a dress, fast. I didn't want to spend hundreds of dollars on a dress for a homecoming dance that wasn't mine, so I decided thrifting was the only viable option. And it worked! I thrifted a long navy blue sparkly dress for eight dollars. 
The Salvation Army on Washington is the gift that keeps on giving. On another crunch for time, I was able to thrift an entire Halloween costume. With just a picture of a DIY Woody costume from Pinterest in hand and two hours, I walked out of the store with my 2021 Halloween costume. 
In addition to being a great way to find last-minute costumes, I found my favorite jeans at the Salvation Army on Washington. Low-rise boot-cut 2000's-Esque medium wash Express jeans. These jeans look like they are straight out of Rory Gilmore's closet. To pair with these jeans, I found a brown mid sleeve v-cut shirt the same day! It is my current favorite outfit, paired with my severely damaged Supergas.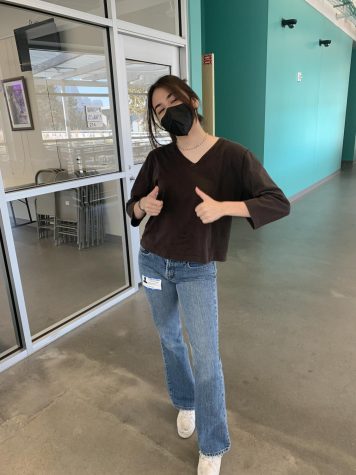 Thrifting tip: Go for the jean section first! This is the most tedious section to sort through, but the payoff is so rewarding. The racks in the jean section are typically packed with heavy denim so it's much harder to sift through items compared to lighter pieces such as shirts. Be prepared for your arms to be sore; it usually takes me about thirty minutes to get through the entire section. 
My all-time favorite thrift find, however, is a beaded necklace I found at the Value Village on Shepard this summer. It was with a set of 4 other necklaces for five dollars and as the worker took it out of the glass case she whispered to me that it was a steal. I wear it with practically every outfit because of how versatile it is and I'm happy to tell anyone who asks that it's thrifted. 
View Comments (6)
About the Contributor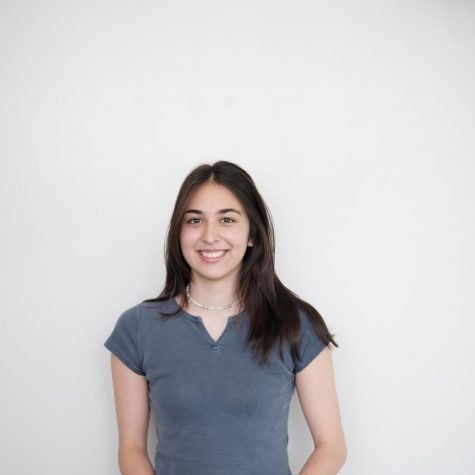 Kaitlyn Garza, Staff Writer
Hi, my name is Kaitlyn and I'm a senior!