Personal Column: Change comes quick
 The ending of April is my favorite time of the year. Many milestones in my family at that time, such as birthdays and graduations. Celebration after celebration, the joy never leaves, like a kid who doesn't want to go home from the park. My Uncle En came down from California to celebrate with us. We hadn't seen him for years, since he moved to California, so it was great to have the family back again. The family stayed together day after day, and on some days, we celebrated for no reason, as if the world was going to end soon, and we all knew it. Little did we know, our world would soon come crashing down much sooner than expected.
Uncle En was the uncle that would sit at the kids' table rather than with the adults. He seemed like a teenager that was just a little too grown. I genuinely believe that his hobby was just planning last-minute road trips or just bothering his older siblings. He was purely a kid at heart. The day he got sick, the world seemed to fall apart.
One April morning of 2021, the sun poured through my windows as my alarm blared. As alarms do, it had its little routine of waking me up at 8:25 am on the dot, to wake me up for virtual classes. I jumped out of bed and brushed my teeth as the clock hit 8:27 am. "Right on schedule," I thought to myself. The front door swung open and you could hear the phone on speaker with what sounded like 20 different voices. Turns out, it was 20 different voices. My sister and I looked at each other with the same confused look on our faces. We didn't know what to do as Mom scrambled about the house frantically, searching for a pen and paper to write notes.
 "My brother is in the emergency room. I'll be back in a bit," she said as she ran out the door with only her phone in hand.
"Do I need to go ask her about?" my sister asked. 
I shook my head no and turned around. I had no other choice than to just continue with school. I had no valid reason to skip it, and all my exams were taking a toll on me.
A few hours later, she came home with bad news. Uncle En had a stroke before one of the holiday parties and was in the hospital under intensive care. My sister looked at me and just shrugged and carried on with her day. Why was it comforting to see that I was not the only one who was bothered by this whole situation? If anything, I was annoyed that this got in the way of my schoolwork.
"He just got discharged from the hospital. You wouldn't believe how high the bills were getting. Let's go," Mom said. She didn't tell us to pack, nor did she tell us to get ready. My sister and I already understood beforehand and had our go-bags ready. As we drove down to go visit him, I noticed how my sister wasn't fazed at all. It seemed to reflect me since I wasn't fazed either. This has happened before. Our own mom had a stroke and so did our other uncle, Uncle Hoa. This was all genetics. Give it 40 years and we're next. As I walked into the room, it seemed as if I felt the room begin to spin. the realization hitting me all at once. It was so deathly quiet. I walked in and put my bag gently on the floor, which seemed to me to create an echo ringing through the silent room.
The room expanded with its emptiness. I felt chills, yet was numb, head spinning, with no direction. All I had were questions. Mom recovered. Uncle Hoa recovered. So why isn't Uncle En getting any better?
 "He'll be moving in with us soon when we organize the house to make room for him," Mom said.
 "We barely have room for us," I replied instantly. I had never felt so bad in my life, but it seemed that my sister also agreed. We only had our mom, dad, and the two of us, yet it was so crowded in the house. We couldn't go a single day without screaming at each other. So, when I heard that we would bring someone else to move in with us, I just got frustrated. I understood that it was my mom's brother and that she wanted to take care of him, but I have never seen my mom get along with any family members.
"Why can't you just stand there and listen to your mom. It's not that hard of a job," she said as she packed her bags. She didn't even look at me. She just talked and moved on. My voice wasn't heard.
"Say your goodbyes and let's go," I said my goodbyes as he just looked at us leave since he couldn't really do anything to retaliate those goodbyes.
The following month, Uncle En moved in with us. As he slowly recovered, he started to walk on his own. It wasn't as bad as I thought it would be. Every morning I would wake up and make pancakes to eat with him. It isn't so bad since all he does is talk about his time in California. Maybe Mom was right. Maybe  I was being dramatic. Dad seemed to be okay with it though. When he grew up, he was the youngest, with 3 older brothers and an older sister, but they were always too busy for him. He always wanted an older sibling figure and now he has someone to talk to when he's at home.. It's hard to do anything now that school is in person after a year, but it's harder when Mom is screaming for no reason. She yells about why we aren't helping as much or why he won't get better and how it's our fault since we are giving bad energy. 
It was your idea and your savior complex that got us here, even the external family disagreed on it.
He didn't seem like himself any more. He had a stroke most likely due to his age and had to be watched over just in case. The kid that was there seemed like he graduated and left home. He was quiet and nothing would get his attention. It's like someone replaced him. It's eerie to see someone change so quickly.
 The whole family felt off. Everyone has either school or work every minute of their lives. Both my sister and I attend Carnegie, attend afterschool activities, so it always seems impossible to balance our school and personal lives. So, when our uncle got  sick, my family had to step up and care for him. Other than that, I'm grateful that he is okay and his condition isn't more serious. But nothing feels right anymore. Everything is changing at the speed of light, and I feel helpless. Was there really anything I could do? Was it me just being dramatic that the attention wasn't on me anymore? Everyone is yelling, screaming, and talking. All I can do now is put on my headphones, and let the world go on around me. 
View Comments (1)
About the Contributor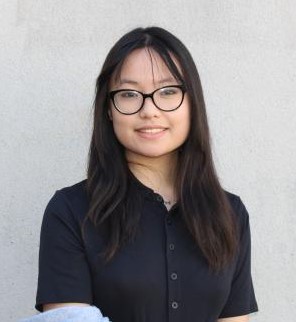 My-Tran Vo, Staff Writer
When My-Tran Vo isn't testing out a new knife by cutting a salami stick for a midday snack, she's out taking care of the stray cats she feeds. She...