Op-Ed: Carnegie NEEDS a music program
Hoping for the floating TV clock to finally tick to 4:10PM, my days at the academically prestigious Carnegie Vanguard High School seem to be lacking something. Unconsciously, my body notifies me of this with an antsy, rhythmic leg bounce, synchronized pencil tabletop taps, and decelerating heartbeats. While I deeply miss the succeeding things, it isn't my two tight middle school besties, my adorable little brother, or my abundance of free time that fills this void in my soul; it's the unparalleled arts experiences, of which my middle school did an excellent job offering. The lively, exuberant drill team in the enormous, well-financed wood floor studio; the zesty, vibrant, sonorous choir room filled with fellow fiery singers; even the welcoming and insanely talented ensembles, a separate universe resounding with enchanting woodwind harmonies and, of course, muddled and unsynchronized but insanely talented instrumentalists warming up to rehearse (it's an "if you know, you know" kind of thing). Yes, Carnegie is consistently ranked a top high school in the district, but the fact that, currently, there is a deprivation of music classes wrecks my heart every time that I'm reminded of it. Every time I miss the cozy choir community ambiance, every time I realize my nights are now spent overwhelmed with homework instead of practicing songs and dances, I remember the tear-evoking actuality that my days have been stripped of time for music.
Music has proven time and time again to provide a plethora of academic and social benefits when implemented in schools. With such talented, competitive, and passionate students at Carnegie, it is surprising that they are not jumping at this disparity and making a change, making an impact. Therefore, the question remains, why does Carnegie not have any music classes?
"
I don't recall any music class being offered at Carnegie as long as I've been here, since the beginning."
— Assistant Principal Garner
As a high school in Texas, Carnegie is required to offer two of the following arts: music, visual, theater, and dance. Meeting that requirement with legitimate theater and visual art classes (plus creative writing and yearbook for extra credit) resulted in a lack of need for music classes. As the majority of schools and districts reason their lack of certain courses with economic strain, there is a saddening trend of music (and really, the arts as a whole) being the first on the chopping block. Yes, Carnegie has always allowed students to take initiative and create their own clubs, of which include a singing club and a music appreciation club, but the problem prevails- music is neglected into the shadows of inessential recreational activities. Because music has been portrayed as a less valuable and plainly disposable elective, it leaves many without a creative outlet to flourish in.
The importance of music education
When it comes down to it, music and academics are often not associated with the same level of respect in regard to a student's realm of "requisite information" to attain at school. There has been the suffocating stigma that music education is just an opportunity for students to "slack off" or, in context to CVHS, does not hold the same gravity of importance as the esteemed AP classes. In actuality, if CVHS were to equip students with the opportunity to take music classes, its towering, stratospheric levels of academic excellence would be unquestionably met, if not augmented. Music education stimulates the brain and allows students to harness the dexterity needed to navigate complex note changes painted on music sheets and concurrently increase their memory skills. With the addition of foreign genres of music and unique languages from across the globe, students are able to step outside of their comfort zone and surround themselves with the world's beauty, as well as (academic point five!) increasing their levels of vocabulary. Furthermore, rather than subjecting to the deep pits of no motivation, music classes have the ability to engage students and foster greater work ethics and discipline even outside of the classroom setting.
In regards to music and its relationship with education, the first thing that flashed across my mind was being able to memorize, not just your ordinary English choir piece, but a piece sung in Hebrew… in a span of two days. I know, seems unfathomable, but it's true! Being able to develop these skills and accomplishing the "impossible" has always been a characteristic I've associated with choir. After three years of being part of something so unique to my other middle school classes, I couldn't help but feel lost and unchallenged despite being in a rigorous academic-focused environment once I entered high school at CVHS. Sure, I can build a complex lexicon in English class. Sure, math class can help with calculating random problems where copious amounts of pizzas are purchased by a guy named "John." However, exclusively offering the academic route, rather than an explorative route (as Carnegie advertises itself as a place for students to "broaden their horizons"), it is not only suppressive for me, but it locks away opportunities for growth students could have acquired.
Even beyond the scholastic scene, music requires teamwork, collaboration, and communication, teaching students how to respect and value others' opinions and ideas and cultures一a critical mannerism every generation needs to obtain. Plus, to reiterate, music increases engagement and overall motivation for students to complete their assignments and work towards achieving their goals- what part of that wouldn't we want? By the same token, I can testify that music classes are a superb spot to kindle relationships and socialize with ease. I spent most of my time in middle school with people from the beautifully chaotic choir class, the overpopulated but tight-knit Company dance team, and also the warm band bunch that offered me a position as their jazz ensemble singer soloist (even though I was not officially associated with the band class). I met most of my friends through this assortment of art classes. And those I met in my music classes, in particular, I have formed unbreakable bonds and am forevermore able to get hyped over shared passions and discoveries with them- that is a beautiful, irreplaceable thing.
In addition, not only can students benefit from music outside of school, but it can also improve economic conditions in the school setting. As employment, personal income, and government revenue all benefit with the induction of a music program, it tips the scale, adding more leverage for music to have in remaining a permanent part of a student's curriculum. Serving as a light in an endlessly pitch-black tunnel, music has the ability to be a source of stress relief. As a CVHS student, the feeling of being swallowed in pressure and meeting demanding outputs eventually leaves an overwhelming weight on my shoulders. Prior to entering high school, however, stress was never a foreign feeling for me. The creeping feeling that lasted throughout the school day would carry over even into my personal life, impacting my behavior towards others. However, I always found refuge when stepping into that cold room filled with old creaky bleachers, the familiar music sheets scattered on the ground. As a form of escapism, singing with my second family and relishing in euphoric harmonies would never fail to transport me away from the dark shadows of school.
Budget cuts are not the end
To be fair, it is necessary to acknowledge that music is not the cheapest, and it is quite inaccessible for underserved school districts. To combat this disparity, active fundraising to promote music education can help remedy this constraint. During a poll by the Give A Note Foundation, 58% of teachers stated they felt fundraising helped "enrich" their program, which gives rise to the idea that incorporating a music program without proper funding is an unfeasible concept. By obliterating the connotation that music education can only exist with official funding from district budgets, it opens a gateway of opportunity for students to advocate for their passions and push for their desire to learn music in their standardized education.
Schools of similar enrollment numbers in the same district are able to have music classes—such as Heights High School with choir and mariachi, marching, concert, and jazz bands, Sharpstown International School with dance, choir, and theater arts, even our most similar and fiercest competitor DeBakey High School for Health Professions triumphing with theater, visual art, AND music—meaning that this cannot be far beyond Carnegie's capabilities! According to Assistant Principal Garner, the largest logistic concern is finding a passionate teacher with the credentials and qualifications to teach a comprehensive high school music course, for music teachers are more challenging to locate. And as for funding, Carnegie's Parent Teacher Organization (PTO) often possesses extra funds, for they have a cap for how much money they can carry over from year to year, which is actually how every Carnegie classroom received updated SmartBoards though the need was not apparent nor expressed! Leftover PTO funds and generosity thus sound like a realizable monetary solution for instruments and other music equipment if the school has nothing to spare. 
All this is to say, now, the ultimate task we need to obtain a music program here is rowdy-up and galvanize the abundant musical interest at Carnegie and prove to the administration that this implementation is imperative, and best of all, it is inevitable- we have figured out the solution and are going to bring this to realization. If anyone would like to aid us in creating this glorious reality, let us know if you would take a music class next year through this 1 minute survey! It would be an instrumental part of this operation and will help bring music out of the shadows and into the light for all to love, for all to share, for all to benefit, and for all to hear!
View Comments (3)
About the Contributors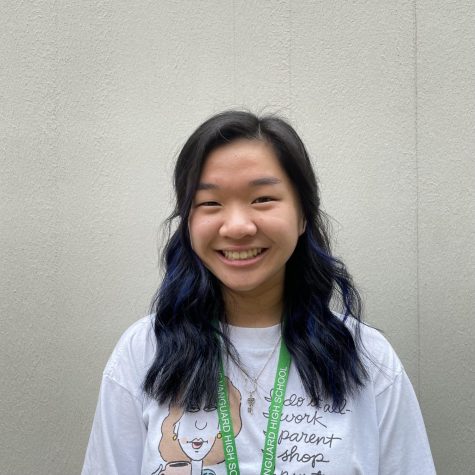 Caitlin Liman, Staff Writer
Hewwo there! I'm Caitlin, I am a junior, and I love singing and playing guitar w my lil bro, as well as helping people  :]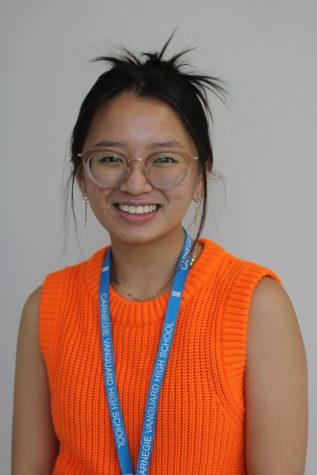 Nina Nguyen, Feature Editor
Nina Nguyen connects with the color orange on an emotional level and goes to a great extent to make it her whole personality. When it comes to music, Nina...