All a-bout Monica Balakrishnan: CVHS senior signs to acclaimed university for fencing
The beaming light shined down as she stood tall on the podium with an equally bright smile painting her face. The cameras, the lights, and the theatrics may have been overwhelming for some, but for Monica Balakrishnan, it was a crowning achievement. At the age of 10, Balakrishnan received a silver medal at the USA Fencing Summer National Championship, a moment forever engraved into her mind. 
Balakrishnan's illustrious fencing career began at the age of 8 and due to her competitive nature, relentless grit, and positive mindset, she has cultivated her passion for fencing and turned it into a fundamental component of her future. Balakrishnan will continue fencing at a D1 university where she has been recruited and officially signed to the team. 
Fencing, in general, is a recreational sport of swordplay that is enjoyed by people of all ages and cultures across the globe. Though the sport is growing in popularity, many do not know much (if anything) about fencing and Balakrishnan hopes to see this change in the future.
"I'm not surprised when the average person comes up to me and is like, I thought you would go and build fences," said Balakrishnan. 
Even though it is a niche sport, Balakrishnan still found her way into fencing quite naturally. Balakrishnan has a past participating in the sport of Taekwondo, but at the age of 8, she was too young to move on to using weapons. By chance, there was a fencing academy next to her Taekwondo Dojo and after joining the academy, Balakrishnan has been enamored with many of the aspects of fencing since the moment she started.
"I like the idea that it really is like physical chess and ironically enough, I did chess as well," said Balakrishnan. "You can actually use your body and your mind and in comparison to other sports, this was kind of the thing that first clicked to me."
Balakrishnan has also been supported by her family since the beginning of her fencing career as her parents saw her enjoyment and decided to let her continue. In fact, Balakrishnan is the pioneer of fencing in her family and has inspired other family members.
"My younger sister started in July of last year, so she's been doing it for about six or seven months now. She's the only one, but she's planning to be as competitive as me as we continue," said Balakrishnan. 
Balakrishnan did not always expect competitive fencing to play such a significant role in her life. She always knew she loved fencing, but the possibility of continuing the sport for so long never crossed her mind until a specific moment of realization. 
"I saw that fencing isn't something that you stop at age 12. You can do this pretty much your whole life because there were veteran fencers fencing and obviously some are in college, so it's kind of a sport for all ages," said Balakrishnan. 
Being around this large variety of fencers has opened Balakrishnan up to a whole new world of opportunities and connections. Balakrishnan has been coached by Olympic coaches while simultaneously being around Olympians like Kelly Hurley and Francesca Bassa, two of Balakrishnan's idols due to their hard work athletically and academically. Still, Balakrishnan has a unique take on what constitutes an "idol". 
"In fencing, anyone can honestly be an idol. While I learn techniques from senior fencers, I also learn how to handle failure from fencers who have just begun fencing," said Balakrishnan. 
This is just one of the countless lessons Balakrishnan has learned from her experience with fencing with perhaps the most important lesson being about something we have all feared at least once: failure. 
"You can't be afraid to fail. I've definitely lost many bouts, that's what you call a fencing match, but that's normal for any sport. Cause, you win some and you lose some right?" said Balakrishnan. 
Due to the competitive nature of fencing, failure comes quite frequently for all fencers, including Balakrishnan. The sport is very intense and requires dedication, time, and incredible amounts of effort as Balakrishnan practices 15-20 hours a week, which often interferes with other aspects of her life. 
"Hangouts and parties, I wasn't really able to have that because I was traveling so much in middle school," said Balakrishnan. "Those are the kinds of things that I missed out on."
Still, Balakrishnan believes that all of the hard work was worth it. At times, she was fearful that it was not going to work out; though doubtful, ultimately did as Balakrishnan plans to major in Neuroscience while actively fencing for the university. 
"Medicine has been something that I've always been interested in and it really fits, whether it's research or whether it's surgery or whatever I chose to do. At the end of the day, I like to help people and I like to interact with people. So something that goes along those lines with STEM and biology sounds about right," said Balakrishnan. 
As she reflects on the college application process and her high school career, Balakrishnan offers advice to others who will go through the same process in the future. 
"Keep in mind that you're not doing this for anyone but yourself and you have to really see where you will actually succeed and where you actually will thrive," said Balakrishnan.  
Balakrishnan is glad that she found the right fit for her, a diverse school with a balance between academics and athletics. Balakrishnan is excited for a new chapter of her life with new academic opportunities, a new setting, and of course, new fencing opportunities—a chance to transition from the individual fencing mindset she has grown accustomed to. 
"I look forward to fencing for something more than myself because it's a different feeling and I don't think I'll ever be able to fully get rid of, not the inner ego, but the inner competitive spirit I have, but it's more for the school now," said Balakrishnan. 
Balakrishnan looks forward to contributing to other communities she will become a part of in the future including her plans to continue fencing, going to graduate school, or going to medical school where she would like to pursue a career as a pediatric neurosurgeon. No matter what she does in life, Balakrishnan will always strive to better her community, a trait she will take with her to college. 
"I'm really hoping that I'm able to make some change for the good of the community even if it's as basic as just one of my friends, or a teacher, or someone in college," said Balakrishnan. 
View Comments (2)
About the Contributor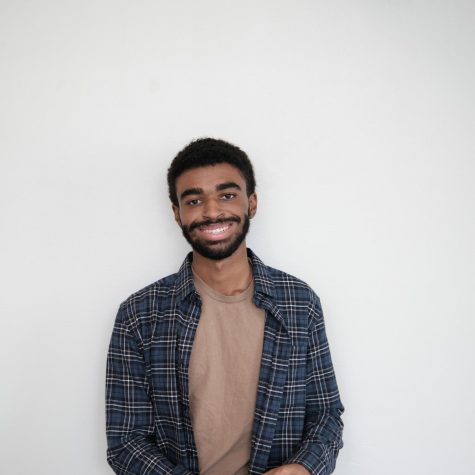 Jahrel Noble, Entertainment Editor
Hello! My name is Jahrel and I'm a Senior at CVHS. Some things I enjoy are traveling, writing, and playing with my two dogs.