Receptionist Ruben Hermosillo shares his past path leading him to CVHS
After a long day, you can't wait to just pass through the front doors, sunlight slightly reflecting on the glass. You rush past the lobby as fast as you can, hopefully your ride is there so you can go home. You pass right by the brightly colored decorations for holidays, right past the tall, movable glass doors, right past the equally tired receptionists waiting for all the students to leave so they could too. 
Many don't really give the receptionists at school a second thought, but what everyone fails to realize is that they have many great stories to tell. Some about the events that led them to work here or just a funny moment with their co-workers. Ruben Hermosillo is such a receptionist and the newest addition to the CVHS family. 
In Mexico, Hermosillo was born and raised in a small town near Guadalajara, Jalisco, until his mid-teens. He is one of six children.
"I come from, I want to say big family," Hermosillo said. "We have always been a very, very close family. We always care for each other." 
At fifteen years old, he moved to the US and stayed with some of his cousins. He wanted to explore and learn more about the world, see what was in store for him. Although he had many reasons for coming here, one main reason was becoming independent. His parents were more than happy to let him follow his dreams, supporting him every step of the way. They let him move to the US despite his young age, hoping he accomplishes all his dreams and goals. 
While following his dreams, he ran into many different problems. He wasn't able to continue going to high school, more focused on his responsibility, and just didn't have an opportunity. He also found being away from his family hard, but he pushed through.
"[It] was very intense, but I knew I was going towards a goal in life. "Another major problem he faced when he first moved here was the language, "That was probably the worst, or the hardest [problem]." 
School had always been a place he loved; learning gave him a new way of seeing things. His favorite subject was geography, learning about the different places around the world and the varying cultures. He had many fond memories of school in Mexico, but he especially liked learning new things that changed his perspective on things. Making friends at the beginning of the school year had also been something he loved to do. He doesn't seem to find any memories he doesn't like from back then, "I think all those memories have made me who I am these days."
He is currently looking to go back to school, "I am actually working on trying to figure out going back to college, trying to get some credits," he explained. With traveling as his passion, he wants to do something in that field, perhaps tourism or a traveling agent. He has thought through many options, those two being the ones he is most interested in.
His hobbies include traveling and eating take out, along with meeting new people. He favors bettering himself and growing as a person. He wants to travel all over the world, but Denmark has a special place in his heart.
"It's just one of the places that I have always seen myself there. The lifestyle, the work environment. I'm not sure; Denmark is just a special place. I've seen it in, in my life in my dreams many times," said Hermosillo.
Carnegie isn't his first job as a receptionist; He used to work at an elementary school.
"It was, it has been a big change. But it has been a great change so far," he explained. But even with the big change, some things never change, "On the administration level it is almost the same. After all, we look [after] the well being of the students and the learning of the students and everything". The only major difference is the students' ages. Being so used to little kids and suddenly being thrown in the middle of a sea of teenagers, probably gave him whiplash.
"I think Carnegie is a great school where it gives a lot of opportunities for growth, and it has a lot to share with everyone who works here, is a big difference from many other schools," Hermosillo said. He mainly works in customer service, helping students and parents with anything he can. There is the occasional filling, but he absolutely loves helping students achieve their goals.
When he started working here, he was surprised by the closeness everyone has with each other, "Wow! Everyone is very respectful."
He is very excited to learn more as he works here and appreciates how welcoming everyone is. "it's a very family oriented environment," he observed, "good vibes all around." He is very happy to be here and be a part of something so great. He notes how he finds some similarities with the students, "We all experience certain things in life, and then we learn from it."
View Comments (3)
About the Writer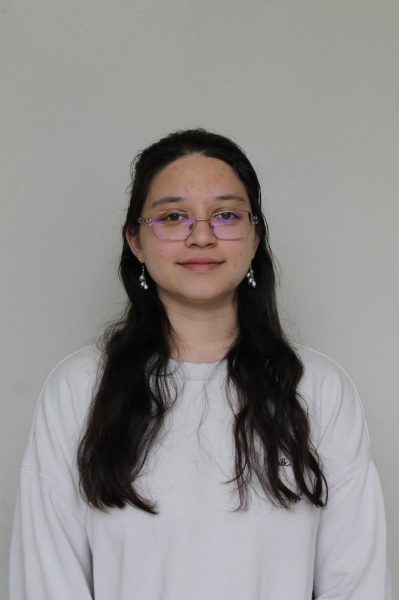 Nicole Rodil Suarez, Arts & Entertainment Editor
Nicole Rodil Suarez is a current Junior here at CVHS. Some tasks that she enjoys doing out of school are reading, specifically fiction, baking with her...