Gabi Rodriguez sprints into the Williams College track team
Gabi Rodriguez could feel the cool air brush past her skin as she raced down the muddy terrain surrounding her. Once her teammate passed her the baton, her mind went blank, and she pushed her body beyond its limits to cross the finish line. She felt the pressure building from her teammates and was determined to make them proud. As her right foot descended past the pink drawn line, her face hit the floor. Rodriguez, dirt-caked face, stood up with a smile, and although she was dirty and tired, she felt over the moon with her accomplishment. This 8th-grade track championship ignited Rodriguez's drive for track and her passion for continuing for years to come.
This past season Rodriguez committed to continuing her track journey at Williams College in Massachusetts. She applied early decision and received her letter of acceptance this past fall. Rodriguez will join their NCAA Division III track lineup as a walk-on in the fall of 2022. She initially missed the recruitment but luckily later submitted a video for the coach to review. Rodriguez went on to meet with the coach at Williams and discussed the high expectations they expected from her on the team. She immediately agreed, and soon Rodriguez was on track (pun intended) to attending Williams and continuing her track career.
"I signed my letter of intent. So I think that was my biggest moment that I'm most proud of," said Rodriguez.
Rodriguez introduced track to Carnegie and worked throughout her sophomore year (2019-2020) to make her dream happen by partnering up with a teammate, Viana Rodriguez, a 2021 graduate of CVHS, to form a team. Together Rodriguez and her partner searched for a coach, and by working together and staying consistent with showing up to practices and campaigning for members, the track team at CVHS took off. They found a coach, Ms. Ford, who also coaches cross country, they advocated throughout school, and now Gabi Rodriguez is the solo captain to all grade levels. Through persistence and advocacy, Rodriguez reached her goal of bringing her passion wherever she went. Although she officially started the team her sophomore year, they haven't competed until this year due to the pandemic interrupting the past seasons.
"I'm super proud of the Track and Field team because I still had to furiously advocate for it for about two years with administration. Carnegie didn't have track, it wasn't there, so I just brought it here," said Rodriguez. "It was remote, which was very hard team spirit-wise, and just self-motivation, because it's always easier when you have other people running, like raising that intensity and pushing you."
Rodriguez competes in the long jump category, and after battling through a virtual season, she knew she needed decent marks if she wanted to continue her track journey in college. Rodriguez advanced to district on her last jump and felt the weight of the race leave her shoulders.
"I'm really proud of how it came together, and it feels like just the beginning for me," said Rodriguez.
Before bringing track to Carnegie, Rodriguez competed throughout middle school. She grew to love the sport that she can now call a piece of her personality. She's been running track for seven years now and competing in the long jump category for the past two years. But, she did not always have the passion for waking up at 5:30 A.M. every morning and pushing herself one foot in front of the other from the start.
"I did ballet and dance for ten years. In fourth grade, I did really well on the fitnessgram pacer test and got a freakishly high score for a female, so my parents just put me on track, and it stuck," said Rodriguez.
Rodriguez speaks on how she grew to love and appreciate track through persistence and consistency. It was not always easy, and she had to fight almost every step of the way. She could have never imagined that the little dancer she used to be would be joining an elite group of athletes at Williams College and getting the chance to further her track career.
"It's sort of become part of my identity," said Rodriguez. "It has to be my favorite thing because I fought so hard for it, and I've gone a long way with it. And now I'm running in college. So, you know, I've got to love it."
View Comments (6)
About the Contributors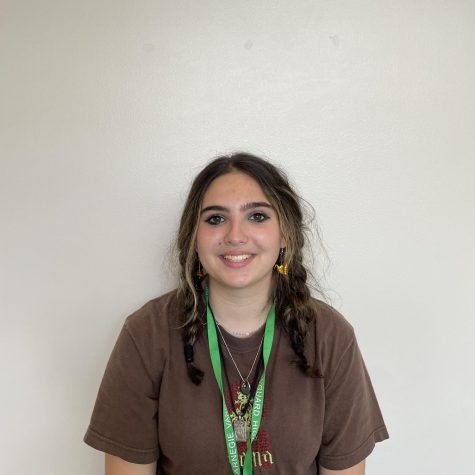 Isabel Hoffman, Staff Writer
Most people call me Izzie! I am a junior and love to listen to podcasts. ;)
Zainab Zaman, Staff Writer
Hi my name is Zainab Zaman and I'm a senior at CVHS. I love to immerse myself in different cultures by traveling, cooking, and reading!