Five cultures, one holiday: Lunar New Year at CVHS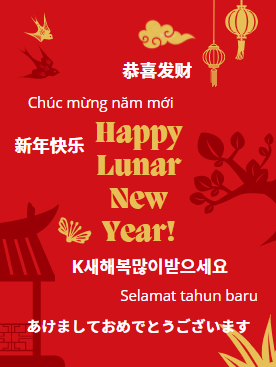 Sheer sparkly gold and cherry red curtains were lining the lifelessly beige walls, with visible fumes of fragrance dancing around them. Mouthwatering dishes range from juicy Siu Mai (steamed Chinese dumplings) to fresh Jasmine rice (there's a priceless smell- if you know, you know). The resonant and vibrant crackling fireworks and interactive lion dances, the heartwarming sight of every side of the family in harmony, in laughter, in joy. This once-in-a-year occurrence is thanks to one exceptional cultural holiday: Lunar New Year. And our Carnegie Vanguard High School community has quite a population of celebrators of this bright, Asian, fresh-start festivity.
CVHS is known for its "diverse gifted & talented population," as stapled in its mission statement. Along with a distinctive proportion of the school being 30.1% Asian, schools must establish connections between their students through cultural celebrations–in this case, Lunar New Year. Every year is the same. Students and families gather to share a collective sense of happiness and revival during this holiday. However, revealing the intricate inner differences that varying cultures have when commemorating this holiday should be worth noting to support the culturally diverse environment CVHS strives to maintain.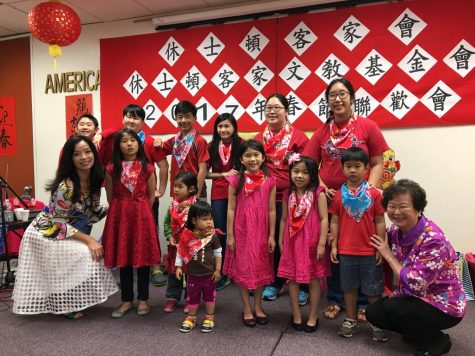 Senior Madeline Hsu's family is from the other side of the globe in Taiwan, and here's what she had to say about celebrating the Lunar New Year.
"Honestly, just getting together with my family for dinner [is the best part]. I have a really big family, so anytime we celebrate Lunar New Year, it's always this big thing. And also, my grandma's birthday is always near Lunar New Year, so [that] is also really fun because we're able to celebrate a birthday and Lunar New Year and have lots of desserts," Madeline fondly recalled.
Her favorite way to celebrate Lunar New Year is by feasting! Feasting for them ranges from such dishes as succulent pork to long green beans and Chinese broccoli dunked in this semi-viscous brown goodness. In addition to a double party, decadent and all, Madeline made merry the holiday through her club, Asian American Association.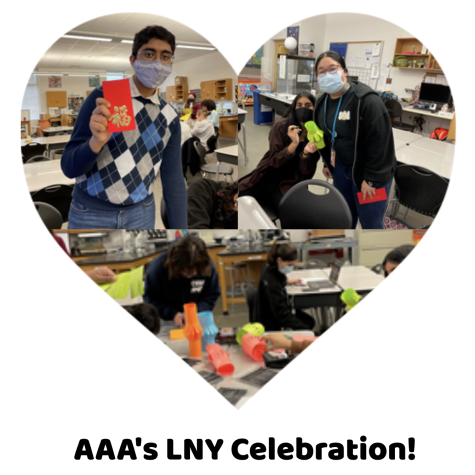 "We had a small get-together [in Ms. Masiglat's and] made paper lanterns with students from Carnegie. And the big thing that we did that drew people in was a red envelope drawing. So for all the participants, if they were a member, they had their name in the drawing two times, and if they were not, then they had their name and one time," Madeline recounted.
A couple of classrooms down, CVHS math teacher Stephanie Chen has unintentionally distanced from the Lunar New Year celebrations but immensely indulged in this holiday at one point in her life.
"​​Growing up, it was definitely something we always talked about. I grew up going to Chinese schools on Sundays and stuff like that, so it was a pretty big thing that we would prepare for. And [we] always liked the hong bao (red envelopes with money) and all the gifts that you get for Chinese New Year as well; it was always something that you could look forward to as a kid because you're like, 'Oh, I'm gonna get this I'm gonna get that,' like that," Chen illustrated.
Ms. Chen stores this holiday fondly in her memory but had a confusing time remembering this holiday's specific shining moments from her childhood. Being of Chinese descent, the Lunar New Year is a highly prominent event but has dissipated from Ms. Chen's calendar and spirit due to its lack of recognition in the United States.
"​​I think there should be [an HISD holiday for Lunar New Year]. It is such a huge thing in China; things will shut down for weeks around New Year's," Chen said. "Obviously, in the States, Asians are typically considered very hardworking, and we prioritize education. So, of course, we're never prioritizing a holiday over educational pursuits and things like that. Because I don't have much family here that is Asian, the only time I can stay connected with those roots is if I [reunite with] my family, but with nothing for New Year's, it's been probably 10-15 years since I've really had a traditional New Year's meal. I'll go by the Chinese Community Center and watch their performances every so often when I remember to do so. But other than that, this is definitely one of those holidays that I've kind of forgotten a lot about just because I don't have the time to stay connected with it," Chen explained.
In terms of maintaining a connection with their culture, junior Rin Wilson has celebrated the Lunar New Year on both ends of the world–from the bustling, distinct nature of Japan to America's cultural conglomerate. Wilson moved from Japan to the U.S. in his middle school years, and since then, he has reflected on the overarching differences a geographical move makes on celebrating the Lunar New Year.
"We celebrated it primarily in Japan. We would take a two-hour train ride into Meiji District… so that was special to us because we had to take a really long trip. Here, you can just go to Chinatown. I can just be like, 'hey, guys, it's time to celebrate,' but in Japan, we had to go up a mountain to celebrate actually, so it's more [convenient]," Wilson said.
Despite accessibility impacting the ETA for Wilson to celebrate the Lunar New Year, he has always savored time with his relatives, especially during a period where the COVID-19 pandemic has disrupted travel plans for families worldwide.
"I just remember me and my cousin had to do a chalk painting of a white snake because that was the year, I believe, a snake. Me and my cousin had a really good bonding moment then… and it was the last time I saw her before the lockdown," Wilson recalls.
Along with this sense of sentiment guiding his favorite memories, Wilson has also gone through the perils of celebrating the Lunar New Year–specifically with the lower half of his body.
"There was one time I was convinced to do a lion dance for someone, and like actually be a part of it— [I was the dragon's legs]. I was trailing behind because they were put into two parts, so my half actually got disconnected. Everyone was like, 'go, go! Rin, you gotta hurry!' and I was like, 'this just isn't working.' It was traumatic," Wilson reminisced.
As Wilson battled fulfilling the role of a dancing dragon during this holiday, junior Bao Vy Nguyen skipped school to feed said dragon's red envelopes with her mother.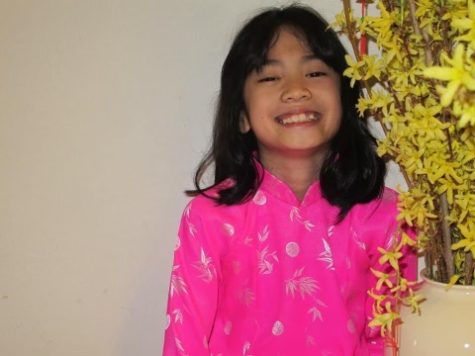 "One of my favorite memories is just hanging out with my mom. I'm a mama's child, and I would take every chance I could just to hang out with her," Nguyen said.
Walking into Nguyen's living room, a picturesque scene of scarlet and sunshine shades unfolds, red envelopes and lanterns scattered around, yellow buds in a large vase symbolically blooming as the new year begins. The Lunar New Year has never been a foreign holiday to Nguyen, despite being born in the U.S. and not her mother country, Vietnam.
"I don't have the full Vietnamese experience of celebrating Lunar New Year's because, of course, my family immigrated to America. I sort of adopted American culture. Our way of celebrating it is pretty much a washed down version of Lunar New Year back in Vietnam, but we [can] still decorate our altars with food for ancestors and Buddha," Nguyen expresses.
The Lunar New Year is filled with many things: overeating, bubbly, Benjamins, conversations, love, and lots of laughter—here's a funny memory from junior Jamie Lee.
"I usually go early to help my grandma cook all the food for the ceremonies and everything, and I remember this one time she was making these fish cakes… She had already [cooked them] before my mom and I came to help her, and so she had them and was like, 'oh, here, try some,' and then we tried some, and we both looked at each other, and we just started cackling because it tasted kind of weird, but we didn't want to tell her… I think it's because my grandma, she's so old her taste buds are kind of worn out. We were all just laughing about it… basically, she forgot to put salt in it. And that was pretty funny," Jamie retold.
For her family, the Lunar New Year represents something beyond a clean slate, beyond a completed cycle of the movement of a star. "To me and my family, [Lunar New Year is] actually pretty important because in our culture, the significance is more about celebrating and grieving our deceased ancestors, so it has a lot of importance within our family. And that's interesting to know," Jamie pointed out.
As February 1st marked the beginning of the Lunar New Year in 2022, East Asian students and teachers from CVHS have established their cultural congregation. Although this holiday serves as varying sources of celebration for various cultures, it ultimately brings everyone together to commemorate their Asian heritage.
View Comments (1)
About the Contributors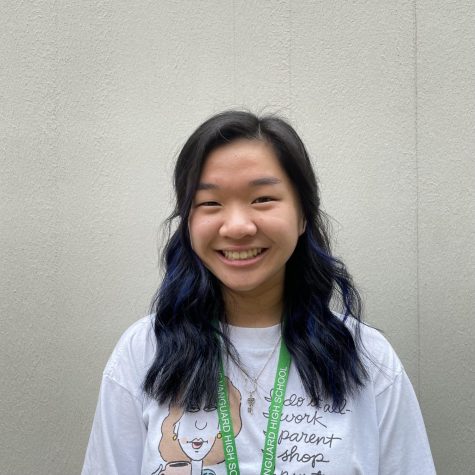 Caitlin Liman, Staff Writer
Hewwo there! I'm Caitlin, I am a junior, and I love singing and playing guitar w my lil bro, as well as helping people  :]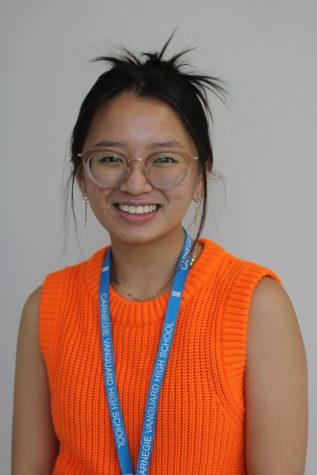 Nina Nguyen, Feature Editor
Nina Nguyen connects with the color orange on an emotional level and goes to a great extent to make it her whole personality. When it comes to music, Nina...