Jessica and Jahrel's Journey to the top of their class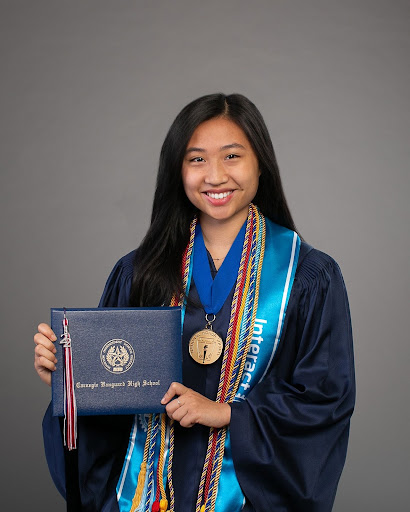 Jessica Lin's eyes widened as she stared at the number three printed at the bottom of her report card at the start of her junior year at Carnegie. Number three out of 248 was the rank she was assigned no less than a year ago. There was a slight flutter in her chest that was linked to her achievement. Although the class of 2022 was not intended to see their rank until the second semester of their junior year, the minute the first semester report cards were sent off, the race to number one began.
Although unintentional, Lin's way to the top was one of close calls and hard work, yet she stayed humbled throughout the process and as she found out that she was number three and later on the valedictorian.
"When I found out I was like, well, that's pretty cool," said Lin.
Although the way to the top of a class of 248 may seem anxiety inducing and consisting of countless nights of no sleep, Lin is an anomaly in a valedictorian world of non-stop stress and studying. Lin explains that throughout middle school and high school studying for hours at home was not a common event. More often than not, her time management skills allowed her to finish most of her work at school, and left minimal duties for her to complete at home. She mentions that until AP Macroeconomics she had never truly sat down for hours studying for a test. This concept seems foreign and almost alien to most, when thinking of how someone ranked number one in their class of a prestigious school, achieved the highest award a high schooler could achieve, merely by allocating her time efficiently.
"Okay, I do not study as much as I probably should…realistically, if you want to succeed at Carnegie, you should probably study more and have better work habits than I do," says Lin.
Lin also mentions that her parents were not the cliche tiger parents that a stereotypical Asian student might have. Although they were supportive of her grades, and wanted her to achieve high, they never put unneeded pressure on her to get top grades, simply that she tried her hardest. Lin appears laid back and nonchalant about her achievement as a Valedictorian, because her goal was never to compete for the accomplishment, simply to get good grades for her own self satisfaction.
"My parents are not involved with my grades…I pushed myself to achieve high."
Although Lin didn't study as much as others believed she might, she credits much of her success to time management and her ability to memorize well. She speaks over the notion that memorizing was a helpful tool in most classes, up until she entered Ms. Chen's class for AP Calculus. In that class, Lin had to actually learn and apply the concepts herself as she simply couldn't just memorize a formula, she had to apply it in many different formats on her exams. She explains that although her achievement as valedictorian consisted of hard work over four years of high school, gaining that achievement was never her initial goal.
"Getting Valedictorian was never my top goal, I just always wanted to get straight A's, just for that kind of self satisfaction," says Lin.
Lin also explains that managing her time didn't only consist of academics. She managed to complete all her assignments whilst being the president of the Red Cross Club, being on the board of directors for Interact Club, and playing for the CVHS soccer team. She explains that most clubs meet during lunch at Carnegie and she took advantage of SSEP to complete assignments so she did not have mountains of work waiting for her at home. She explains that over the past two years, due to COVID and what some might call senioritis, her work ethic has definitely decreased slightly, yet her grades stayed consistent.
"I feel like my freshman and sophomore year I definitely studied more and I actually went home and did homework…because now I don't want to go home and start on my homework or anything," says Lin.
Lin plans to attend college next year, but she is still undecided as she has not received all of her acceptance letters yet. She plans to major in Biology and minor in Creative Writing and pursue pre-med. She has applied to a collection of elite colleges such as Duke, Stanford, MIT, and all of the Ivy's except Dartmouth. She is excited to continue her academic career, and later on become a doctor, but she is not dead set on any one college and is keeping her mind open for when her acceptance letters begin to trickle in.
"I don't have a college in mind because I'm pretty indecisive. Once results come out then, hopefully, you know, I get the option to choose between a few, " says Lin
Although achieving Valedictorian at a high ranked school, such as Carnegie may seem cutthroat and highly competitive, Lin advocates for CVHS's supportiveness and community. She explains that within her four years, she has never truly experienced hyper-levels of rivalry for grades and has only felt the gratitude and appreciation her classmates share amongst themselves. Her peers and close friends instead of feeling jealous or slighted, were elated with her accomplishment, which made Lin even more ecstatic about accomplishing Valedictorian.
"They've all been very congratulatory and supportive, and, yeah, it feels really good," says Lin.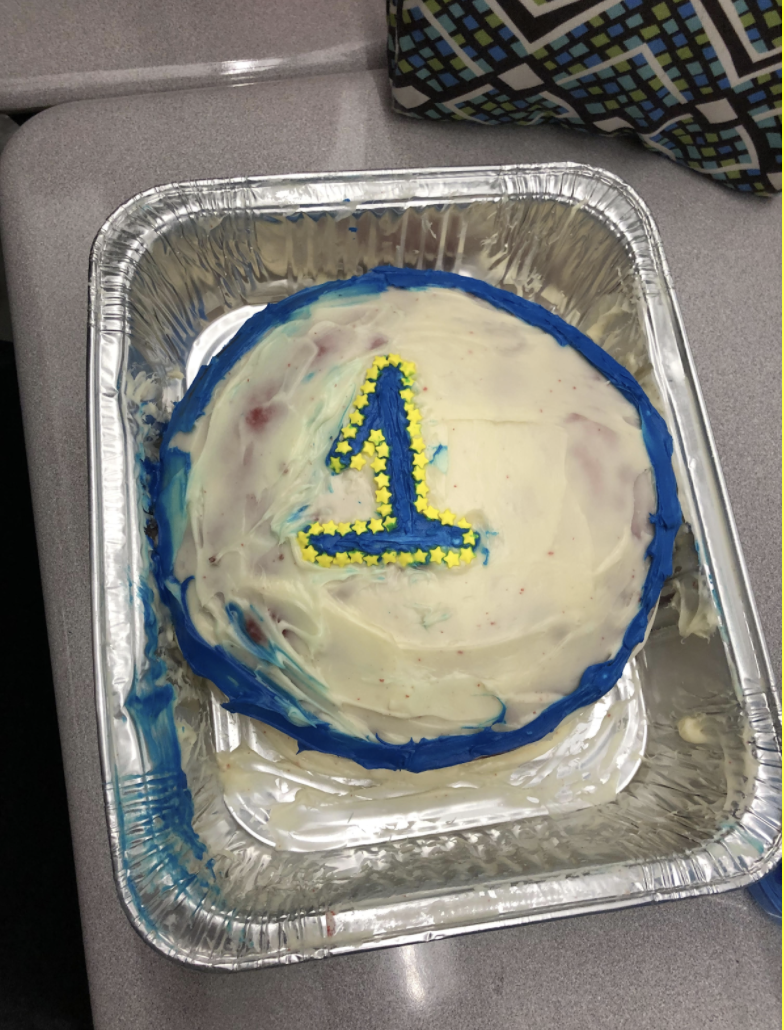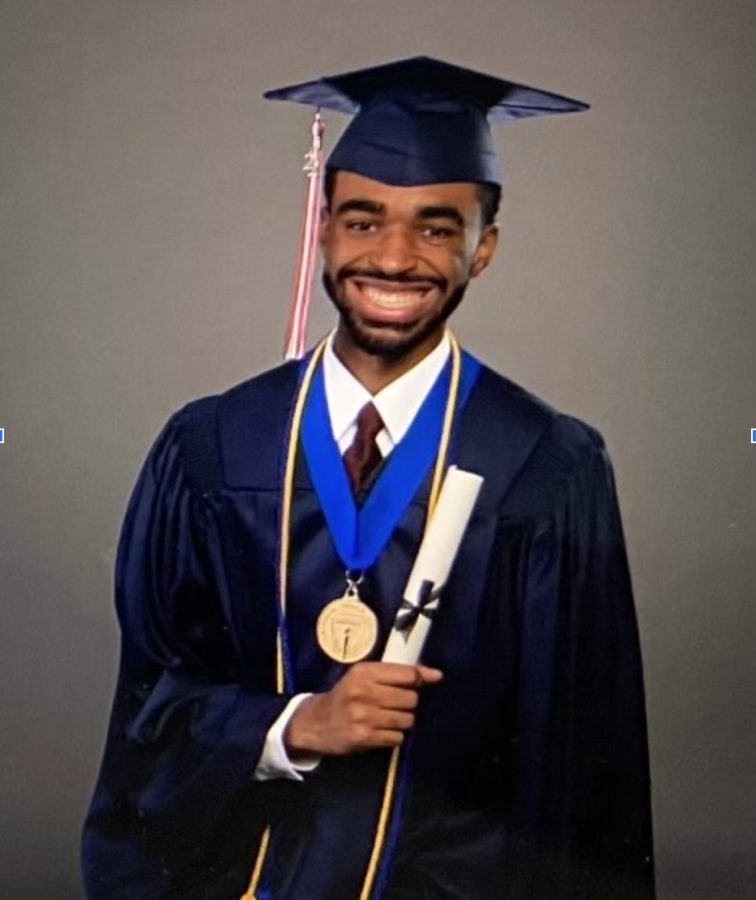 The clock flashes midnight and the sound of scribbling fills the room as Jahrel Noble rapidly studies for the unit exam tomorrow. This method of studying has proved useful to him as he is now ranked number 2 out of the 248 students in the class of 2022. However, Noble never had salutatorian as his end goal.
"That wasn't really something I thought of. I was kind of going along and it happened to happen, so it wasn't a goal I was striving for," Noble said.
When report cards were sent out after the first semester of junior year, Noble could not have been more shocked at the outcome. He clutched the paper and his eyes widened as he reread the number marked at the bottom. He couldn't wait to share this moment with his parents and waited for them to come home to break the good news. Noble acclaims his success to his strong family support system.
"First semester freshman year when I told my sister I got all A's she was so happy for me, I remember she got me a cake and a balloon that [said] congratulation. Then when I got a good SAT  score this October, my sister and my brother got me a box of all my favorite snacks," Noble said.
It was this support that introduced Noble to his passion for science. His mother  is a radiologist and his father is a chemist, so trips to the Health and Science Museums were frequent in the Noble family.
"I would always ask my mom to tell me about her medical cases and the things [she] would read. That has been something that I've continued to like throughout the course of my high school path and has guided me to find my future career," Noble said.
Along with his siblings and parents being proud of his achievements, Noble's friends hold the same enthusiasm. From congratulating him on his accomplishments to making him a personalized salutatorian waffle, Noble's support system has been a constant factor in his life.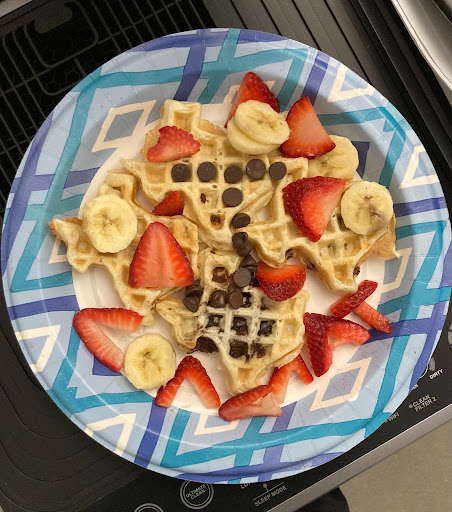 Beyond this system, Noble's unique study methods have contributed to his academic success. This includes watching several review videos and taking avid notes on the subject before proceeding to verbally explain the subject out loud, as if he was teaching it to another student.
"When I try to do it kind of looks crazy if you were to walk in and see me doing it," Noble notes.
This method has proved useful, but grades have not always been smooth sailing for Noble. Transitioning to the Carnegie environment from Lanier Middle School forced him to put more effort into his work than ever before and was definitely a major shift academically. Noble struggled in AP Macroeconomics because the class required real life text connections which required a more thorough analysis of the reading. AP Research was another class that he had to work particularly hard in to get the result he craved because reading scientific papers and conducting original research was foreign to him.
"I struggled at first, but I turned my trajectory around and started to be more serious about the research I was conducting and things of that matter. I was going in the right direction and it ended up working because I got a five in AP research," Noble explains.
This was a class that was taken during the pandemic and was forced to be online. This made it difficult for many students, Noble included, to find motivation to continue their studies. Noble tried to maintain his academic growth but found it difficult to shift mindsets when he was stuck at home. This caused him to loosen his study methods, Noble quickly realized that falling behind would impact his future and found a different approach to self-motivation.
"I would remind myself that the end goal is college, so I would just be like, toughen up," Noble said.
He used this form of self-motivation to gain leadership positions at his extracurricular activities. As the vice president of BSU, editor for Upstream News and literary magazines, and a public health intern at Push Birth Partners, Noble emphasizes the necessity of time management and prioritization.
"I think just setting aside time for both is probably the best thing to do. You kind of have to set those expectations for yourself in advance in order to make sure that you don't overwhelm yourself to make sure that you're biting off more than you can chew," Noble advises.
Noble plans to attend college next year and has applied to 14 of America's elite colleges and is anticipating the results this coming April. He then plans to go to medical school in hopes of being a doctor.
"I would be super excited, super thankful and grateful to get the chance to go to any of these universities," Noble remarked.
Noble enjoys the Carnegie atmosphere and the opportunities that it has provided him over the course of the past four years and is proud of his salutatorian accomplishments.  More than this, he is proud of the journey he was able to have and the memories he will make in the future.
"There was a time where I wasn't certain I chose the right high school, but Carnegie has been great for me in a number of ways. If I had a time machine and went back to middle school with the current knowledge I have now, I would definitely choose Carnegie again," Noble remarked.
View Comments (4)
About the Contributors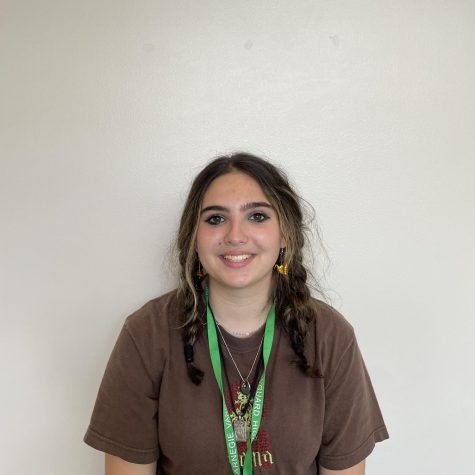 Isabel Hoffman, Staff Writer
Most people call me Izzie! I am a junior and love to listen to podcasts. ;)
Zainab Zaman, Staff Writer
Hi my name is Zainab Zaman and I'm a senior at CVHS. I love to immerse myself in different cultures by traveling, cooking, and reading!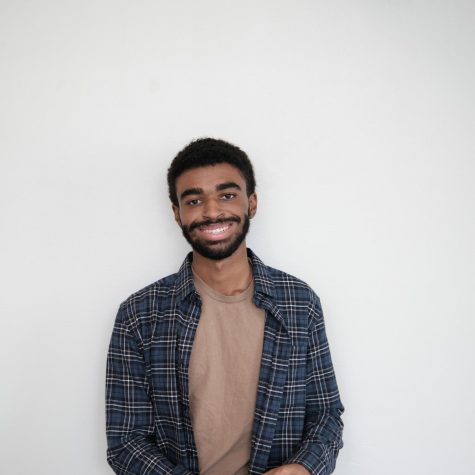 Jahrel Noble, Entertainment Editor
Hello! My name is Jahrel and I'm a Senior at CVHS. Some things I enjoy are traveling, writing, and playing with my two dogs.