Netflix's "Bridgerton" romanticizes colonialism
Orchestral renditions of Rihanna and Madonna's music. Lavish parties in colossal estates. One viscount intertwined with two sisters. March 25 marked the return of Netflix's hit series  "Bridgerton".
The second season, based on the second book (The Viscount Who Loved Me) in Julia Quinn's eight book series, follows Viscount Anthony Bridgerton (Jonathan Bailey) as he searches for the perfect debutante to make his viscountess. This season features a love triangle between Anthony and the two new Sharma sisters in town. The Sharma family, headed by Lady Mary (Shelley Conn), has returned to London; Lady Mary had been abandoned by her parents after marrying an Indian man of low caste. She is joined by her two daughters, Edwina Sharma (Charithra Chandran) and her older sister, Kate Sharma (Simone Ashley), her husband's daughter from his previous marriage. Together, the three join the London season to find Edwina a love match.
Bridgerton initially garnered widespread critical acclaim in 2020, notably for using Hamilton casting rules (colorblind casting). In Julia Quinn's novels, all the main characters are white, including the Duke of Hastings (Regé-Jean Page) from season 1. Unlike other period shows, like Downton Abbey, Bridgerton offered a new refreshing world where race is just one of the many qualities of characters. Showrunner Chris Van Dusen continued to use color-conscious casting in this season, which features multiple Indian actresses as lead characters. Van Dusen's reasoning for using this casting style was to remake a Regency era that reflects our modern-day society.
"Even though it's set in the 19th century, we still wanted modern audiences to relate to it, and see themselves on screen no matter who they were," said Van Dusen in an interview with Collider.
It is easy to deduce that Bridgerton is not historically accurate; I mean, what 19th century Londoner listened to a string arrangement of Harry Styles' Sign of the Times? However, while Bridgerton is set in an alternate universe, the show places a heavy emphasis on historical timelines, using real names and periods.
In the show, Guyanese-British actress Golda Rosheuvel plays Queen Charlotte, who was in reign during this era. Some historians claim that Queen Charlotte has Black lineage, possibly descending from a Black branch of the Portuguese royal family. Additionally, in season 2, her husband, King George III is ill, which is seemingly accurate as he was nicknamed the "mad king". In the show, he mistakes Edwina Sharma in a wedding dress as his wife and believes that it is his wedding day. While this obviously didn't happen in reality, King George III's actions align with historians' beliefs that he had porphyria.
It's almost hard to discern the history; it skews history and for people who aren't knowledgeable on the regency era, it creates this new world for them, erasing the world that actually happened.
Bridgerton takes place around 1813, when India was still colonized by Britain. In the show, the Sharma family is regarded as nobility, a rank they most likely would not have had in reality. Lady Mary is the daughter of a white Earl and an Indian countess. While it was not uncommon for British men to marry locals in the 19th century, it was more so British men serving in India rather than nobility.
Moreover, in order for Kate's family to come over from Bombay to Britain, they would have needed extreme caste privilege; members of high castes were wealthy and had access to more opportunities than those in lower castes. Since their father was a low caste clerk, it is hard to imagine that they would have had the ability to do so in reality. It was also a common practice for those in high castes to exploit those below them. 
But even Indians at the top of the caste system did not share the same dynamic as British people in Colonial India; they were there to please the British more than anything. Additionally, so many Indian women were exploited by British colonizers through the Cantonment Acts; what are the chances that the Sharma sisters would have been treated the way they were by Anthony Bridgerton?
While both season 1 and 2 of Bridgerton have minorities playing main character roles, only season 1, while brief, addresses race; in a discussion with the Duke of Hastings, Lady Danbury tells him, "We were two separate societies divided by color until a king fell in love with one of us." In season 2, neither race nor the colonization going on overseas is acknowledged.​​ Instead, we get discussions over horses and the size of estates.
As a minority, I love seeing representation in all forms of entertainment media. I especially love it in regards to historical fiction pieces. But what is the point if their history is distorted? Is that real representation? There is a difference between showing minorities on screen and representing minorities. In regards to season 2 of Bridgerton, there were moments when it felt as though characters of color were there for representation purposes only. Personally, I feel as though ton modiste Genevieve Delacroix (Kathryn Drysdale) could have a storyline more complex than that of just a highly sought after modiste.
Despite being on the show for both seasons and a temporary love interest of Benedict Bridgerton, her background and overall character aren't as fleshed out as the Bridgerton siblings or new season characters like Edwina and Lady Mary. She's simply there to forward the story lines of the Bridgerton family despite being a character intertwined with so many main characters in the show.
My initial reaction to this season was like that of many viewers. I saw the show as a form of escapism; it creates a new London society where living life as nobility does not depend on skin color and viewers can focus on pining for another Pride and Prejudice-esque rain scene. But my flaw is that instead of writing reviews based on how I felt in the moment, I write my reviews after I have had time to start hating it. My discomfort with Bridgerton is definitely subjective. However, I feel as though to ignore history in Bridgerton's multicultural London world erases its reality and the colonial experiences (and trauma) that others had to live through.
View Comments (2)
About the Contributor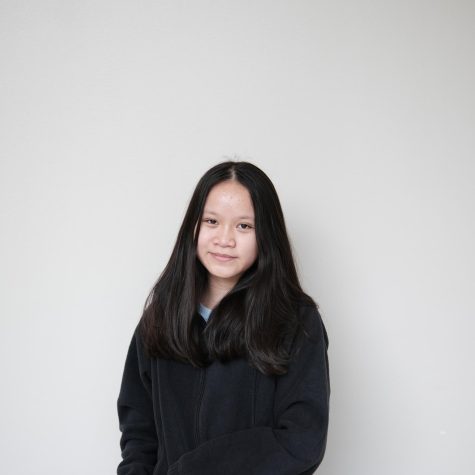 Hilary Nguyen, Opinion Editor
I'm a senior who loves reading, taking naps, and the Oxford comma.