Sole CVHS gymnastics competitor Jailan Routt leaps into the Texas State Championships
Jailan Routt entered the arena. As he walked onto the stage, he dusted his hands with white chalk. All he could hear were people's roaring cheers and his own heavy breathing. As he took one more breath, he propelled his body and began the compulsory technique he spent hours practicing for. Jailan flipped, sprinted, and tumbled all in the span of just a few minutes with only one thing in mind: don't fall. A few hours of mixed excitement and nervousness later, Jailan Routt was thrilled to find out that he qualified for the Texas State Gymnastics Championships. 
Qualifying for the state championships takes long years of practice and hard work. As for Jailan Routt, he's been participating since elementary school. 
"I was 7 years old when I knew I wanted to start gymnastics. I went to an all-black elementary school and there was this program there that really pushed me to join," said Routt.
Ever since then, Jailan has maintained a very busy practice schedule which consists of him spending hours at the gym. 
"I go to the gym on Tuesdays, Thursdays, and Saturdays at 5:30 pm every day and leave at 8:30 pm or sometimes even 9 pm. I talk to my coach and we discuss what I should work on that day and how to do it. We watch videos together and after that, I just work on those routines," said Routt.
On top of this very tight schedule, Jailan also plays basketball, and baseball, and participates in the CVHS theater and cheerleading team. However, amongst all these sports and activities, he noticed that one thing makes gymnastics stand out: the endless amount of support
"I have played a lot of sports. But at gymnastics, there are a lot of people at the competition that will not know who you are or have never seen you, but they will cheer for you like they are your best friend–even when they are competing against you. And that is my favorite part," said Routt.
With all the long hours of practice and endless support, Jailan had a stellar performance at the Texas High School Gymnastics Coaching Association Regional Championships. 
"At regionals, I had the best compulsory technique that I think I have ever had. The judge was really surprised about it and it just felt really perfect. However, I did not perform the best on other techniques," said Routt
After hours of waiting with his grandfather, Jailan found out that he had qualified for the Texas state championships.
"It was really satisfying and exhilarating because I didn't do my best. I was worried I wasn't even going to qualify because some really good gymnasts were there. It was such a big moment and it was only my grandpa and me. It was such a nice moment to share with him," said Routt.
Although he qualified for the state championships, Jailan is working to improve and ensure a strong performance at the upcoming competition on April 21st and 22nd. 
"I have been asking to go to the gym earlier and go right after school. I also ask my family to record everything I do; I have this big Google Drive so I can go back and look at what I was doing when I did it and see what went wrong so I can improve," said Routt.
This will be one of Jailan's last competitions as he is off to college to study architecture at Hampton University. This could pose an issue to Carnegie because he is the school's sole gymnastics competitor. 
"I definitely had a few Carnegie students come up to me telling me they were interested in joining the CVHS team. I told them I would get in contact with my coach and that they could talk to Principal Moss, the gymnastics sponsor," said Routt.
As for Jailan, he is unsure of whether he plans to continue pursuing gymnastics or any type of sport in the future. 
"I would probably try basketball in college. Carnegie is not the best school when it comes to being publicly noticed and getting drafted. I didn't have a lot to work on because I am not that tall but I would try out and work hard to get the spot," said Routt.
Regardless if it's from his top 3 sports, participating in the CVHS theater club, or the rigorous CHVS academics–Jailan has learned a lot. Even though he may not be taking gymnastics with him to college, he will take one piece of advice that keeps him going no matter what he is doing.
"Just do it. If there is something that you feel like you could do, but it's scary, just go for it. Don't say that you can't do something otherwise you have to pay and there's a dry piggy bank," said Routt.
View Comments (2)
About the Contributors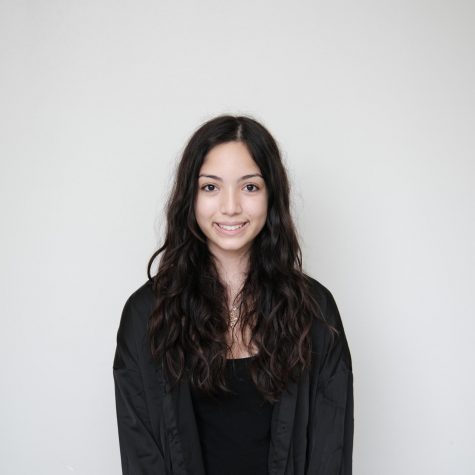 Hannah Mansour, Staff Writer
I am a senior and enjoy playing piano, swimming, and shopping :)