Carnegie's Dia De Los Muertos Rhino art car presented at Houston's Art Car Parade
Smiles lined the parade route as Claire and Nicole made their way down Allen Parkway. They finally felt their hard work was paying off after having to scrape their 6 months' worth of work and start all over. The rhino horn on the hood of the car lit the way to the end of the Houston Art Car Parade's two-year hiatus. Greeted with beautiful weather, the city's 35th Annual Houston Art Car Parade Weekend had over 250 entries from around the country and drew in record-breaking crowds. 
Every year, Ms. Ford's Scientific Research and Design (Wildlife) class is in charge of planning and executing the design of a car for the parade. The 2019 Carnegie car entailed a map-covered car with a pinpoint mark on Carnegie. This year's seniors, Nicole Santiuste and Claire Beal designed the car and decided that the theme of the car would be a Dia De Los Muertos Rhino skeleton. They had no clear reason why they picked this theme, the only goal was for it to be colorful and reflect Carnegies diversity. They settled on a white base covered in Spanish designs and handmade tissue paper flowers.
They started the process by building a skeleton to lay on the car of a rhino skull. However, the skeleton completely broke during spring break and the team of three started from scratch, everything from October to March was trashed.
"We had put it together with this cement glue. And then it just collapsed. That was rough. It was very useless putting the frame back together. Yeah, it did not feel funny at the moment," said Santiuste.
With time dwindling as the parade inched closer, there wasn't much progress on the car. The team of two seniors and Ms. Ford needed more hands, so they reached out to other classes and students to help finish the car.
"And then three weeks before the art car parade, we kind of just buckled down. And then Ford called  Mr. Rodriguez's AP art class. And well, Claire started painting the car. I started having spirit class make flowers, and we just kind of pulled together," said Santiuste.
Along with their great deal of endurance, Claire and Nicole were still able to reflect on memorial moments from their car-making journey. 
"And one day, I got locked in the shed out there in the courtyard on the hill, and someone came to get me out after a long 15 minutes. But we ended up fixing the lock ourselves on the shed. That's my biggest accomplishment. We also had a little robbery incident as well because they kept opening up. So we fixed the lock on the shed and it actually works. It's the best lock out of all of the sheds. I'm proud of that, " said Santiuste.
On the morning of the art car parade, it was still parked in the school parking lot getting last-minute flowers glued and details painted on when the team ran into a dilemma.
"On the day before the parade, I lost the car keys to get into the car. And we were looking for it for like 30 minutes. And then finally, it was in a toolbox, and I checked that toolbox like 15 times and did not see it. So we are still working on it the day of and Miss Ford said,  'Alright, y'all, Hurry up. I gotta take the car,'" said Santiuste.
Although initially a little uncomfortable, the senior pair smiled and waved at the record-breaking crowd as they made their way from Bagby to Waugh. By the end, Claire's awkward feeling mood was subdued.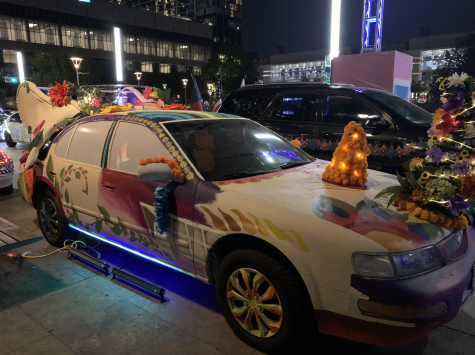 "I thought it was pretty cool. I got interviewed by ABC 13. So I was like, excited," said Beal.
The art car was also never something that Ms. Ford wanted to do—it was almost just handed to her by Mr. Rodriguez. After having his heart set on being part of the art car designing process, his dreams were unfortunately crushed when he took a glance at the state of the pre-designed car. 
"Some lady gave it to Ms. Ford, because Mr. Rodriguez, the art teacher, wanted an art car. He told Ms. Ford, that it was his dream to get one car for it. Yeah, so she got one from this lady that also does art cars. And then Mr. Rodriguez saw the car and was like, 'That's too much work.'  So Ms. Ford was like, 'What do I do with this?' So she started our car group," said Santiuste.
Both were not prepared for the work entailed by being the sole workers of the car—Nicole didn't even know what the art car parade was before this year. In their class, the only three options were Gardening, Marketing, Media, or Art Car. 
"So actually, originally, I wanted to take anatomy because I'm not an outdoors person, and then I got put in Wildlife (Scientific Research and Design), and I'm allergic to grass. So I was like, Okay, I can't do any gardening stuff, marketing and media seemed boring, so I was like I'll do art car and see what happens," said Santiuste.
"I always wanted to do it. But I thought last year was pretty ugly. So I wanted to make it better," said Claire
After an underwhelming lack of support, the pair made countless efforts to encourage students to help in the art car-making process. Subsequently, they held meetings but were unfortunately unsuccessful with zero takers to volunteer to work on the car. 
"We did have several interest meetings. But whenever we'd have a meeting, no one really came. It was only towards the end when we had to force a lot of people to come," said Santiuste.
Lacking a support team, the two seniors felt they were up against insurmountable odds—no one thought they could get it done. 
"Even the people in our own class were like, 'oh, I don't know how y'all are gonna get this done.' 'There's no way that y'all are gonna do this,'" said Santiuste.
Though Ms. Ford didn't have time for an interview she did say the most memorable moment was when the Orange crew (who makes the parade) congratulated her on the masterpiece of a car her students created.
Leave a Comment
About the Contributors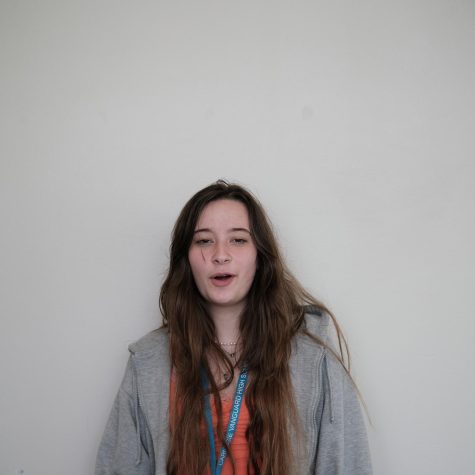 Julian Namerow, Features Editor
Hi, I'm a senior. I am a feature story editor and i have the best dog in the world.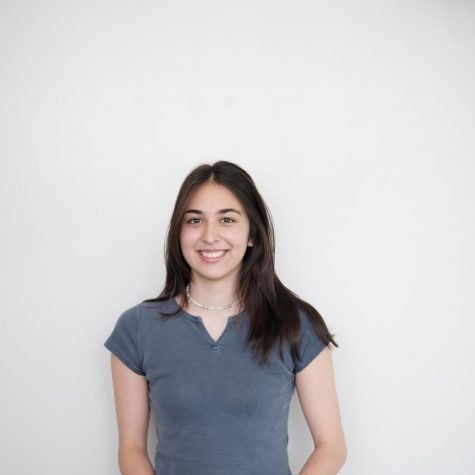 Kaitlyn Garza, Staff Writer
Hi, my name is Kaitlyn and I'm a senior!