Rating iFest-ivities: a FIRE review of iFest
Every year, there is one occasion at CVHS that all students anticipate. iFest. Otherwise known as the International Festival, this student-run event involves an agglomeration of exciting activities, from delectable food booths and interactive games to diverse cultural performances. Not only does this event serve as an opportunity to raise funds for Rotary's Project CLASS, which is a behavioral literacy program for children, but it also connects and entertains the student community. And speaking of entertainment, we will now do what young people do, and judge. Here is a ranking of the top nine events from iFest! 😀
9) The dance that just wouldn't end
As the blinking red digital clock in the cafeteria indicates the festival nearing its end, one dance prevents this from happening. The Turkish dance. Initially beginning with two CVHS students, they suddenly break the fourth wall of performances and invite all guests to participate in the dance. After a 30-second mini-lesson on the moves, everyone begins to dance together like a surprise mob during a marriage proposal, and that was the beginning of a beautiful scene. Although the choreography was demanding in stamina, the bright and energetic atmosphere countered everyone's visible tiredness. Nonetheless, it was an incredible performance and I applaud its ability to connect all cultures together, representing the true heart of iFest.
Video courtesy of Elif Ozgel
8) HSPVA Performances
Breathtaking. I literally do not remember inhaling oxygen, my mouth agape for the majority of the HSPVA performances. Unarguably the best guests of the night, they stole the show! Their winky and wildly skilled mariachi band wooed the crowd and got us swaying to their sadly-too-short serenation. And their Indian dance team- they intimidated Carnegie's but were one of the coolest acts of the night, showcasing unique dance moves and grooves. Just look at them in their glamorous garbs!
Video courtesy of Maximillian Hsu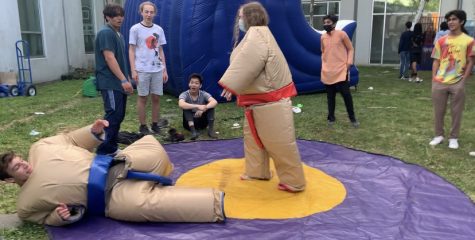 7) Sumo Wrestling

Were they hugging? Fighting? Tickling each other? Sumo wrestling remains a mystery to me. Nevertheless, seeing Gabby and Gabe (and other interesting matchups) battle it out and plop on the inflated floor made me belly laugh, almost simultaneously collapsing to the ground alongside them. Definitely a moment to remember!

6) Dunk Tank

This was arguably the most anticipated event of the evening. A chance to face your enemy in their most vulnerable state. A chance to avenge yourself and the injustices you've faced in class. A chance to see your superior, in a not so superior position. There was no greater satisfaction than dunking the person who suddenly called you out in front of class for an answer they know you don't have into a human-size bucket of water. Oh how the tables have turned. Personally, I loved seeing all the teachers plummet really fast into the water, even if I didn't have them myself. I was surprised at how good everyone's aim was since our school is more on the academic side, but I guess when the time comes our inner pitcher unlocks itself. 10/10, we need this again for next year's festival.

Video courtesy of Nicole RodilSuarez

Video courtesy of Gram Coffman

Video courtesy of Sophia Vega

5) Fashion Show

"Period!" "Queens!" "OKAYYY," the audience cheered wildly as their classmates strutted around the pseudo stage. Dripped out in Korean hanbok, African Deras, Indian Saris, Chinese qipao, Vietnamese Ao Dai's and beyond, Carnegie's scholars shined as models at iFest, representing their homelands with their heads held high. Check out a few of their poised poses below!

Joy Deng modeling, Video courtesy of Annie Li-Kroeger

Barbara Butali and Jada Donatto, Video courtesy of Barbara Butali

Dieuyen Nguyen modeling, Video courtesy of Dieuyen Nguyen

4) Indian Student Association Dance

My cheeks were in fiery pain from how hard I was smiling. Watching all of these seniors performing a celebratory medley of Indian songs melted my heart and had us all clapping and complimenting our friends who were getting down on the dance floor. The way all the boys confidently stepped outside of their comfort zone while the girls strutted their stuff truly earned the crowd's cheers. And you don't have to miss out- check it out right here!

Video courtesy of Anirudh Karunakaran

3) K-pop Club (AKA the "Kwangya" dancers) Performance

I'm telling you this performance slayed the house, boots down. Houston, I'm deceased. From the visual coordination, hues of sky blue and dazzling white sprinkled in everyone's outfits, to the tasteful song choices blended into a medley. This performance made everyone in the audience turn into K-Pop stans, phones out on landscape mode to record the whole spectable for unlimited replays. I found it impossible to just sit and watch, and I began to dance along with them (though horribly), especially going ham for their last dance to "Fancy" by Twice. Filled with high energy and a booming presence in the room, this performance remains one of the most memorable during the entire eventful night.

Video courtesy of Maximillian Hsu

2) Food Booths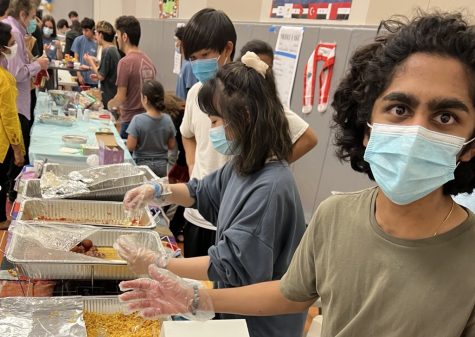 When I think about iFest, it is symbolized by food, a taste of every culture around the world into one large-scale potluck. Every single year, this aspect of iFest never fails to impress me with the selection of food that is provided because they account for every region of the world to be represented. My personal favorite was the East Asia booth because of the refreshing bubble tea, the mouth watering fried rice they served, as well as the crispy fried dumplings that sent me straight to heaven. It was an incredible feeling to see people from other cultures trying and enjoying your own culture's cuisines, and I couldn't feel more proud of my identity as an Asian American because of iFest. So, food booths will always be on the top of the list!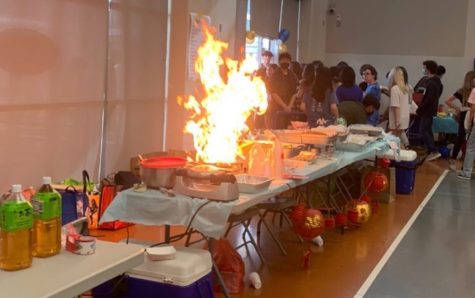 1) The Fire
To no surprise, this was THE happening of the night. I vividly remember having a peaceful conversation with one of my friends during the time when in my peripheral view, a blazing glow appeared. There, in the middle of the precious East Asia booth, a fire had erupted. Sourced from a mini-gas portable stove, you know the kind you'd bring camping, a student had left the gas on for too long and upon its ignition, all hell went loose. Honestly, this event was a true testament to how CVHS students would survive a zombie apocalypse, because we 100% wouldn't. Rather than picking up a fire extinguisher or running outside to escape, phones began recording. Thanks to a junior named Talia, shout out to her, we all survived and everything was dandy and nice again. Besides a few dishes being spoiled from the fire extinguisher powder, no one was harmed and it left a burst of adrenaline within everyone's hearts and minds. Although this event wasn't necessarily a safe one, or one meant for entertainment, it made this year's iFest iconic and set the mood for a night to never be forgotten.
Leave a Comment
About the Contributors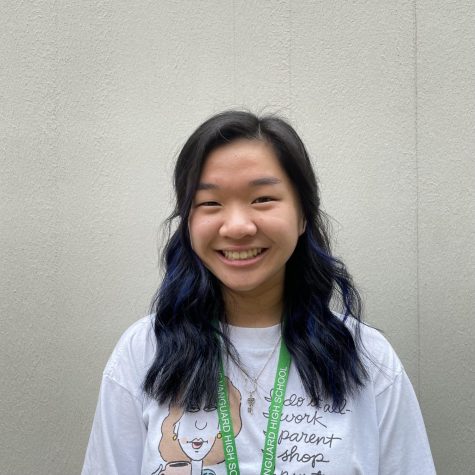 Caitlin Liman, Staff Writer
Hewwo there! I'm Caitlin, I am a junior, and I love singing and playing guitar w my lil bro, as well as helping people  :]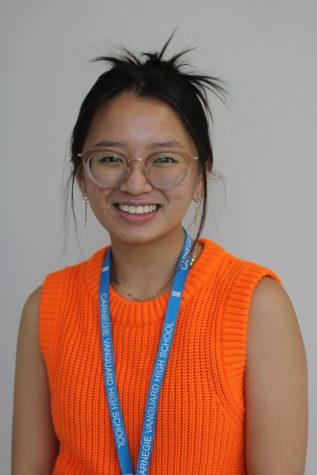 Nina Nguyen, Feature Editor
Nina Nguyen connects with the color orange on an emotional level and goes to a great extent to make it her whole personality. When it comes to music, Nina...