CVHS senior Ankitha Lavi wins Congressional Award Gold Medal
The soft shine of the gold medal sparkled in the reflection of CVHS Senior Ankitha Lavi's eyes, symbolizing hours upon hours of continuous work and dedication that had finally paid off. The medal read, "Congressional Award" and was given to Lavi for her commitment to goal-setting and involvement within her community. 
The Congressional Award Gold Medal is the U.S. Congress' highest honor for youth in the country. The Award was established in 1979 by the United States Congress in an attempt to recognize high levels of achievement for minors. There are different levels of the medals, including bronze, silver, and gold. In order to receive the gold medal, the candidate must successfully complete 400 hours of voluntary service, 200 hours of personal development, and 200 hours of physical fitness, and 4-5 days of exploration over the course of two years. To receive an award with such demanding requirements, Lavi had to rely on a unique level of self-motivation that she was not accustomed to. 
"At the beginning, I was doing it to complete hours just for high school but if you want to complete 400 hours, you need to motivate yourself other than trying to do it just to complete the thing," said Lavi. 
Still, even with this change in motivation over time, Lavi ran into several difficulties when trying to obtain the award. 
"I don't fare well in stressful conditions, but I feel like having my family to support me was great because they really helped me push through," said Lavi. 
Another difficulty Lavi faced at the beginning was the fear that she would give up on her pursuit of the award. However, through perseverance and diligence, Lavi managed to stick through and change her former ways.
"I thought that I was going to give up because I never do things long term and give up midway. Tennis was midway. Karate was midway. Taekwondo was midway. Everything has been midway but now, it felt like I could finally do something and was a breath of relief," said Lavi. 
Acquiring the congressional gold medal has helped Lavi grow in a multitude of ways that stretch beyond the aforementioned change in commitment. Thanks to her work in acquiring the congressional gold medal, Lavi believes that she has become a more socially aware member of society. 
"It makes you grow more aware of the community that you're in and makes you stop thinking so selfishly if that makes sense. I feel like I was so self-absorbed, that I was unable to see other people's perspectives. So volunteering really helped me understand what other people are going through," said Lavi. 
Lavi has engaged in a variety of voluntary service activities, but most of Lavi's time volunteering was spent as a virtual piano tutor. Lavi has played the piano for eight years and has thoroughly enjoyed her role as a piano tutor. 
"At the end, I started doing it for myself. I really enjoyed hanging out with the kids that I taught piano to," said Lavi. "I feel really happy whenever the students talk about me," she added. 
Physical fitness, another requirement for the award, has also played a significant role in the growth of Lavi as a person. Specifically, dance has been the most special activity for Lavi as she loves the dynamic nature of dance. Through her physical fitness, she has educated herself on the true value of being active and she offers advice to others. 
"The most important part of it is not looking at your physical fitness as a superficial thing, like don't try to do it to fit into clothes or something like that. Try to do it to help yourself," said Lavi. 
Unfortunately, because of COVID, Lavi did not have the full experience regarding every requirement of the award. Due to travel restrictions, expedition and exploration could not be done normally and Lavi instead wrote a detailed essay about France. Nevertheless, Lavi knows that exploring new ideas and places is something that she wants to continue in the future. 
"I like to be intrigued. I don't like when things are boring and I feel like the past two, or three years were not boring because the medal was always keeping me moving at all times with new things," said Lavi. 
Lavi is ecstatic that she took a risk and tried something new with the award and she is equally thankful for the constant support and encouragement she received from her family. Once she received the award, the satisfaction that Lavi felt combined with the excitement from her family was unmatched. 
"My parents cheered for me. They've always been supportive, but having my family be supportive of me in a time where I feel good about myself felt really good," said Lavi. 
Lavi plans to continue her academic career at the University of Houston where she will be studying Biomedical Sciences at the honors college. In college, Lavi is looking forward to the chance to continue her dedication to service, physical fitness, and exploration. More than just this though, Lavi is excited to have more freedom and opportunities in college. 
"After doing voluntary service for that long and staying in one organization, repeating the same things over and over again, I want to try to go outside of what I was normally doing and learn more to extend my interests," said Lavi. 
The congressional award medal has been a defining part of who Lavi is as a person over the last few years and she is proud that she completed the requirements for the award. Lavi views the medal for more than just its value as an object, but for the lessons that it has taught her in the past and going forward in the future. 
"It taught me commitment. I feel like a big part of Carnegie was staying committed and not trying to give up. I would say going through four years of Carnegie was a success for me, and that comes a lot from learning how to not give up by what the award taught me," said Lavi. 
View Comments (2)
About the Contributor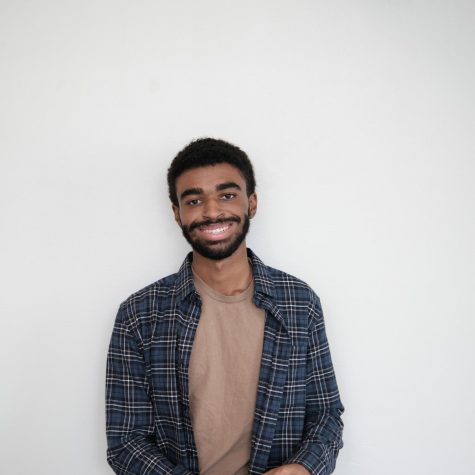 Jahrel Noble, Entertainment Editor
Hello! My name is Jahrel and I'm a Senior at CVHS. Some things I enjoy are traveling, writing, and playing with my two dogs.