Carnegie Varsity Volleyball Suffers First Loss to Rival School Bellaire
Set 1: 25-17/ Set 2: 25-17/ Set 3: 25-18
The Rhinos were swept again by the Cardinals.
In past years, Bellaire High School's ladies' varsity volleyball team has dominated Carnegie's. However, this year the Lady Rhinos have been beating their toughest competitors. Earlier in the season, they competed and won against Westside High School (3-2 sets) and Lamar High School (3-0 sets). So heading into Friday's game on September 27, the Lady Rhinos were determined to break their losing streak against the Cardinals at Delmar Stadium.
A team that hasn't beat Bellaire in over twelve years faced the intimidating task of beating Bellaire at a stadium split by both Cardinal and Rhino parents and fans.
"I think that going into the game, we were pretty optimistic about winning. We knew that there we a 50% chance we may lose but we practiced and worked hard throughout the season so I knew that there was a chance that we may win and I was really hoping for it.", said defense specialist Haely Nguyen
And with that, the game began.
The Rhinos started off the game with a serve from setter Sara Stjepanovic. The ball was hit across the net twice before setter Carlie Coerver blocked the ball, giving Carnegie one point. Early into the game, Bellaire served a ball landing into the out-zone, giving Carnegie another point.
During the third set, the Rhinos were on their A-game as the score was 20-10. If they had scored 15 more points, they could have won the set, which would have prolonged the game and allowed them a chance at winning against their rival. However, Bellaire was only 5 points away from victory. Ultimately, the Cardinals won and both teams shook hands and left the court.
"It was a good team playing against another good team. We had our moments on the court and I know we all played to the best of our abilities. Because Bellaire has always been our toughest competition, I am not too hurt that we didn't win. However, I'm hoping that next year's varsity team will be able to avenge our loss and ultimately break our losing streak against them", said defense specialist Haely Nguyen.
The Cardinals, by contrast, were always as powerful and continued to dominate in this game. In all 3 sets played, the Cardinals conquered and dominated the court.
Bellaire's defense and offense, with a couple of exceptions, was fairly strong and prominent throughout the game. Their lefthand started the first set off with a service which was passed, spiked, and dived for numerous times before it hit the ground on Carnegie's side. Their setter started off the second set with off with a service in which Carnegie missed, giving them a point and getting them in the lead. The Cardinals pushed 24 more points, putting the Rhinos into a 25-17 hole, ultimately ending the second set.
"Whenever we scored a point, I feel like that just gave us a gush of excitement. It made us feel as though we were one step closer to defeating them," said defense specialist Victoria Mckean.
During the second and third sets, the Rhinos started to experience bad serve-receives. When asked about why this may have happened defense specialist Haley Nguyen said that it may have been from having their energy and attitudes lower than what they wanted after losing the first set.
On the contrary, one thing that really stood out on Bellaire's team was their good hustle. Whenever the ball was hit over the net and on their side, the girls ran fast and did their best to not let the ball touch the floor. All throughout the game, you could also hear them yelling "mine", something they said to indicate that they were going for the ball.
"As being a team who plays for Carnegie, we see Bellaire as our competition. Sure, they're great and talented players, but I believe that we can do great things this season and clutch a win against them," said Nguyen.
Leave a Comment
About the Contributor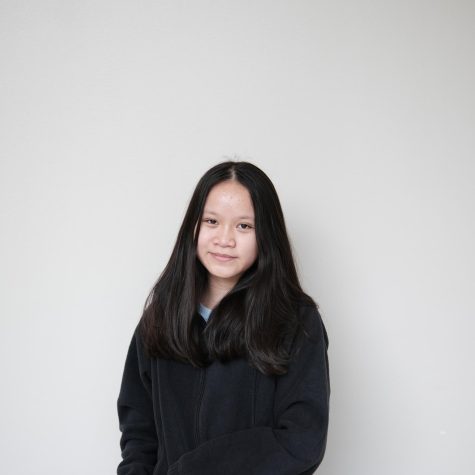 Hilary Nguyen, Opinion Editor
I'm a senior who loves reading, taking naps, and the Oxford comma.